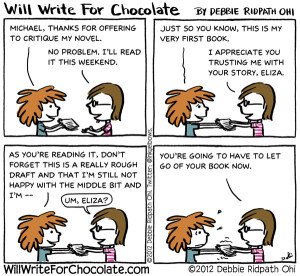 This morning I read a young friend's blog post about her book, which she just finished drafting and is sending copies to a few early readers for feedback. She's experiencing some of the typical mental warfare associated with the art and business of writing. As I read her "rant," I found myself identifying with her feelings on many points. In fact, I expressed some of those same insecurities in my post on Monday, "Silencing the Bully Voices," although I was writing about an essay of mine that was already published.
The thing is, writing is an art, but it's also a business.  And unless you're a best-selling author with a cadre of "people" to promote your work, you've got to learn to market your words. And this education can't start too early. There are countless books out there on building a platform, writing kick-ass query letters, how to write a book proposal and more. But in my experience, there's no substitute for real-time interaction with other writers and publishing professionals, and there's no better place to gain that experience than at writing conferences.

And not just experience with marketing, but with the arts and crafts side of writing. The best conferences offer both. I've been participating in these kinds of events for about seven years now—19 events as a participant and 8 as an organizer or presenter. (See the end of this post for a full list, if you're interested.) And this coming Saturday I've been asked to speak to the Penster's Writing Group in Fairhope, Alabama, on the topic of "Writing Workshops and Conferences: How To Get the Most Bang For Your Buck." (You can read more about this in yesterday's article in GulfCoastNews.com, where I was interviewed.)
So whether you've already finished a book or you're just getting started writing stories or essays, I encourage you to find a good conference or workshop to attend. Some good places to find information about these are Poets & Writers, which has a Conferences and Residencies Database, Writer's Digest Magazine, and Shaw Guide's Online guide to Conferences and Workshops.

But be careful that you don't just become a conference "groupie"… if you want to write and be published, you've got to sit down and do the work! Speaking of which….
(And now, here are those lists I mentioned earlier.)
Writing Workshops and Conferences (as a participant): 19 events in 7 years:
*Yoknapatawpha Summer Writer's Workshop (2007-2012) Oxford, MS
Fairhope Writer's Colony Retreat (2011) Fairhope, AL
Oxford Conference for the Book (2009, 2010) Oxford, MS
Barry Hannah Wednesday Writers Workshops (2009) Oxford, MS
Conference on Southern Literature (2009) Chattanooga, TN
Spiritual Writing Workshop (2009) Oxford, MS
Escape to Create Fall Writers Conference (2009) Seaside, FL
Southern Writers Reading (2008) Fairhope, AL
Arkansas Literary Festival (2008) Little Rock, AR
Oxford Creative Nonfiction Conference (2008) Oxford, MS
Mississippi Writer's Guild Conference (2007) Clinton, MS
Oxford Creative Nonfiction Workshop (2007) Oxford, MS
Southern Festival of Books (2006) Memphis, TN

*(So good I kept going back for 6 consecutive summers!)

Writing Workshops and Conferences (as a director, organizer, or presenter): 8 events in 4 years:
Louisiana Book Festival, Baton Rouge, LA (2013) panelist
Oxford Creative Nonfiction Conference, Oxford, MS (2013) co-director
Boulder Writers Workshop, Boulder, CO (2012) presenter
Southern Festival of Books, Nashville, TN (2012) panelist
Creative Nonfiction in the Delta Workshop, Clarksdale, MS (2011) presenter
Memphis Creative Nonfiction Workshop (2011) director
Oxford Creative Nonfiction Conference (2010) co-director           
Southern Women Writers Conference, Berry College, Rome, GA (2009) panelist/presenter