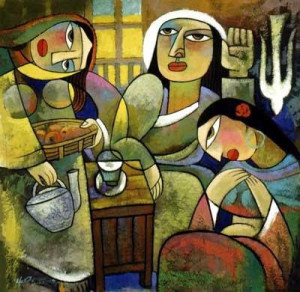 A couple of weeks ago I did a post about Barbara Crafton's "almost daily eMos" from her online site, "The Geranium Farm." Crafton takes a work of art and reflects on it in these posts, and I look forward to them every day. Today's post shows a contemporary Chinese painting by He Qi, "Christ in the House of Martha and Mary." As Crafton reminds the reader of the scriptural account of these two sisters and their different approaches to serving Christ as a visitor in their home, I thought about how I have played each role during different seasons of my life—sometimes the busy Martha, serving my family and volunteering for everything at church, and sometimes the contemplative Mary, metaphorically sitting at Jesus' feet.

Crafton shares an essay she wrote earlier, "Lazybones," as part of her reflection on Mary's seeming laziness set against Martha's physical acts of serving. I love these words from Crafton's essay:
People who sit and read—anything—are honoring their Mary selves. I am sure that starting anywhere, even with the silliest of novels, is just fine: the efficiency you build as a reader and your growing sophistication as a person will lead you toward more substantial fare, and to grow in knowledge of any kind is to grow closer to God.
During a more intense spiritual season of my life, I only read religious books. I must have devoured fifty volumes by early Church fathers, monastics, mystics, church historians, and theologians during a two-year period in the mid 1990s. I withdrew from "the world" in the sense that I also didn't listen to secular music and rarely watched television. When I came out of this season, I found myself starved for good literature, good music, and good theater, movies and television drama. As I began to write seriously, my thirst for reading increased. It was as if the words I devoured in novels, memoirs, and essay collections had become the fuel for my own work. That's still true today.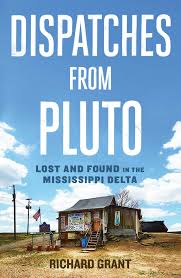 I couldn't go to sleep last night. I went to bed around 10:30, but I had another bout of "monkey mind" and just couldn't turn it off. So I got up around 1 and read until about 2:30 this morning. I think I finally fell asleep around 3 a.m. My current read is British travel writer Richard Grant's amazing book, Dispatches from Pluto: Lost and Found in the Mississippi Delta. It's about the move he made from New York City to the small Delta town of Pluto, Mississippi, where he discovered what he calls the best-kept secret in America. And because I probably have ADD and usually read two to three books at a time, I'm also reading Barbara Crafton's short book, The Courage to Grow Old, which is a soulful reality check for those of us in our sixth decade and beyond.
Sometimes, as a writer, I just sit. Yes, I sit and read, but sometimes I just sit. This would appear lazy to someone who doesn't understand that sitting still is part of a writer's work. This sitting can take place in front of a blank page on a computer screen, or on a bench by the Mississippi River, just a few blocks from my house. It can take place in my living room, or (maybe especially) when I'm driving alone on a trip. I rarely turn on the radio when I drive, enjoying the familiar or new scenery, but also allowing my mind to wander in a way that it rarely does when I'm at home. I'll be doing that tomorrow, as I drive over to Little Rock to visit a friend. And although it's not part of the Mississippi Delta, the miles of flat fields and the occasional crop duster flying over my head on Highway 40 between Memphis and Little Rock will remind me of Grant's life down in Pluto, Mississippi, and the lessons he learned there.
So I'll walk through my Friday a bit sleep-deprived but filled with images and words that feed my soul. Like Jason Michael Carroll says, I can sleep when I'm dead.