Well, in my late-life literary career, it seems that good news keeps coming in multiples, or at least in pairs. In 2016 I signed 3 book contracts, and all 3 were published in 2017. In 2018 my fourth book was published. As I faced 2019, I wondered what I was going to do for excitement. Just as I was getting my butt securely glued to my chair and started writing another novel, I was saved. First by a phone call from Kathy Murphy, asking me to edit an anthology to celebrate the 20th anniversary of the Pulpwood Queens next year. We signed a contract with Brother Mockingbird Publishers and hope to see the book in print by the end of 2019. Yay! I had a project! I immediately set about with the fun and busy work of editing and organizing another anthology.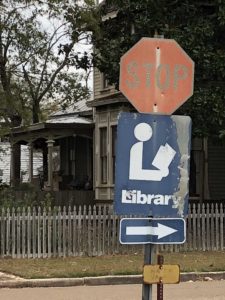 So, why was I still restless? I was remembering what happened one year ago, when I returned from the 2018 Pulpwood Queens Girlfriend Weekend with an idea for another book. I sat down and wrote ten short stories—in about three months—and had more fun than I can ever remember having while writing. Friends of the Library was inspired by my visits to speak at libraries in small towns in Mississippi in 2017 and 2018. I filled each story with a genre-bending combination of historical facts about the town itself—and even some of its famous residents—and a cast of completely fictional characters.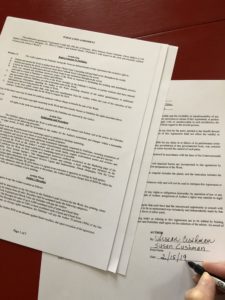 I had been waiting to hear back from a publisher who had the manuscript since last August. When I finally contacted him, again, pushing for a definitive answer, he bowed out, saying something about the press "not having an imprint in place for that kind of book." I'm not sure what that means, but I didn't waste any time after hearing that news. (And I tried not to waste any energy wondering why he didn't tell me that six months ago.) I immediately queried another press—one that was recommended to me by two authors I love and respect. I sent the manuscript off, and the next day I heard from them. They LOVED the book! So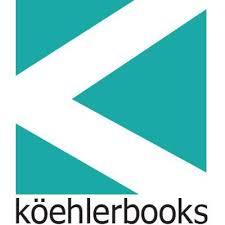 this past week, I signed my second book contract this year (and this month), this time with Koehler Books in Virginia Beach, Virginia. I'm so excited, especially since the press will turn this book around by August, making it my 5th published book (and moving The Pulpwood Queens anthology into position as book number 6). Six books in three years. To say I'm over the moon with happiness isn't an overstatement. Maybe I'm making up for lost time, since I didn't get started with this career until I was in my sixties.
Want to know more about Friends of the Library? Here's a draft of the text I wrote for the back cover of the book:
Adele Covington becomes an author in her sixties. When her novel and memoir are published, she goes on a book tour to speak to the Friends of the Library groups in ten small towns in her home state of Mississippi. Chasing her personal demons through the Christ-haunted south of her childhood, Adele befriends an eclectic group of wounded people. The cast of characters in Friends of the Library could have stepped off the pages of a book of Welty stories.

As she visits towns like Eudora, Aberdeen, Oxford, Senatobia, and Southaven, she meets a homeless man and a recovered alcoholic; a budding artist with an abusive husband; a part-time librarian who is writing a dystopian fantasy novel that explores his own ache for the birth mother he never knew; a bi-racial couple caring for their spouses who have Alzheimer's; and a seven-year-old girl with a rare form of cancer.

On her visits to Starkville, West Point, Pontotoc, Vicksburg, and Meridian, Adele encounters a woman suffering from childhood sexual abuse and years of eating disorders; a young girl who was a victim of a kidnapping; a seventy-something widower with memories of his former life as a musician; an aging beauty queen and former Miss Mississippi contestant; and a descendent from a Romani tribe who was abandoned as a child. "Gypsies, Orphans, and Ghosts" takes us to a historic graveyard where the gypsy queen—and Adele's grandparents— are buried.

If these stories sound too dark, don't worry, there are elements of hope and healing in each of them, even a miracle-working icon, some Mississippi blues and southern rock and roll, and a bit of late-life romance.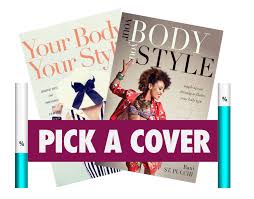 And what about Koehler Books? Check out their fun "Cover Polls," where readers can choose between the final two cover designs for upcoming books! I'm already working with the press on ideas for the cover for Friends, and will let y'all know when the final two designs are up for voting.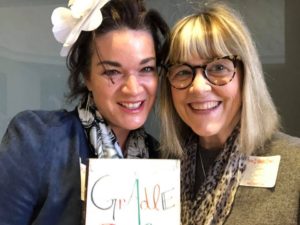 And check out their published books, including my friend Jana Sasser's wonderful debut southern noir novel, Gradle Bird. I met Jana at the 2018 Pulpwood Queens Girlfriend Weekend (notice a pattern here?) and she has a real gift for literary prose. (That's us, at right.)

As I was sharing all this news with my two best friends on a text message, one of them replied, "We like it when you are 'not bored'." These women know me, and how easily I can slip into a dark place when I don't have a creative project in hand. Now with two, I'm just hoping I won't go crazy as edits and deadlines and marketing work for both books come criss-crossing on my computer. If you hear me complain, please remind me that I asked for this. Thank you, God.
News flash for any of my readers who aren't on Facebook or Instagram:
I have a book deal for my 5th book, coming out late 2019 or early 2020! I will be editing another anthology:
The Pulpwood Queens Celebrate 20 Years!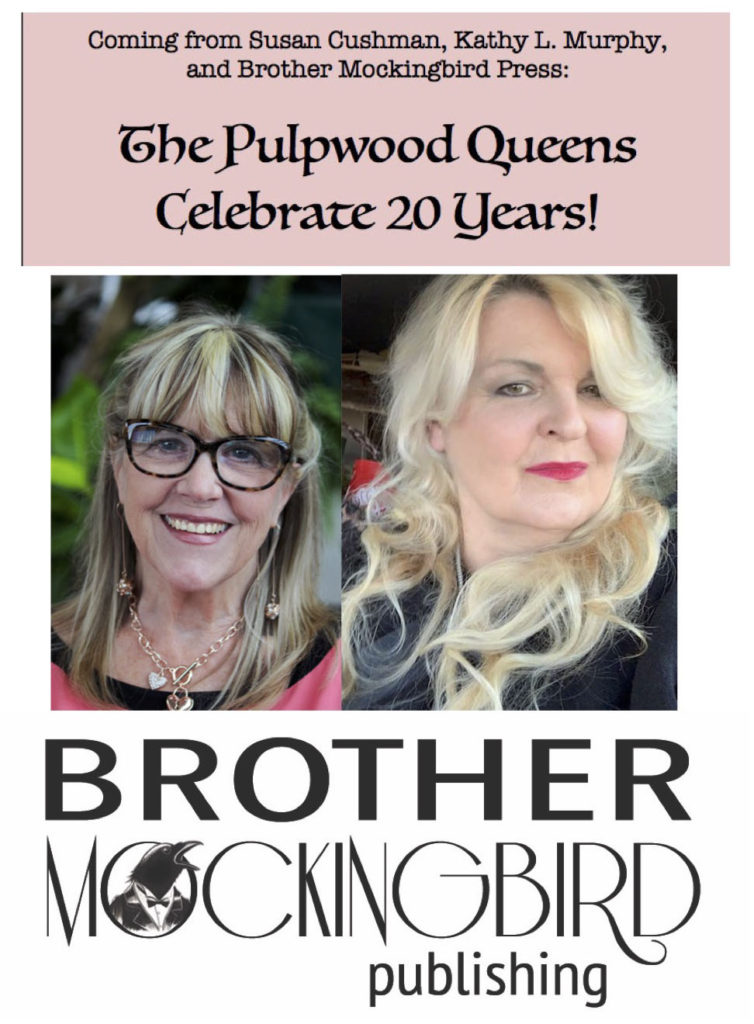 Collaborating with the Pulpwood Queens founder, Kathy L. Murphy, and Brother Mockingbird Publishing, this anthology will have essays by authors, book club members, journalists, and others involved in the world of books and publishing who have participated in the annual event held every January in East Texas known as Pulpwood Queens Girlfriend Weekend.
Obviously, all of the members of the more than 700 Pulpwood Queens book clubs will want to read this book, but what about everyone else? Why would YOU want to read this, if you're not a member of the Pulpwood Queens and you've never been to Girlfriend Weekend? If you love to read, this book will be a valuable resource in which you will discover dozens of authors whose books you will want to explore. And if you're in a book club at all, you'll enjoy the anecdotes and tributes in the book. It might even inspire you to read more (our hope), or join a book club yourself.
Stay tuned for pub dates, so you'll know when the book will be available in book stores and online.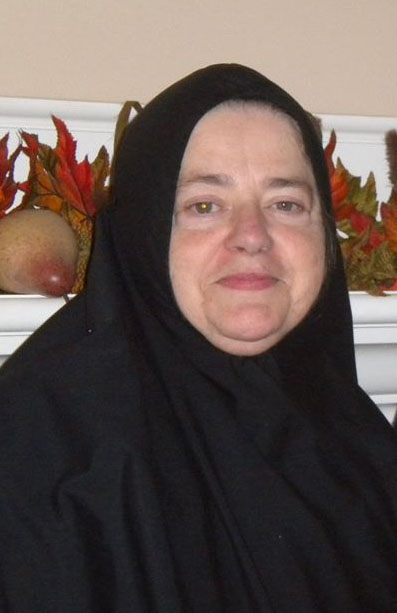 My dear friend and beloved sister in Christ, Anne Marie Harrison (aka Mother Olga) passed away last night at 10 p.m. Pacific Time.
Anne Marie moved to Memphis from the Nashville area in 1997, where she had been a member of St. Ignatius Orthodox Church in Franklin, Tennessee. In Memphis, she was a parishioner at St. John Orthodox Church, and we bonded soon after she arrived. We shared Mississippi roots and together we chased down some similar personal demons as we pursued Christ's healing in our lives with an almost monastic zeal. I say "almost" because that's what it was for me. I remember being with Anne Marie on at least one of my numerous visits to Holy Dormition Monastery in Rives Junction, Michigan, between 1997 and 2004. During those years she and I spent quite a bit of time together, and our family "adopted" her at times for Thanksgiving and Christmas dinners and other holidays when she would have otherwise been alone. I'm sure others in the parish did this as well.
Anne Marie's zeal became more than "almost monastic" when she moved to California to become a nun in 2004. She was given the name Sister Thekla at St. Barbara Monastery in Santa Paula, California, where she served until 2009.
Sister Thekla labored with the sisters at Holy Assumption Monastery in Calistoga, California for the last decade of her life. I regret that I never visited her there, but our parish was blessed to have her Abbess, Mother Melania, travel to Memphis to speak at one of our women's retreats, and I loved her spirit and was happy that my friend had found a spiritual home there. A few years ago Sister Thekla's health began to fail, and the sisters at the monastery stepped up to care for her. Shortly before her death, she was given a higher tonsure as a stavraphore nun, and her name was changed to Mother Olga, in honor of Beloved Olga of Alaska, who was especially known for her care of women who had been abused or neglected.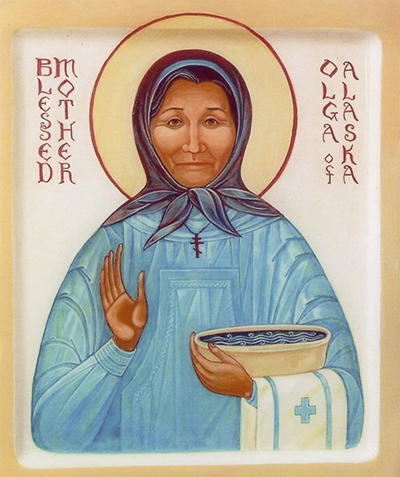 Sister Thekla called me back in July of 2013—when I had just been in a life-threatening car wreck—and offered (with her Abbess's blessing) to come to Memphis and stay with us and help my husband nurse me through part of the semi-invalid stage of my recovery. Many parishioners at St. John were helping us, and our daughter came from Denver for some of this time, so I thanked Sister Thekla and asked her to help me with her prayers instead, which I believe she did, and continues to do even now.
This Sunday the clergy and parishioners at St. John here in Memphis and at her home parish of St. Ignatius in Franklin, Tennessee, will be serving Memorial Prayers for her, and I'll be making the traditional koliva (boiled) wheat, which we will share afterwards in remembrance of Mother Olga's death. In John's Gospel we find this quote, "Christ said, 'Unless a grain of wheat falls into the earth and dies, it remains alone; but if it dies, it bears much fruit.'" (John 12:24)  This is why we cook the wheat. But we sweeten it with honey and raisins because death no longer has a sting. As Orthodox Christians we honor the memory of our deceased beloved ones with these prayers for the souls of the departed, which are also a way to help us heal from the death.
I love you, Anne Marie/Sister Thekla/Mother Olga. May your memory be eternal.
I've done several posts recently to introduce the speakers/workshop leaders for the A SECOND BLOOMING RETREAT to be held at The Homestead Education Center in Starkville, Mississippi, March 1-3. More information and registration are here.
Links to the previous posts are here:
Ellen Morris Prewitt, "The Joy of Creating in a Group Setting"
Nina Gaby, "Little Altars Everywhere"
Jennifer Horne, "How Our Stories Shape Us"
Kathy Rhodes, "Pushing Up the Sun"
Today I'd like to introduce the woman who will be leading our closing ceremony on Sunday morning.
Jeri Mangum or 'Just Jeri' as she calls herself is a survivor!
She was a working wife and mom who retired from Mississippi State University in 2009 when her husband's health became an issue. Jeri learned a lot of life lessons during the two and a half years that she cared for Bob as his health declined. After his death, Jeri discovered the work friends and couples friends were no longer there. And that is where her story begins . . .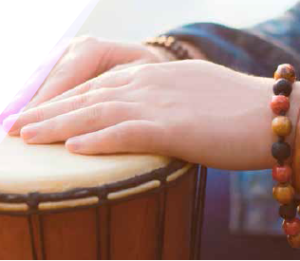 During her husband's time in the nursing home, Jeri had observed the residents' love of outside visitors who came and performed a variety of talents. It was that seed that drove her to fulfill her yearning for playing the drum. Hand drumming is her "happy/healing place". She has led drum circles in Starkville at the assisted living center, the nursing homes, and for interested women who meet for renewal. Research is proving the therapeutic benefits of drumming and Jeri is living proof!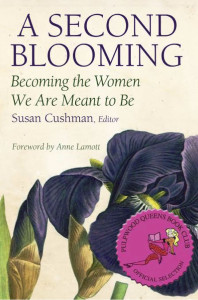 Her close circle of friends (FROGS/ Friends Readily Offering Genuine Support) know her to be the extrovert of the group who is always planning the next event or outing. Jeri is always willing to try new things and admits she loves making people smile.
So, come and bloom with us: create, write, discuss, walk, do yoga, drum, read, listen, eat, rest, and be inspired. Everyone who comes will receive a copy of A SECOND BLOOMING: BECOMING THE WOMEN WE ARE MEANT TO BE.
Spaces are filling, so register soon!
I'm following up on my recent post, in which I gave a link to information about the A Second Blooming Retreat this March 1-3 in Starkville, Mississippi, and in which I introduced one of the workshop leaders, Ellen Morris Prewitt. The retreat schedule is also in that post.
In the following post, I introduced another speaker, Nina Gaby.
And on Tuesday I featured Jennifer Horne.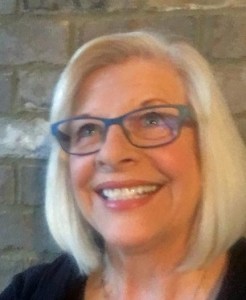 Today I'd like you to meet our final workshop leader, Kathy Rhodes. Kathy and I were co-directors, with Neil White, of the 2010 and 2013 Creative Nonfiction Conferences in Oxford, Mississippi. We've remained close friends and I was thrilled to have her contribute an essay to A Second Blooming. "Pushing Up the Sun," which I placed in the section titled, "Blooming After Loss," is about the sudden death of Kathy's husband, and her subsequent "blooming" as she worked through her grief.   Here's more about Kathy and the workshop she will lead on Sunday morning during the retreat:
Kathy Rhodes is author of Remember the Dragonflies: A Memoir of Grief and Healing. Her essay "An Open Letter" appeared in The Best Creative Nonfiction, Volume 3, and was singled out for a review in The New Yorker. She is Senior Writer/Editor at TurnStyle Writers. Rhodes lives in Nashville, where she enjoys gardening, kayaking, and walking her cocker spaniel.
Pushing Up the Sun – As life happens and hurts come, you have a choice of sitting by and waiting for healing or standing up and helping healing come: pushing up the sun. The more light you let in, the brighter your world will be. This workshop will be about proactively working toward healing, surviving, and thriving. Writing down thoughts and feelings helps you make sense of your own personal story. We will do some journaling with prompts. Journaling gets whatever you're dealing with out of your mind and onto the page. It's a tool to new insights, new perspectives, and self-discovery.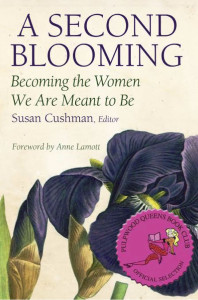 As I said in my previous posts, everyone who comes to the retreat will receive a copy of A SECOND BLOOMING: BECOMING THE WOMEN WE ARE MEANT TO BE (which I edited). There is housing at The Homestead Education Center, which is included with your registration, or rooms are available at a nearby hotel.
I can't wait to hang out with all the interesting women who come to this retreat, and to share our hopes and inspirations for our "second bloomings"!
I'm following up on an earlier post, in which I gave a link to information about the A Second Blooming Retreat this March 1-3 in Starkville, Mississippi, and in which I introduced one of the workshop leaders, Ellen Morris Prewitt. The retreat schedule is also in that post.
In the following post, I introduced another speaker, Nina Gaby.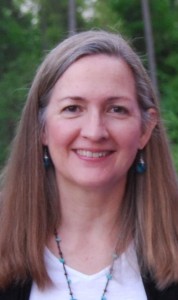 Today I'd like you to meet my friend Jennifer Horne.
I met Jennifer in 2006 when she was on a panel at the Southern Festival of Books the last year it was held in Memphis. Her panel featured the anthology she had edited with Wendy Reed, All Out of Faith: Southern Women on Spirituality. It was a life-changing day for me, because I also met Wendy, Cassandra King, Lee Smith, and Beth Ann Fennelly, who would all become mentors for me and my late-life writing career. The next time I saw Jennifer was in November of 2008, at the last Southern Writers Reading event in Fairhope, Alabama. I told Jennifer (and Wendy) how much All Out of Faith had meant to me, and they said they were putting together a sequel. I was honored to have an essay published in that sequel in 2012: Circling Faith: Southern Women on Spirituality.
Fast forward to 2017 when A Second Blooming was published, with Jennifer's wonderful essay, "The Second Half," included in the collection. And then in 2018, my second anthology, Southern Writers on Writing, included another essay by Jennifer. As the current Poet Laureate of Alabama, Jennifer has much wisdom to share with us at this retreat. Here's a little more about her and the workshop she will be leading on Saturday night:
Jennifer Horne is the Poet Laureate of Alabama, 2017-2021, and is a writer, editor, and teacher who explores Southern identity and experience, especially women's, through prose, poetry, fiction, and anthologies and in classes and workshops around the South.
How Our Stories Shape Us – How we tell our own stories, and those of others, affects the meaning we make of them—narrative not only orders but influences our knowledge, memory, and sense of self. Likewise, our senses contribute to and often evoke our memory of story: fresh-cut grass, chalk and erasers, home-cooked food. In this workshop, we'll play with group stories, help you reflect on your own story, and begin the process of constructing fresh narratives by drawing on sensory memories and revising interpretations of past events.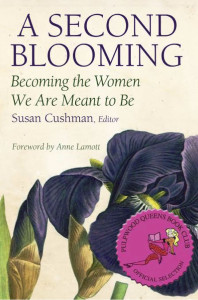 As I said in my previous posts, everyone who comes to the retreat will receive a copy of A SECOND BLOOMING: BECOMING THE WOMEN WE ARE MEANT TO BE (which I edited). There is housing at The Homestead Education Center, which is included with your registration, or rooms are available at a nearby hotel. I can't wait to hang out with all the interesting women who come to this retreat, and to share our hopes and inspirations for our "second bloomings"!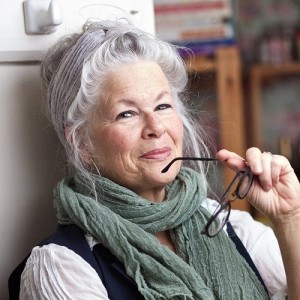 I'm following up on my recent post, in which I gave a link to information about the A Second Blooming Retreat this March 1-3 in Starkville, Mississippi, and in which I introduced one of the workshop leaders, Ellen Morris Prewitt. The retreat schedule is also in that post. I'm going to continue here by introducing our second workshop leader, Nina Gaby.
I met Nina at the 2013 Creative Nonfiction Conference in Oxford, Mississippi, which I was helping direct, along with Kathy Rhodes and Neil White. I was instantly drawn to Nina's beautiful soul, strong sense of self, and many talents. Here's a bit more about her:
Nina Gaby is a visual artist, writer, and psychiatric nurse practitioner who has
worked with clay, words and people for five decades. She currently works in
mixed-media, focusing on single edition artist books which explore the
intersection of narrative and object.
Nina will be leading a hands-on workshop on Saturday afternoon during the retreat. Here's a description of the workshop:

Little Altars Everywhere – In a time of deep grief I turned to making art again and developed a second wave to my creativity which continues to this day. The workshop will offer an opportunity to create a small assemblage to commemorate an object of focus, to secure a tableaux for a thought or a poem, to honor a grief, or to celebrate an idea. Some call them shrines, or altars, nichos or reliquaries. Three dimensional poems. Joseph Cornell called them shadowboxes.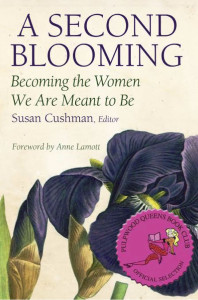 Check out Nina's art work here.
As I said in my previous post, everyone who comes to the retreat will receive a copy of A SECOND BLOOMING: BECOMING THE WOMEN WE ARE MEANT TO BE (which I edited). There is housing at The Homestead Education Center, which is included with your registration, or rooms are available at a nearby hotel. I can't wait to hang out with all the interesting women who come to this retreat, and to share our hopes and inspirations for our "second bloomings"!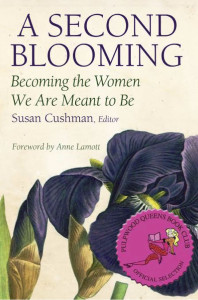 I'm so honored to be invited to lead a women's retreat at The Homestead Education Center in Starkville, Mississippi, March 1-3! All the information, including how to register, is here:
I met Alison Buehler, director of the Homestead and retreat organizer, at the Mississippi Writers Guild Conference in Meridian, Mississippi, last July. What a smart, creative, energetic woman! After our meeting, she read the first anthology I edited, A SECOND BLOOMING: BECOMING THE WOMEN WE ARE MEANT TO BE, and contacted me about hosting a retreat around the book. (A Second Blooming was the February 2018 pick for the Pulpwood Queens Book Clubs, and I enjoyed moderating a panel with several of the authors at the Pulpwood Queens Girlfriend Weekend in January of 2018 for this book.) Each retreat participant will receive a copy of the book, and Alison asked me to invite four of the 20 authors who contributed essays to the collection to lead workshops at the retreat.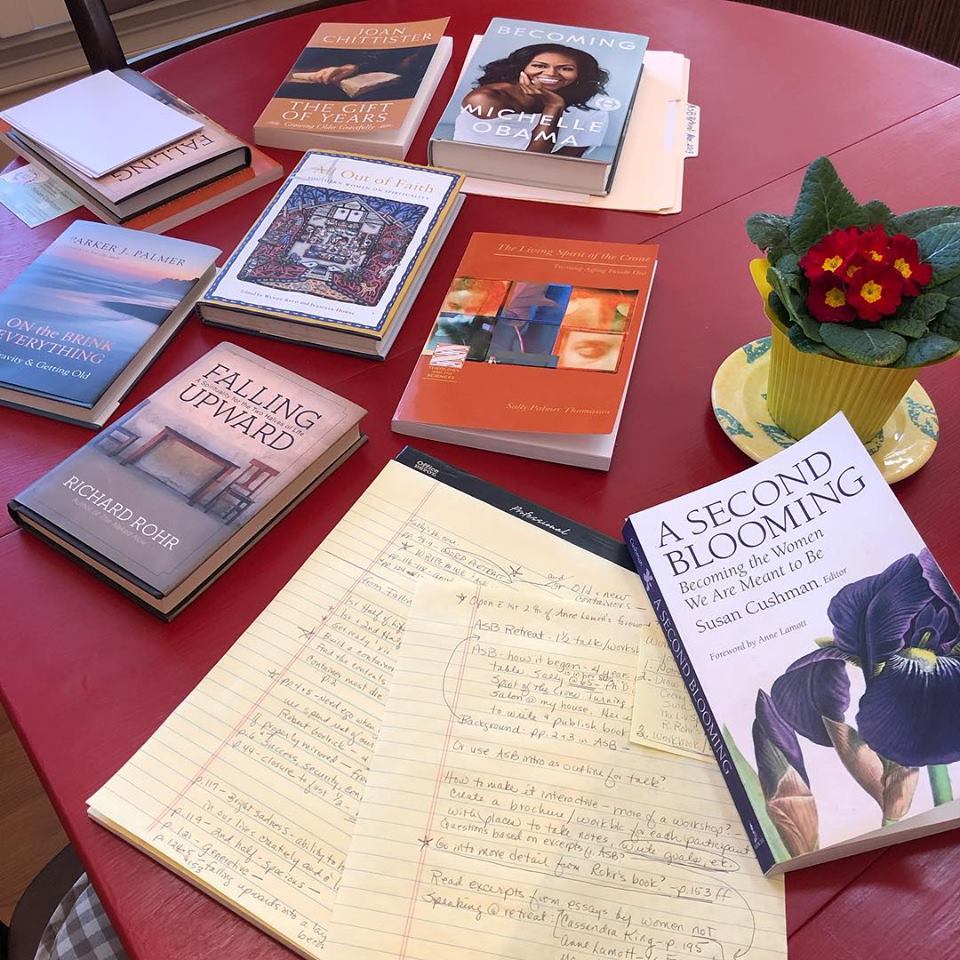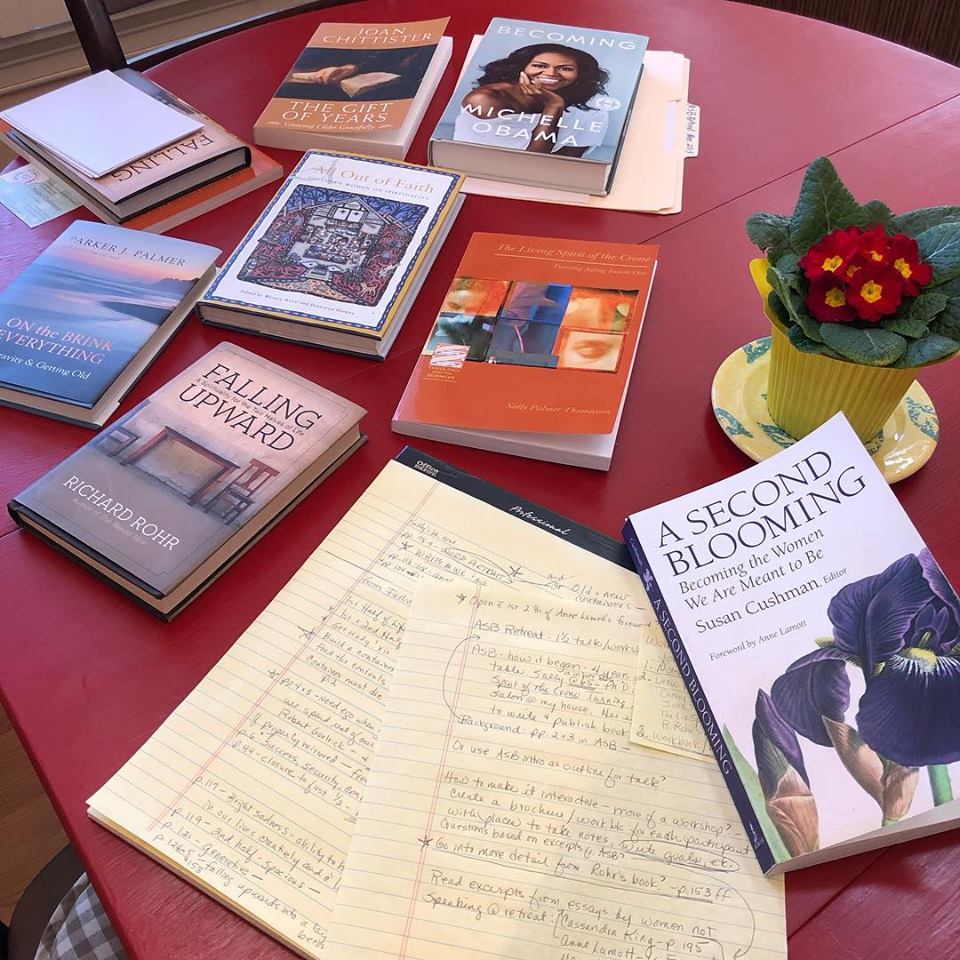 On Friday night, March 1, I'll be giving the keynote talk. It's from 7:30-9:00 p.m., but don't worry. I promise not to lecture for an hour and a half.  I've put together a short "workbook" for everyone to use with several short exercises. We will examine the first half of our lives and consider how we will "bloom" as we move forward into, or continue in, the second half. My session will be interactive, so hopefully it will keep everyone's attention and warm us all up for the four amazing workshops on Saturday and Sunday. I'm going to introduce each of the workshop leaders here on my blog, one at a time. Today's "bloomer" (that's what I call the authors in A Second Blooming) is Ellen Morris Prewitt.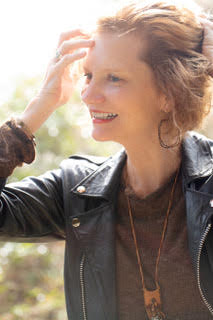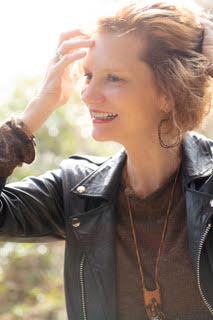 Ellen Morris Prewitt is a writer who has explored group creativity in hundreds of workshops. She leads workshops based on her book Making Crosses: A Creative Connection to God (Paraclete Press, 2009); for eight years she facilitated a weekly writing group of men and women experiencing homelessness, which culminated in their book, Writing Our Way Home: A Group Journey Out of Homelessness (Triton Press, 2014). Her recent work is a novel, Tracking Happiness (June 2018). She splits her time between Memphis and New Orleans. Here's a bit about the workshop she will be leading on Saturday morning:
The Joy of Creating in a Group Setting – Labeling ourselves as uncreative often holds us back from exploring new activities that call to our hearts (I know it does for me.) Turning to the comfort and support of a group can be really helpful. In this workshop, we will talk about the three basic elements of group creativity that make exploring new ventures—from shibori to chi walking to speech writing to launching a new website—fun. We'll make a very simple book to both experience these elements and to produce a journal for our resulting creative thoughts.
Here's the retreat schedule:
FRIDAY
3:00 – 5:30 REGISTRATION / GREETING / TEA / GETTING SETTLED IN
5:30 – 5:45 OPENING & ORIENTATION
5:45 – 7:00 DINNER AND RECIPE SWAP – Please bring 20 copies of a recipe that helps share your story.
7:00 – 7:30 INTRODUCTION OF PRESENTERS – Alison Buehler
7:30 – 9:00 A Second Blooming – Susan Cushman
10:00 QUIET TIME/LIGHTS OUT
SATURDAY
7:20 – 7:50 MORNING WALK or Gentle Yoga
8:00 – 9:00 BREAKFAST AND CLEAN-UP
9:00-11:00- Using Groups to Support Your Creativity – Ellen Morris Prewitt
11:30 – 2:00 Lunch and Break
2:00-4:00 – Little Altars Everywhere – Nina Gaby
5:00 – Dinner in Town
7:30 – 9:30 How Our Stories Shape Us – Jennifer Horne
10:00 Lights Out
SUNDAY
7:20 Morning Walk or Gentle Yoga
8:00 Breakfast
9:00 Pushing Up the Sun – Kathy Rhodes
10:30 Closing Celebration – Jeri Van Winkle Mangum
11:00 – 12: Clean Up and Departure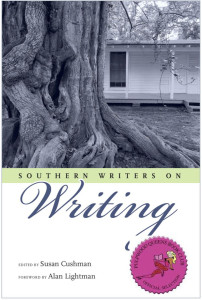 Kathy L. Murphy, founder of The Pulpwood Queens Book Clubs, has chosen the following books as the "books of the month" for 2019. She has also chosen "bonus books" for each month. Her 700+ book clubs internationally are encouraged to read the book of the month and discuss it at their monthly meetings. It was such a joy to meet and visit with many of these authors last weekend at the annual Pulpwood Queens Girlfriend Weekend in Jefferson, Texas, where I moderated a panel for Southern Writers on Writing. I'm honored that SOUTHERN WRITERS ON WRITING is the book Kathy chose for January! Looking for some great books to read in 2019?  Here is the Queen's list:

JANUARY – Southern Writers on Southern Writing edited by Susan Cushman
Bonus Books:
Theologies of Terrain by Tim Conroy
In Pieces by Sally Field
Road Kill Art And Other Oddities by Niles Reddick
Reading the Coffee Grounds and Other Stories by Niles Reddick
The Draw of Broken Eyes & Whirling Metaphysics: Poems by Charles Clifford Brooks III
FEBRUARY – Love & Ruin: A Novel by Paula McLain
Bonus Books:
The Birds of Opulence by Crystal Wilkinson
Edge of the Wind by James E. Cherry
A Celebration of Words: Volume One: Essays from Michael Connelly, James Lee Burke, Horton Foote, and Jeanette Walls by Kacey Kowars, Introduction by Kathy L. Murphy
MARCH – Nothing Is Forgotten: A Novel by Peter Golden
Bonus Books:
Haufraus Honeymoon: Lov,: Language, and other Misadventures in Germany by Beth M. Howard
The Lost Family: A Novel by Jenna Blum
Stand Forever, Yielding Never: The Citadel in the 21st Century by John Warley
APRIL – Confessions of a Christian Mystic by River Jordan (I read an ARC and can't wait for this to come out. It's awesome!)
Bonus Books:
Mourning Dove by Claire Fullerton
Workin' Our Way Home: The Incredible True Story of a Homeless Ex-Con and a Grieving Millionaire Thrown Together To Save Each Other by Ron Hall
The Fighter: A Novel by Michael Farris Smith
MAY – Becoming Mrs. Lewis: The Improbable Love Story of Joy Davidman and C.S. Lewis by Patti Callahan Henry
Bonus Books:
Ordinary Magic: Promises I Kept to My Mother Through Life, Illness, and a Very Long Walk On The Camino De Santiago by Cameron Powell
The Good Neighbor: The Life and Work of Fred Rogers by Maxwell King
The Unmade World by Steve Yarbrough
JUNE – The Glovemaker: A Novel by Ann Weisgarber
Bonus Books:
Beach Calling: A Devotional Journal of the Middle Years and Beyond by Missy Buchanan
How We Came to Be by Johnnie Bernhard
The Secrets of the Cormandel House by Jennifer Mueller
JULY – The Exile: A Novel by Gregory Erich Phillips
Bonus Books:
The Secret of Clouds by Alyson Richman
The Curiosities by Susan Gloss
Art Matters: Because Imagination Can Change the World by Neil Gaiman
AUGUST – The Beautiful Strangers by Camille Di Maio
Bonus Books:
The Way of Beauty by Camille Di Maio
The Promise Between Us by Barbara Claypole White
How To Be A Good Creature: A Memoir of Thirteen Animals by Sy Montgomery
SEPTEMBER – Unsheltered: A Novel by Barbara Kingsolver
Bonus Books:
Two Minus One: A Memoir by Kathryn Taylor
Shoe Burnin' Season: A Womanifesto by R.P. Saffire a.k.a. Suzanne Hudson
Countenance by Joy Ross Davis
A Promise Given: A Henrietta and Inspector Howell Novel by Michelle Cox
OCTOBER – When The Men Were Gone: A Novel by Marjorie Herrera Lewis
Bonus Books:
Warrior's Code 001: 7 Vital Steps to Resiliency by Mark E. Green with Echo Montgomery Garrett
Waffle House Rules by Joe Formichella
A World of Hurt and Dead and Buried (Wilkie John Western Series) by Tim Bryant
NOVEMBER – The Widows: A Novel by Jess Montgomery
Bonus Books:
Life in Lyrics by Connor Garrett
Red Mountain and Red Mountain Rising by Boo Walker
Steal Away Home by Billy Coffey
DECEMBER – The Library Book by Susan Orlean
Bonus Books:
Uncommon Type: Some Stories by Tom Hanks
The Lost Words by Robert McFarland
There's another writer in the Cushman family. Our son Jason, has always been a writer. Check out his blog, Harsh Reality. This morning he posted this short story by his nine-year-old daughter Grace on his blog. I asked his permission to share it here because I think it's so wonderful. I'm so proud of all four of our granddaughters, ages 3, 6, 8, and 9, but today I'm featuring Grace. The writer.
I interviewed Grace on Facetime briefly last night to ask about her inspiration for the story. Turns out she does know a girl named Capriana (cool name, huh?) but her story is nothing like this one. I asked if she knew someone who had recently lost a parent and might be dealing with the kinds of emotions that are so evident in this story, and she didn't. This just came from her imagination, and from a deep, caring, gifted soul. Please read and enjoy.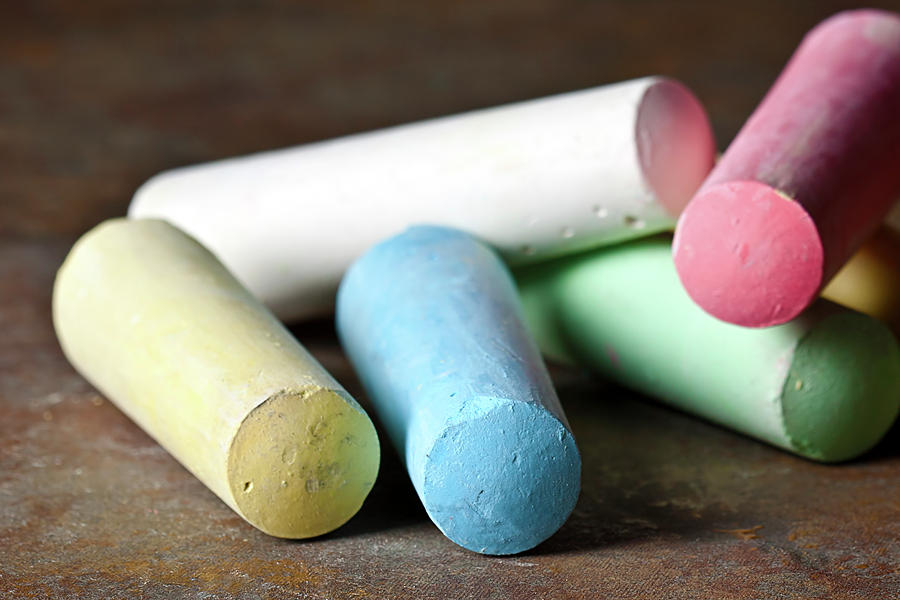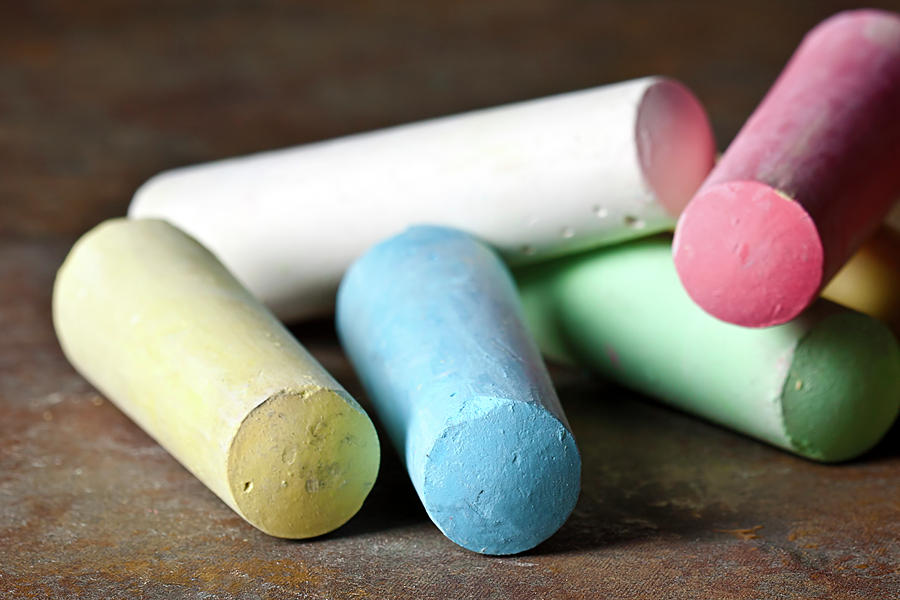 Chalk
by Grace Cushman
One breezy spring morning, a girl named Capriana woke up in her cotton bed. She could barely wake up for school. She hauled herself to her dresser and got dressed. Her mom forced her to wear her least favorite orange pants. Capriana HATED the color orange. She only liked the color red because red was the color emotion of anger. She stomped down the stairs with a handful of books that she's already read twice, a white shirt, and her least favorite orange pants.
"Hey orange is a good color for you! You don't always have to grumpy when you don't get your way you know." said Capriana's mom as Capriana stomped to the kitchen.
Capriana had frizzy brown hair and eyes that were the color of an emerald. Capriana ignored her mother and sat down to eat breakfast. "YUCK! Mommy you know how much I hate oatmeal!" complained Capriana.
"Oh just eat it!" said Capriana's mom as she pushed the lavender bowl.
Capriana did not like the color lavender either. To her it meant friendship. Capriana did not have any friends in her second grade classroom. Capriana picked up the silver spoon and took a big bite. "HOT!" yelled Capriana as she dropped her spoon that made a cling sound. Capriana's mom sighed and knelt down to grab the spoon. Capriana came back in the kitchen hauling a bag full of books. "Come on mommy I'm gonna be late for school!"
"Ok! Coming!"  
When Capriana's mom dropped off Capriana and said goodbye, Capriana stomped all the way to her classroom full of LITTLE SECOND GRADERS! When Capriana got to her classroom everyone stopped talking and looked at her. Then they all scooted one foot away from her desk. Capriana didn't care. You get used to something when it's happened to you for a year. But then Capriana saw a boy smiling at her. It was the new kid that had joined the classroom. Then a boy scooted to him and whispered something in his ear. Capriana waited for him to join the other. But suddenly he had a face that said, "So what?"
After math, which was the first subject of the day, Capriana got to know the boy more. She already knew he was really good at math. And she didn't care that he was perfect all the time. Even his name was perfect for him! George. All she cared about was having a friend. A real friend. But deep down inside her she still felt like something bad was about to happen. Something terrible. During writing George and Capriana were sitting in the corner together having their clipboards clutched to their chests. "Hahaha!"
"SHHHHHHHHHHHHH!" shushed their teacher, Ms. Banana.
"HAHAHAHAHAHA! That's so… HAHAHA! So funny! HAHAHAHAHA!" laughed George, tears in his eyes.
"SHUSH YOUR LITTLE MOUTHS!" hissed Ms. Banana as she closed shut a filling cabin.
Capriana and George started working quietly with their pencils. They both knew they had to start working faster for their writing celebration that was tomorrow. But suddenly, a boy dropped a book on George's head! " Owwww" said George while he rubbed his head. The book had dropped so quickly that it startled George and his hand struck out. And that had been a mistake. His perfectly sharpened pencil had ripped a hole in Capriana's published writing. Gasp flooded the room with all eyes on George and Capriana. Capriana's eyes felt hot. And so did her cheeks. George didn't know what was coming for him. "Capriana I'm so sor-"
"GEORGE, YOU MADE A HOLE IN MY PAPER!" cried Capriana, bursting into tears.
George's heart sank faster than the Titanic. "Capriana I said I'm sor-"
"I DON'T CARE IF YOU'RE SORRY, GEORGE! I WAS ABOUT TO FINISH MY WRITING!"
"Bu-bu-but"
"GEORGE I….I…HATE YOU!" yelled Capriana. George stood quiet with tears rolling down his cheeks. Capriana was so angry that she ripped all of his perfect handwriting to pieces.
When it was the next day Capriana and George missed out on their writing celebration. So instead of drinking strawberry lemonade and reading each other's writing they just read in the corner of their classroom. Which was not a problem to Capriana because she loved to read a lot. So at recess she read by herself under a tree. But at a distance she could hear a bunch of girls singing "George and Capriana sitting in a tree K-I-S-S-I-N-G!" Capriana wanted to wipe the smiles off their faces. But instead she kept reading. Reading was what kept her anger down. But at art class she saw the same girls talking about her and George in the corner. That's when she got so mad that when she heard them she actually punched one of the girls in the face.
"I'm so sorry about Capriana's behavior. I'll be sure to talk to her when we get home." said Capriana's mom. 
"Yes. Capriana just has to control her anger." said Capriana's principal.
"I don't know why she is so angry all the time!" said Capriana's mom.
"Can you tell me when she started acting like this?" asked the principal.
"Well she started ever since her father died."
"Hmmmm I see. Go on."
"She was so sad that she ran away from home and returned," said Capriana's mom.
"Well she's lucky it only caused a nose bleed and a few tears. And since this is her 1st warning, she will only get expelled for three days," said Capriana's principal. Capriana's mom nodded and walked out the door
When Capriana got home she ran up the stairs and slammed the door shut behind her. She grabbed a book from her shelf and started reading in her head on her bed. Tears rolled down her hot red cheeks. Suddenly the door opened. Capriana stopped reading at the word "chalk." She looked up. It was her mom. Her mom gingerly creaked open the door. "Hey sweetie can we talk?" asked Capriana's mom. Capriana ignored her and kept reading. Capriana's mom frowned. She took the book from Capriana and put it on the floor. "I've decided for your punishment you will have no tv, no computer, and no reading for a week."
"WHAT!?"
Capriana sat on her porch step with the sun burning her neck. Capriana had a small neighborhood. It was the shape of a circle. Suddenly Capriana saw something brown in the middle of their neighborhood under the slide in their park. She crossed the street and saw that it was a box. Capriana bent down and took the box out. She opened it and inside were different colored pieces of chalk. She took one piece out. Capriana didn't think about drawing to calm her anger down. She used them on her hand and drew a circle. Then a heart then a square then a flower. Soon she was drawing monkeys and squirrels like the ones she had seen in her trees. And she even drew herself. Soon she had a city of colors and shapes. But then suddenly, something fell on Capriana's head. She touched her head; it was wet. Then more raindrops fell from the sky! And soon her masterpiece was now just a flood of colors. Capriana's face felt hot again. She got so mad that she broke every single piece of chalk in the box. Then Capriana started crying. But not because she was upset but because she knows how it feels for something that you've worked hard on go to waste.
When it was tomorrow Capriana walked into her classroom. George and everyone else scooted a foot to the left. Capriana wanted to cry but she walked to George. "George I'm sorry for what happened. Will you forgive me?" asked Capriana. George didn't answer. Capriana sighed. Then she told him what had happened the other day. George then finally forgave her and they became friends again.