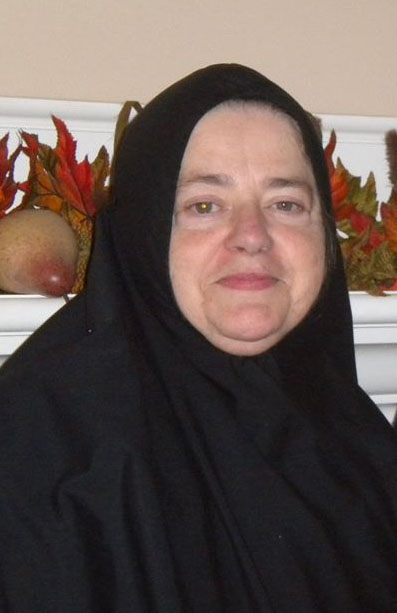 My dear friend and beloved sister in Christ, Anne Marie Harrison (aka Mother Olga) passed away last night at 10 p.m. Pacific Time.
Anne Marie moved to Memphis from the Nashville area in 1997, where she had been a member of St. Ignatius Orthodox Church in Franklin, Tennessee. In Memphis, she was a parishioner at St. John Orthodox Church, and we bonded soon after she arrived. We shared Mississippi roots and together we chased down some similar personal demons as we pursued Christ's healing in our lives with an almost monastic zeal. I say "almost" because that's what it was for me. I remember being with Anne Marie on at least one of my numerous visits to Holy Dormition Monastery in Rives Junction, Michigan, between 1997 and 2004. During those years she and I spent quite a bit of time together, and our family "adopted" her at times for Thanksgiving and Christmas dinners and other holidays when she would have otherwise been alone. I'm sure others in the parish did this as well.
Anne Marie's zeal became more than "almost monastic" when she moved to California to become a nun in 2004. She was given the name Sister Thekla at St. Barbara Monastery in Santa Paula, California, where she served until 2009.
Sister Thekla labored with the sisters at Holy Assumption Monastery in Calistoga, California for the last decade of her life. I regret that I never visited her there, but our parish was blessed to have her Abbess, Mother Melania, travel to Memphis to speak at one of our women's retreats, and I loved her spirit and was happy that my friend had found a spiritual home there. A few years ago Sister Thekla's health began to fail, and the sisters at the monastery stepped up to care for her. Shortly before her death, she was given a higher tonsure as a stavraphore nun, and her name was changed to Mother Olga, in honor of Beloved Olga of Alaska, who was especially known for her care of women who had been abused or neglected.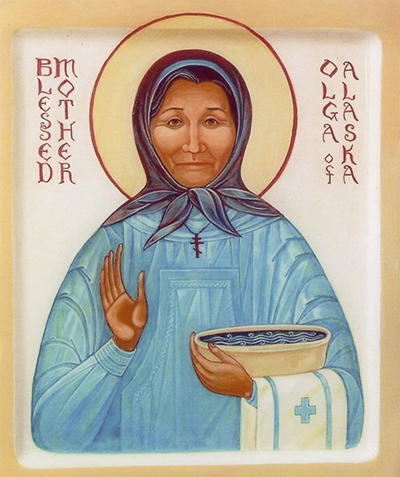 Sister Thekla called me back in July of 2013—when I had just been in a life-threatening car wreck—and offered (with her Abbess's blessing) to come to Memphis and stay with us and help my husband nurse me through part of the semi-invalid stage of my recovery. Many parishioners at St. John were helping us, and our daughter came from Denver for some of this time, so I thanked Sister Thekla and asked her to help me with her prayers instead, which I believe she did, and continues to do even now.
This Sunday the clergy and parishioners at St. John here in Memphis and at her home parish of St. Ignatius in Franklin, Tennessee, will be serving Memorial Prayers for her, and I'll be making the traditional koliva (boiled) wheat, which we will share afterwards in remembrance of Mother Olga's death. In John's Gospel we find this quote, "Christ said, 'Unless a grain of wheat falls into the earth and dies, it remains alone; but if it dies, it bears much fruit.'" (John 12:24)  This is why we cook the wheat. But we sweeten it with honey and raisins because death no longer has a sting. As Orthodox Christians we honor the memory of our deceased beloved ones with these prayers for the souls of the departed, which are also a way to help us heal from the death.
I love you, Anne Marie/Sister Thekla/Mother Olga. May your memory be eternal.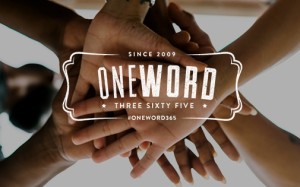 For the past few years, I've been choosing a word every December to focus on for the coming year. I register the word with the folks at One Word 365, which is where I got the idea in the first place. Once you do this, you can find others in your "tribe" who have chosen the same word, and contact them if you are interested.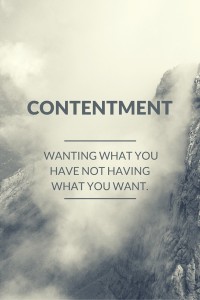 For 2019, I have chosen the word CONTENTMENT. Before I tell you more about why I chose that word, let me tell you about a message I received today from a woman in another state who chose the same word. She looked me up in our One Word "tribe" and sent me a message. Turns out she is caring for someone with Alzheimer's. Small world. Or large epidemic (Alzheimer's), depending upon how you look at it. We've enjoyed chatting online about our shared and different experiences, and although my journey/struggles with my mother and her Alzheimer's ended with her death in May of 2016, this woman is in the throes of it right now. She is blessed to have help from family, including a future daughter-in-law who is a nurse.
So why did I choose "contentment" as my One Word for 2019? Because I struggle so much with various elements of its opposite— jealousy, greed, gluttony, resentment, restlessness. My father confessor has encouraged me to practice thankfulness as an antidote to jealousy, and that helps. Looking at my life from the outside (as all of us view one another's lives) I'm sure most people think I have a pretty charmed life and should find it easy to be content. And I do! I have financial security, a good marriage of 48+ years, fairly good health (having survived cancer and a life-threatening car wreck), three healthy children who have good jobs, four healthy granddaughters, several very close friends, and the opportunity during this later season of my life (I'll be 68 in March) to pursue my dreams—writing and publishing books. During a 17-month period in 2017 and 2018, I actually had four books published, which is pretty amazing. I went on close to 60 events in 7 states speaking and signing books during those two years, and really had the time of my life. So why do I struggle with contentment?

Psychologically speaking, I've been looking for the love I didn't get as a child (from my grandfather, who molested me, and my mother, who was verbally abusive to me) my whole life. And no matter what I have, it never feels like enough. In some ways I've been like an orphan who isn't sure where her next meal is coming from, so she hoards bit and pieces of food for the future. Metaphorically. I've always wanted more. When I was in high school, I wanted to be a cheerleader more than anything life had to offer. When I didn't get it, I went after everything else. But all the other honors and activities (Secretary of the Student Body, acting in school plays and being a Theater Guild officer, being business manager of the school newsletter, eventually being a "Favorite," "Best School Booster," and a member of the Hall of Fame did not make me content. I wanted to be a cheerleader.
At Ole Miss I pledged what I considered to be the top sorority—turning down bids from other sororities—and was elected president of our pledge class. I was dating, and soon engaged to, the president of the senior class. And yet I never FELT like I was popular, successful, or loved. What was lacking? What was it I wanted and didn't have? This was almost 50 years ago, and yet I can remember it like it was yesterday: I wanted to be skinny and beautiful. I wanted to look like the beauty queens. I was chubby and had eating disorders and was never content with myself.
Those issues followed me into early adulthood and middle age.
And then there's my "career." For the first seven years of my marriage, I worked mainly in administrative positions in various medical offices and businesses. I only finished two years of college, not wanting to borrow money to continue school while my husband was in medical school and residency. Once he started making money, I chose to work part time on and off while raising our three children, but I was mostly a stay-at-home mom. So, when our third child left for college, I decided it was time for my "career." I got cancer right away, which derailed things for a little while. But then I was able to pursue my dreams. I started with painting—studying iconography and eventually leading workshops and teaching in my home studio. In 2006 I started writing seriously, not knowing it would be 11 years until my first book would be published. During those years, I published over a dozen essays in various journals and magazines, but I wasn't content. I believed that publishing a book would bring contentment.
Friends and fellow writers tell me I should be proud of what I've accomplished in my late life career, and I am. Proud. But not always content, which is another thing altogether. I spent months several times during those years trying to get a literary agent, so that my books would have a chance to be published by one of the large houses and be read by thousands. When those plans never worked out, I ended up publishing with four different independent presses who don't require agent representation—two academic and two small presses. And while my experiences with some of those presses have been wonderful, I'm still in the "small pond."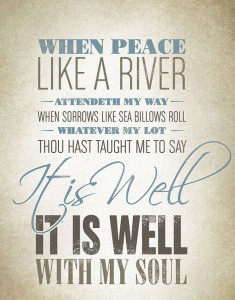 So I tried again last year to get an agent for my short story collection, and also my personal essay collection, but after several months, I lost patience and sent the manuscripts to more indie presses. Of course I'll be happy to hear that either or both books get published, but I'll still be in the small pond. I'm asking God to help me be thankful and CONTENT in that pond. And I'm trying to apply Colossians 3:23 to my work ethic:

"Whatever you do, work heartily, as for the Lord and not for men."
At 67 I'm seeing a glimmer of light at the end of the tunnel is these areas. And I'm hoping that by focusing on CONTENTMENT in 2019, I'll find that elusive peace I've been craving my whole life. As I was writing this post, I found a post on my new One Word 365 friend's Facebook page that said, "Which Bible verse will guide you in 2019?" I began to look for verses about contentment (here's a nice list of 20) and found a couple that resonated strongly. I'll close with my favorite:
"That each of them may eat and drink and find satisfaction in all their toil—this is the gift of God."—Ecclesiastes 3:13
What would be your ONE WORD for 2019? Whether or not you chose one "officially," I hope I've inspired you to at least consider a goal that will bring healing and encouragement to you in the New Year.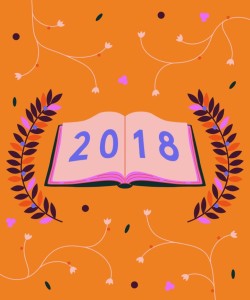 So, last year I posted my book list, showing that I had read 44 books in 2017. Not sure what this says about me (I'm a slacker?) but in 2018 I only read 38 books—just over one book every two weeks. In comparing the two years, I can't figure out how I read 18 fewer books this year than the previous, since in 2017 I published 3 books and traveled to over 40 events in 7 states for those books, whereas in 2018 I published 1 book and only traveled to about 25 events in 5 states. Where did my reading time go in 2018? A close examination of my life indicates that I probably spent those remaining reading hours watching television. Yes. I love to watch television. This might be unusual for a writer, but I grew up watching TV (starting in the mid 1950s when we got our first set) and didn't become a reader until I was in my 50s! I wanted to be an actor before I wanted to be a writer, which explains a bit about my love for the screen.
In my (self) defense, I will say that in 2018 I WROTE another book—my linked short story collection FRIENDS OF THE LIBRARY—so there's that. (Pats self on the back.) And I organized my personal essay collection, PILGRIM INTERRUPTED, into sections and wrote the introduction. And I spent a good deal of time querying literary agents and independent presses for both of these books. (Pats self on the back. Again.)
Meanwhile, it's interesting to notice the types of books I read each of these years:
2017: 23 fiction (all novels); 20 nonfiction (9 memoirs, 1 collection of micro-memoirs, 2 spiritual/religious, 2 psychology/self-help, 5 inspiration/essays, 1 art/history); and 1 poetry collection. 18 of those 44 books were by authors I know personally.
2018: 19 fiction (16 novels, 2 short story collections, 1 book of 4 novellas); 15 nonfiction (5 memoirs, 4 spiritual/religious/inspirational books, 3 essay collections, 1 oral biography, 2 psychology/self help);4 poetry collections. 24 of the 28 books I read in 2018 were by authors I know personally.
So, here's my list of books read in 2018, actually in the order in which I read them. I'm taking a risk of hurting my friends' feelings, since I know 23 of these authors, but I'm going to put an asterisk by my favorites. Please keep in mind how very subjective this is—certain topics and stories resonate with people who have shared experiences and interests—and not always an indication of how excellent the prose is, although in some cases that's the reason for the asterisk. I will also add that I read the first 100 pages or so of THE FRIEND, winner of the National Book Award, but lost interest. Maybe it's just because I'm not a dog person? As a writer, I wanted to see what it was about the book that won it such a prestigious award. Just didn't get it. See how subjective this is? (NOTE: THE FRIEND did make the New York Time's list of 100 Notable Books of 2018. So did 2 books I read and liked very much, IN PIECES by Sally Field and EDUCATED by Tara Westover.
What's up next for me in 2019? Michelle Obama's BECOMING, Patti Reagan Davis's memoir about her father's journey with Alzheimer's, THE LONG GOODBYE, and THE LETTERS OF FLANNERY O'CONNOR AND CAROLINE GORDON, edited b y Christine Flanagan, are on top of my stack (which is huge!) . . . but I'll be going to the Pulpwood Queens Girlfriend Weekend in January again, where I'll visit with over 50 fellow authors and lots of prolific readers, so no telling how many books I'll come home with!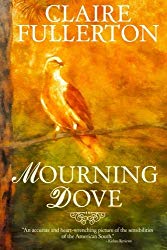 Happy reading in 2019! Please leave a comment here or on Facebook and tell me YOUR favorites books read in 2018! HAPPY NEW YEAR
Little Broken Things by Nicole Baart
Hunger by Roxane Gay
*Gradle Bird by J.C. Sasser (my review is here)

Spells & Oregano by Patricia V. Davis
Bead by Bead by Suzanne Henley (my review is here)

*Mourning Dove by Claire Fullerton (my review is here)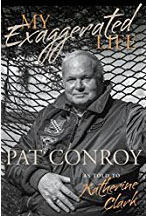 The Dollhouse by Fiona Davis
Time and Despondency: Regaining the Present in Faith and Life by Nicole Roccas (my post about this book is here)

*My Exaggerated Life: Pat Conroy as told to Katherine Clark (my Q & A with author Katherine Clark is here)

The Fighter by Michael Farris Smith
Mississippi by Ann Fisher-Wirth (poems) and Maude Schuyler Clay (photography)
*Confessions of a Christian Mystic by River Jordan
The Mutual UFO Network by Lee Martin (my review is here)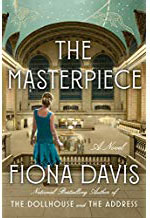 In Praise of Wasting Time by Alan Lightman
A Gentleman in Moscow by Amor Towles
Little Fires Everywhere by Celeste Ng
Reading the Coffee Grounds and Other Stories by Niles Reddick (my review is here)

Big Magic by Elizabeth Gilbert
The Lewy Body Soldier by Norman McNamara
Tracking Happiness by Ellen Morris Prewitt (my review is here)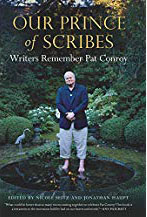 Where the Creek Runs by Mary Abraham
*The Masterpiece by Fiona Davis (read my chat with Fiona Davis here)

Rush by Lisa Patton (read my interview with Lisa here)

*Our Prince of Scribes, edited by Nicole Seitz and Jonathan Haupt (my review here)

Love and Ruin by Paula McLain
A Southern Season: Four Stories from a Front Porch Swing (incl. Claire Fullerton)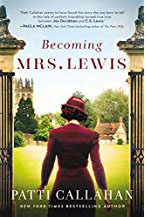 *Becoming Mrs. Lewis by Patti Callahan Henry
Becoming a Healing Presence by Albert S. Rossi
Almost Everything: Notes on Hope by Anne Lamott (a few words on this book here)

The Small Door of Your Death by Sheryl St. Germain
Navigating Disaster by Sheryl St. Germain (a few words about St. Germain here)

Madstones by Corey Mesler
*Congratulations, Who Are You Again? by Harrison Scott Key (my review here)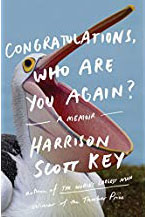 All You Can Ever Know by Nicole Chung
*In Pieces by Sally Field (my review here)

*Educated by Tara Westover
Ya Yas in Bloom by Rebecca Wells
Next Year in Havana by Chanel Cleeton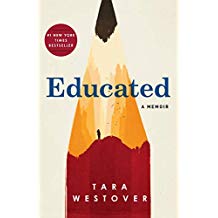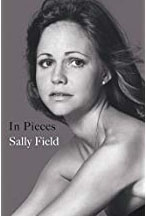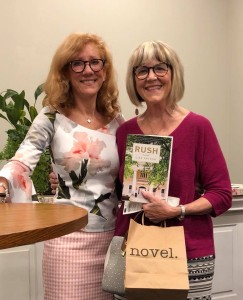 I recently had the pleasure of meeting author Lisa Patton in person, when she spoke at Novel books in Memphis, where she was launching her new novel RUSH. Lisa is a Memphis native, living in Nashville now. And although she went to school at the University of Alabama, she chose to set her story of sorority rush at the University of Mississippi. Next Sunday, September 30, is BID DAY at Ole Miss, so this is a good week to be thinking about what those girls are going through in the final days of rush.
RUSH is set in 2016, so a lot has changed since I pledged Tri Delt at Ole Miss back in 1969. Reading about all the drama made me wonder how much was exaggerated, and I couldn't wait to talk with Lisa Patton about this. I'm excited that she agreed to answer a few questions.
Susan:  Hi, Lisa. I loved meeting you at Novel in Memphis at the launch for your new book RUSH. It's always wonderful to celebrate with fellow Memphis authors! I know you said at the event that you went to Alabama, and yet you chose to set RUSH at Ole Miss. I pledged Tri Delt at Ole Miss (back in 1969!) and I'm sure much has changed in these almost 50 years, but I'm wondering how much you exaggerated the drama surrounding rush, and even the social milieu. Are there really dorm decorators? And do the moms/alums really get so involved? The way you portrayed Lilith Whitmore, the House Corp President of Alpha Delta Beta (a fictional sorority) reminded me a bit of how Kathryn Stockett portrayed the junior league ladies like Hilly Holbrook and Elizabeth Leefolt in her novel THE HELP.  (I'm from Jackson, Mississippi, so I lived through much of what Stockett wrote about.)
Lisa: I loved meeting you, too, Susan! I've heard so many lovely things about you over the years and all I can say is: "It's about time!" I didn't exaggerate the rush drama at all. I had a bank of young collegians from not only Ole Miss but other SEC schools that kept me informed on all the current goings on. The mamas turn into Nervous Nellies and yes, the alums are very involved. Getting the story right was paramount; after all rush is one of the most sacred rituals in the South. And yes, there are dorm decorators! I interviewed the most prominent one in Mississippi for over two hours one night. She was incredibly generous with her information.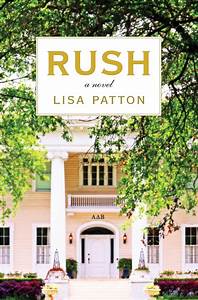 I decided to set the novel at Ole Miss over Alabama for three reasons: First, Alabama wins too much ;-0! Some people love to hate The Tide and I couldn't take a chance on a person not reading my story because of it. Second, as a Memphian I like to set my stories in my beloved hometown, and thirdly, Eli Manning had just been nominated for the Walter Payton Humanitarian of the Year Award and that fit perfectly within the context of my story. Lilith Whitmore, my antagonist, is satirical on purpose to make the point that although we try to cover it up, racism still runs deep. I wanted to use humor, exaggeration, and even ridicule to show that the southern racial divide still influences our decisions, whether we think so or not. Since THE HELP was set in the 60s, Kathryn Stockett didn't need to use satire to portray Hilly Hollbrook or Elizabeth Leefolt. RUSH is set in modern day. Folks today are not as overt when it comes to racism. We've come a long way since the 60s but there's still a long road to hoe.
Susan: I keep thinking of comparisons to THE HELP, especially with your chapters from the point of view of Miss Pearl—the beloved African American housekeeper at the Alpha Delta Beta house. Did you live in a sorority house at Alabama, and were you aware of similar struggles that the staff there had, regarding the lack of medical insurance and other benefits, for example? What is the situation like for the staff in these sorority houses today? Have the women living in those sorority houses ever actually done something to try to change that, the way Cali Watkins and the other Alpha Delts do in the book?
Lisa: I lived in my sorority house my senior year – third floor, right next to the TV room. We had daybeds in our rooms and slept on one big "sleeping porch." I've often thought about those days and the deep great sleep I once enjoyed. The room was ice cold and we hunkered down under warm comforters. The noise from girls slipping in and out was blocked with the white noise from large fans. What I wouldn't give to be able to sleep that hard today!
I was not aware of the struggles facing the staff at sorority houses. As much as I hate to admit it, I was a self-absorbed college student. I never once thought about it back then. And the ladies cooked and cleaned for us every day. When I learned about it as an alum (I'm betting most alums have not thought of it either) I was sorry I'd never considered their needs and hoped I could bring awareness by including it in my story. Most sorority and fraternity houses don't offer staff benefits although some of the houses now outsource their staff for that reason.
Recently, I learned about a young woman at the Tri Delt house at Ole Miss who started a Go Fund Me page for their cook, Mr. Kenny. He had double hip replacement surgery and had to be off work for three months. Last I checked the page has raised $20K toward the $75K goal. That's a perfect example of RUSH in action. I'm so proud of the young Tri Delt girls for helping Mr. Kenny.

Susan:  I'm also proud of my Tri Delt sisters at Ole Miss for helping Mr. Kenny! Like you, I wasn't aware of our house staff's needs at all when I was in school, so it's encouraging to see this generation stepping up.
In an early scene in RUSH, you show the daughter of Lilith Whitmore getting drunk during the tailgating parties in the grove before the first football game of the season. How much do you think drinking is a problem on campuses like Ole Miss and Alabama today, and what do you think is being done, or needs to be done, to change the social milieu in order to make college a safer place for teenagers and young twenty-somethings?
Lisa: I think drinking is a problem on most college campuses. The drinking age was 18 when we were young so I think some parents are fine with their children drinking after they reach a certain age and tend to look the other way. I've heard of several providing a "safe place" like home for their kids and their kid's friends to drink.  Honestly I don't know what the answer is. Until fake IDs are controlled and parents stop looking the other way I doubt things will change. I'm not sure that there is an answer.
Susan:  Your earlier books—Whistlin' Dixie in a Nor'easter, Yankee Doodle Dixie, and Southern as a Second Language—are all humorous. And your stylish humor is evident in RUSH, but you deal with serious topics. Did you set out to write a more serious book this time?
Lisa: Yes, I knew when I tackled the issues of race, equality, and inclusion the book would have to be more serious, but I love humor and I wanted to make sure my book had plenty of it. That's why I used satire and poked fun at dorm room décor and mother daughter relationships. The most fun I had was writing about Wilda's 81-year-old mother. I would sit in my room and laugh till tears rolled down my cheeks at the absurdity of her vanity and snobbery. As you well know, writing can be quite lonely. Without adding humor into my stories I would lose my ever-loving mind!
Thanks for taking time during your busy book tour to chat with us, Lisa. I really enjoyed RUSH and am only sorry that I didn't think of writing it first! (Okay, that's how I felt about THE HELP, too. And Lisa Wingate's BEFORE WE WERE YOURS. That's my excuse for not writing a New York Times best-seller.)
Check out Lisa's EVENT PAGE to see where you can catch up with her for a reading/signing. I'm looking forward to seeing her again at the Southern Festival of Books in Nashville, where she's speaking at 12 p.m. on Saturday, October 13.  (And IF YOU GO… be sure and come to my panel at 3 p.m. on Friday, October 12, for SOUTHERN WRITERS ON WRITING, with Lee Smith, River Jordan, and Niles Reddick!)
Looking for a conference to learn more about writing, editing, and publishing? Here it is! Meridian is convenient to folks in Mississippi, Alabama, and Tennessee, but worth a longer drive if you're not that close!

I'll be LEADING TWO WORKSHOPS, MODERATING THE PANEL OF SPEAKERS, and DOING ONE-ON-ONE CRITIQUES. 
Here's all the info. Click on any blue link to learn more, and I hope to see you there.
Mississippi Writer's Guild Conference, July 27-28, Meridian, Mississippi, at the MAX: Mississippi Arts & Entertainment Experience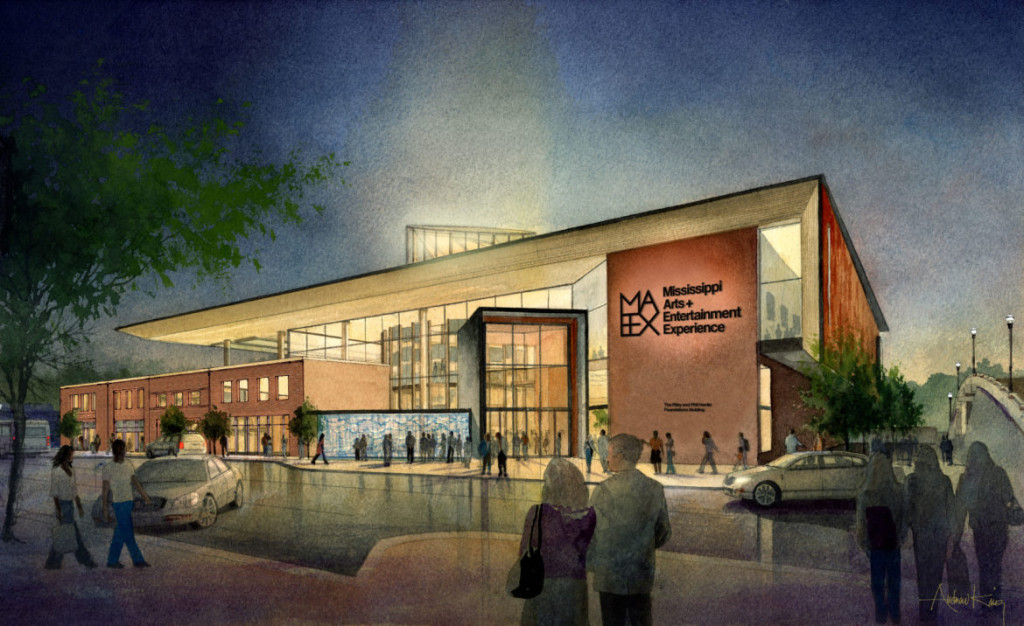 I'm so excited to be returning to my mother's hometown—where I lived briefly when I was three years old—for this, the twelfth annual conference of the Mississippi Writer's Guild. How fitting that I attended their first conference, in August of 2007, where I met several people with whom I am still friends today, including the novelist Joshilyn Jackson (who encouraged me to start this blog), the prolific short story author John Floyd, the very creative writer and artist Keetha DePriest Mosley, the amazing storyteller and actress Rebecca Jernigan, the multi-talented writer, musician, and radio show hostess Richelle Putnam, and the author C. Hope Clark, who will be speaking again at this year's conference.
The two workshops I will be leading at the conference are:
Using Scenes to Write Memoir (in Books and Essays)
Memoirist, essayist, novelist, and anthology editor Susan Cushman will lead students through exercises to discover the importance of using SCENES to tell their stories—or the stories of others—in both memoir and essays. Using samples from published memoirs and essays, she will show how these scenes move the narrative forward, "showing" rather than "telling" the story. Students will then do a short writing exercise using this technique.
Four Book Deals in One Year: How to Get Published Without an Agent
Novelist, memoirist, and anthology editor Susan Cushman published three books in 2017 and one in 2018. She got all four book deals in one year, without the help of a literary agent. Susan will share her experience working with an agent, and explain why she ended that partnership. Learn how to find small, independent, and university presses to publish your work, and what the experience of working with these presses and their editors is like.
I will also be moderating the Panel of Speakers. We will entertain questions about anything having to do with writing, editing, publishing, and marketing. This year's panel of speakers and workshop leaders includes:
Sue B. Walker—poet, author, and editor
Chandler Griffin—documentary filmmaker and educator
C. Hope Clark—mystery writer and manager of Funds for Writers
Dr. Alan N. Brown—folklorist and author of over 25 books on the oral ghost narratives of the South
G. Mark LaFrancis—film-maker, film instructor, and producer
Whether you're a published author wanting to improve your craft and learn more about the industry, or a new writer just getting started, there's something for everyone at this year's conference.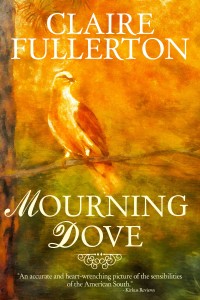 Mourning Dove
by Claire Fullerton
Review by Susan Cushman
How fun it was for me to read Claire Fullerton's wonderful new novel, set in the social milieu of the Memphis Junior League, the Garden Club, the Memphis Country Club, and the city's most elite private schools in the 1980s. I actually lived just a neighborhood away from the house where Camille (Millie) and Finley Crossan grew up, but my kids went to public schools in the late 1980s and 1990s, and we weren't part of the upper echelon of the social fabric of Memphis. But I knew about it. And Fullerton captures it beautifully in her novel MOURNING DOVE, written through the voice of Millie, beginning in her teenage years and moving into her tumultuous time as a young bride.
But Fullerton doesn't just capture the more polite elements of society in Memphis. She reaches into the heartbeat of the music industry, first in North Carolina, where Finley goes to make a name for himself, and later back in Memphis, as Fullerton says:
"Inside the dark clubs lay the gritty underbelly to my mother's genteel Memphis, which Finley ferreted out in that serendipitous, inexplicable way that magically comes to boys in the process of finding their footing."
Their mother Posey—beautifully drawn in her fashionable southern style, surrounded by antique plates, Chinese Foo dogs, and Wedgewood urns on every space of her well-appointed house—plays bridge, hosts sip-n-sees and lunches with friends at the country cub. She has left their alcoholic father for "the Colonel," a selfish bully who never endears himself to Finley and Millie. They never stop loving their father. Fullerton describes him through Millie's eyes:
"My father found God out of doors. He felt Him viscerally in nature, His mysteries descended upon him as intuitive inner-knowing. My father's universe was lit up in symbols and talismans that guided him onward through the fog of life's riddled path…. There are some men too gentle to live among wolves, and the dichotomy of who he was versus who he tried to be got him in the end."
I loved the scenes of the teenagers dancing down at Tom Lee Park by the Mississippi River, and the music fest at Memphis University School, where the guys mingled with the girls from Hutchinson. But these happier times weren't to last, as Finley succumbs to drugs and eventually loses himself in a self-led cult. No spoilers here, but things turn dark as the novel progresses. As his friend Luke says about him at one point:
"Intellects like Finley tend to reach for the edge. It's like this earthly level of consciousness isn't enough for a guy like him. He has to reach for more, know what I mean?"
Millie worships her brother. He is her talisman through life in their broken family and the changing society in which they live. Fullerton does a beautiful job of capturing Millie's inner dialogue throughout the book:
"Finley once said the whole meaning of life is to learn how to master ambiguity. It's life's choices that scare me the most, those crucial crossroads that direct or redirect the course of a life. And what settles me to no end is the recognition that the choices that shape our lives are not always of our making. Sometimes we're on the bitter end of somebody else's."
More than a coming-of-age story or a multi-layered family saga—and it is both of those things—MOURNING DOVE is a cautionary tale wrought with beautiful prose and gut-wrenching truthfulness. Readers will fall in love with Finley and Millie, and will root for both of them until the end. And yes, we are also sympathetic towards their mother Posey. A jewel of a novel.
Oh and here's a bonus, the audio book is narrated by the author herself, who worked as a DJ for a rock and roll radio station when she lived in Memphis. We've all got a treat in store!
After my visit to Vicksburg, Mississippi last week to do a reading and signing for SOUTHERN WRITERS ON WRITING at Lorelei Books, I became more interested in what was going on behind the scenes at the Miss Mississippi Pageant. The pageant takes place in Vicksburg every June, and the preliminary competitions were held during my visit. The bookstore owner, Kelle Barfield, had just hosted an autograph party for several of the contestants earlier in the week. Sorry I missed that! I had read about the decision of the Miss America Pageant to discontinue the swimsuit portion of the pageant, and how the Miss Mississippi Pageant was still including it, so my writer's curiosity was up. When I got home, I watched the pageant online on Saturday night.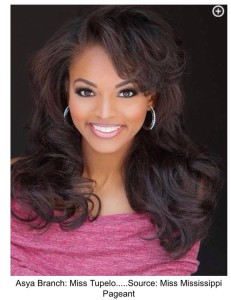 I was delighted that Asya Branch won and is the new Miss Mississippi for 2018. Asya goes to school at my alma mater, Ole Miss, and her platform is to help children of incarcerated parents. Her own father has been in jail for more than half of her life. I was also interested in the fact that she won the swimsuit competition for the second time (she also won it in 2016), and her short interview question during the final part of the pageant was about her thoughts on this part of the competition being done away with. She said she had mixed feelings (I guess so, since she won it twice!) but understood that the pageant wanted to focus more on empowering women. (That's a paraphrase… wish I had written down an exact quote.)
Meanwhile back in Tennessee, Memphis native and Ole Miss graduate, Christine Williamson was crowned Miss Tennessee Saturday night at the pageant in Jackson, Tennessee. And guess what? She was also the winner of the swimsuit competition. Her response to hearing that it was done away with for the Miss America Pageant?
It's bittersweet. I understand we have to eliminate it to get rid of outside perceptions of women being objectified.
She added that she never felt objectified, but that she learned more about fitness and nutrition by participating. As she said in the Commercial Appeal article:
Pageants teach women the importance of physical fitness, having confidence in public speaking and showcasing their talents. In addition, it's taught them the importance of failing graciously.
Williamson also represents the state as Tennessee's appointed congressional advocate and serves as a national Alzheimer's Association ambassador. Of course I love her involvement with this association, as I lost both my mother and my grandmother to this awful disease.
Speaking of which, I just discovered a wonderful web site with posts by over 150 authors who have published books about Alzheimer's. Check out AlzAuthors.com. I will have a post up there about my memoir Tangles and Plaques: A Mother and Daughter Face Alzheimer's in the coming months (watch for a link here when it comes out) and I'm enjoying reading through the posts and have already ordered a couple of books by AlzAuthors. I was especially thrilled to learn that one of my favorite literary fiction novelists, Lisa Wingate (author of Before We Were Yours) wrote her first novel, Tending Roses, about her grandmother's Alzheimer's.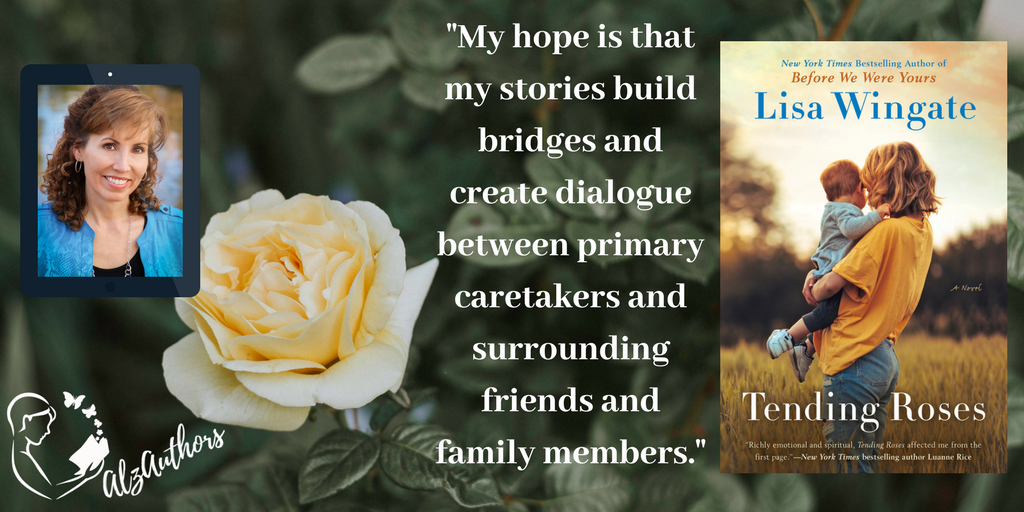 So in September I'll be cheering for Miss Mississippi and Miss Tennessee to do well in the Miss America Pageant… even though there won't be a swimsuit competition to give them a leg up. (pun intended) Hopefully their other attributes—like talent and platform—will get them both through to the finals, and maybe one of them will be our new Miss America.
The first time I went to Europe, about 36 years ago, my husband and I stayed in a small village on the Neckar River, about 50 miles from Heidelberg. This was in around 1982. We were there for a symposium my husband was part of, and they had us tucked away in a remote little village. I remember playing tennis with a French girl on courts that overlooked the Neckar River. And opening our windows every morning to story-book scenes of milk being delivered outside our castle-like hotel. Our only site-seeing excursion during the symposium was to Heidelberg.
Thirty six years later we returned, on Day 5 of our Viking Rhine River Cruise. Heidelberg is Germany's oldest university town, known as the cradle of the German Romantic movement. It's most famous example of baroque architecture, the Heidelberg Castle is a magnificent red standstone ruin perched 330 feet above the river. It was partially destroyed by fire in the 17th century.
As our tour bus ascended to the castle, I snapped a picture of one of the hotels where Mark Twain stayed in the summer of 1878, Hotel Schrieder, now a Crowne Plaza. Of Heidelberg Twain said the city was "the last possibility of the beautiful." In 1880 he published "A Tramp Abroad," which includes the story of a raft journey down the river.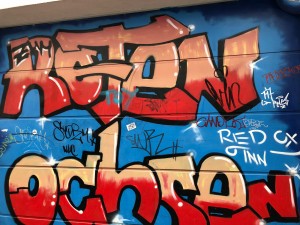 This was published several years before "Adventures of Huckleberry Finn." Many people in Heidelberg believe, therefore, that the Neckar was as influential as the Mississippi to Twain's writing.
 Later we walked past this graffiti piece, which featured the Red Ox Inn, where Twain spent much of his leisure time. The guide didn't point the graffiti out, but I'm always on the watch for street art and was thrilled to see the Red Ox Inn included.
The castle moat and grounds were fascinating, but the views of the Old City and river and buildings across the river from the castle were my favorite part of the tour.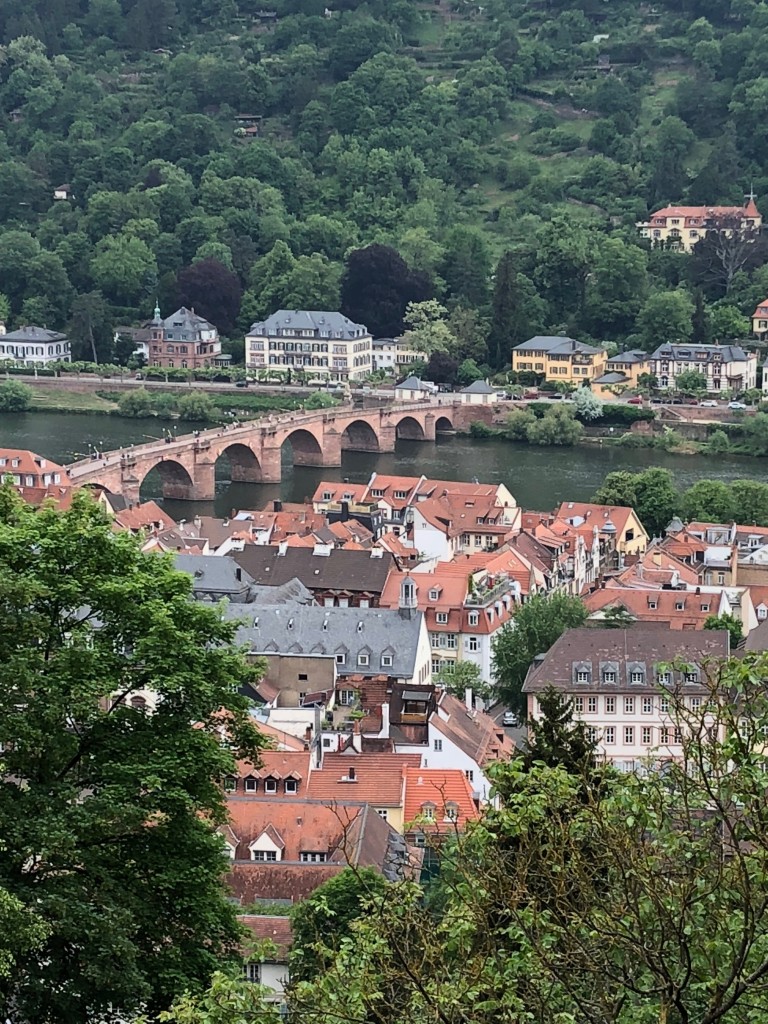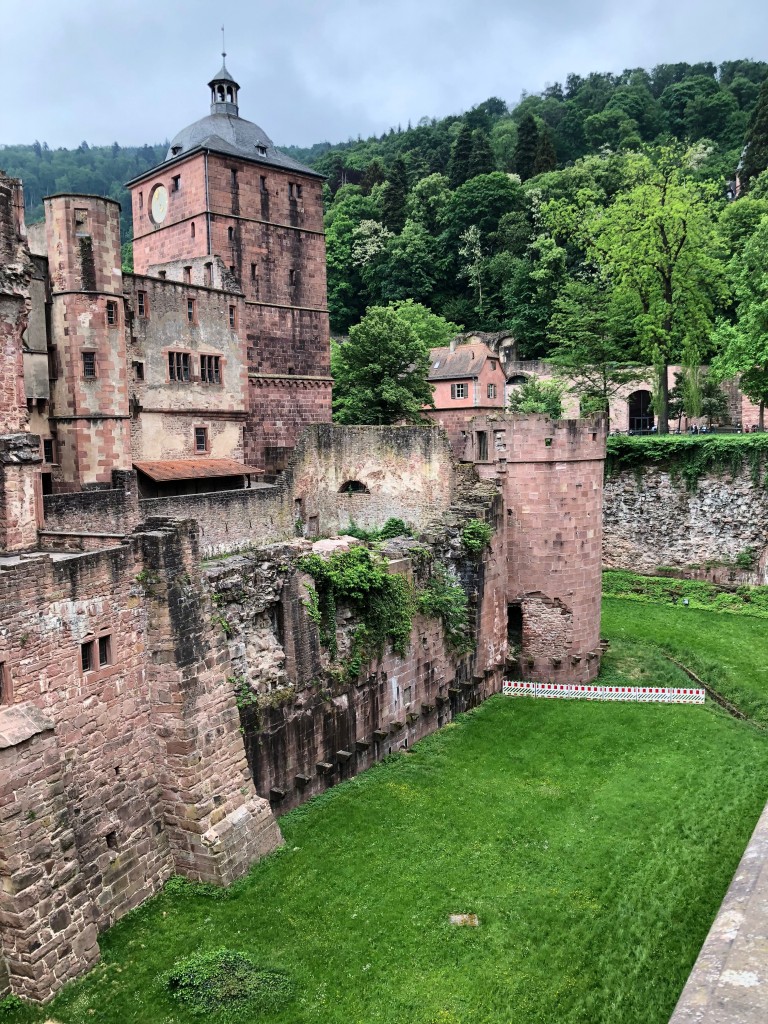 Our boat actually docked at Speyer for our Heidelberg tour, on the west bank of the Rhine. There was a beautiful park there, and lots of local art.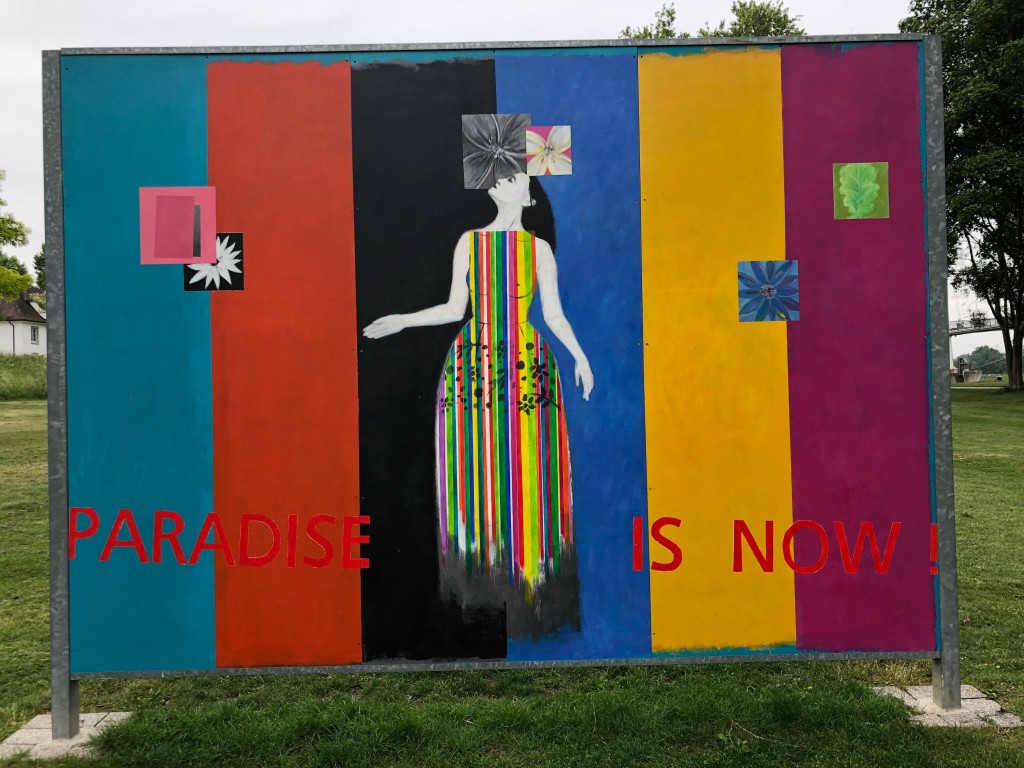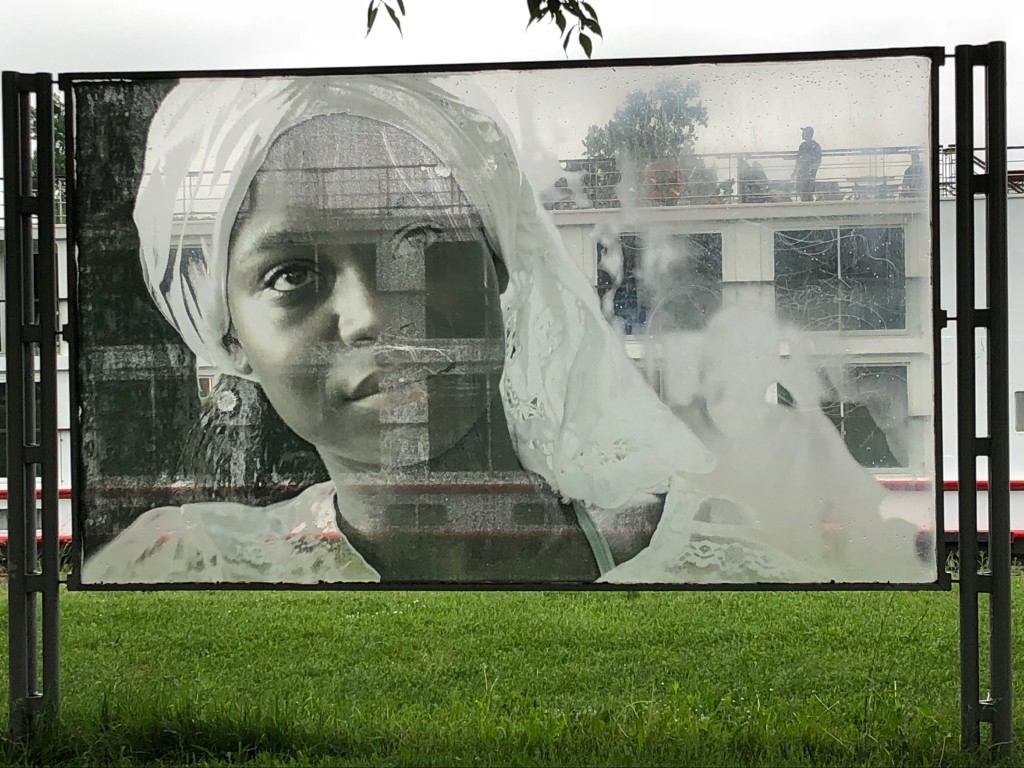 We took an informal walk into town without the group and into the "Memorial Church of the Protestation" a historic Luthern and Reformed church built between 1893 and 1904, to commemorate the Diet of Speyer.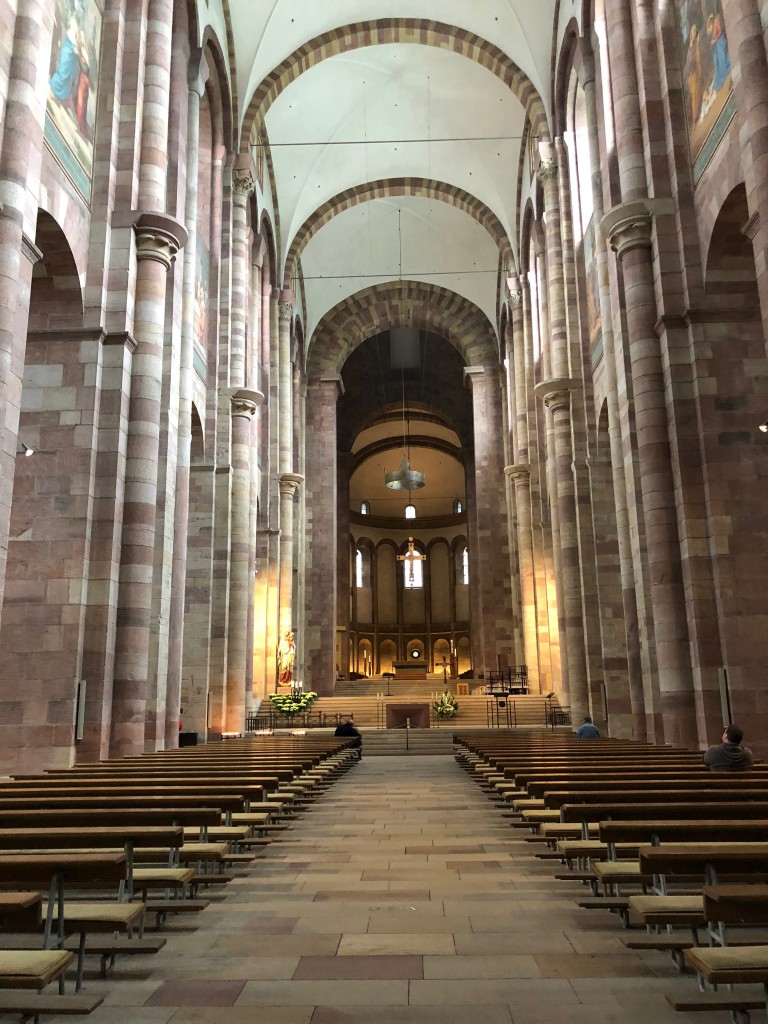 The term "protestant" originated in Speyer in 1529 at the Diet of Speyer, when 14 free cities of Germany and six Lutheran princes protested the Edict of Worms that had banned the writings of Martin Luther and labeled him a heretic and enemy of the state. I grew up Presbyterian and was a huge fan of Martin Luther, but I never thought about why it was called the Edict of Worms until we cruised alongside Worms headed into Speyer. So much history all around us on this amazing trip.
Stay tuned for my next post where we head across the Rhine and dip our toes into France for one day….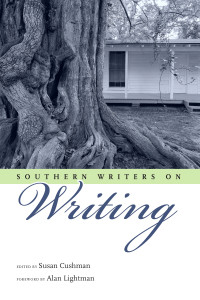 I am beyond thrilled with the first two reviews for SOUTHERN WRITERS ON WRITING!
Ed Tarkington's review at Chapter 16, "Against Professional Southerners" also appeared in the Memphis Commercial Appeal on Sunday, April 29. Opening with quotes by Walker Percy and Flannery O'Connor, and later with nods to other legends like Faulkner and Welty, Tarkington praises various authors who contributed to the collection for their contemporary take on the age old question, "Why has the South produced so many good writers." Tarkington also praises the anthology for its' "accounting of the legacy of slavery and Jim Crow in shaping the Southern canon and deferring the dreams of African-American writers…." Four of those African-American writers have essays in the collection. And of course he acknowledges the importance of humor and front-porch storytelling to southern literature, and there's plenty of that in the collection.
Also out Sunday, in the Jackson, Mississippi Clarion Ledger, is Jim Ewing's review, "Southern writers share their secrets in 'Writing'." There's no online link to the article, but Jim gave me permission to reprint it in its entirety, so here it is. Thanks so much, Jim!
A REVIEW OF
Southern Writers on Writing
Susan Cushman, editor
University Press of Mississippi
194 pages
Southern writers share their secrets in 'Writing'
By Jim Ewing
Special to the Mississippi Clarion Ledger
USA TODAY NETWORK
What makes a writer a writer? Or a Southern writer, especially?
Is it that one writes and, hence, is a writer? Or lives in the South or writes about the South?
In "Southern Writers on Writing," edited by Susan Cushman, the answers to these questions might not be as easy as they seem.
Thirteen women and thirteen men struggle to answer the question of their calling, and their responses show a nuanced look at why, and how, these authors came to be called Southern writers.
They include such well-known authors as Michael Ferris Smith, Jim Dees, W. Ralph Eubanks, Harrison Scott Key, Cassandra King, and Julie Cantrell. They quote as mentors such luminaries as Rick Bragg, Willie Morris, Barry Hannah, Shelby Foote, Ellen Douglas, and Walker Percy.
But, still, the answers prove elusive. Dees says it requires "insane courage" to "take the plunge" and commit one's innermost thoughts to an uncaring, or uncertain, universe.
Joe Formichella says: "The truth is that you write because you can't not write."
Patti Callahan Henry, among other reasons, says: "I write because the stories inside have to go somewhere, so why not on paper?"
Some of these writers are from the South, others just came to be here. Like Sonja Livingston, who found Southern writers "crept up" on her, seeming familiar, drawing her to the region and lifestyle. Most of all, the way Southern writers write is alluring, unleashing inner secrets, she explains, "set out like colorful laundry flapping on a line, (that) I'd learned to keep folded and tucked away."
Cantrell, who hails from Louisiana, confides that Southern writing taps all the senses. "When we set a story here, we not only deliver a cast of colorful characters, we share their sinful secrets while serving a mouth-watering meal…. The South offers a fantasy, a place where time slows and anxieties melt away like the ice in a glass of sugar cane rum."
"The South is nothing less than a sanctuary for a story," she adds. "It is the porch swing, the rocking chair, the barstool, the back pew."
Being a Southern writer, writes Katherine Clark, is an opportunity and a burden, especially when you consider that you're entering literary territory with nationally and internationally known explorers, such as William Faulkner, Flannery O'Conner, Eudora Welty, Tennessee Williams, James Agee, Harper Lee, and so many others.
But, as John M. Floyd points out, "Within several miles of my hometown lived men and women who were known only as Jabbo, Biddie, Pep, WeeWee, Buster, Puddin', Doo-spat, Ham, Big 'un, Nannie, Bobo, Snooky, and Button. How could folks with those kind of names be anything but interesting?"
"Writing" is fascinating reading, and, of course, enthrallingly written as can be expected by writers writing about writing. But it's also an encouragement for those who have thought about writing, but haven't done it, thinking there's some kind of secret to it.
If there is an "inside secret" to Southerners wanting to write, maybe that's plain, as well.
The South, writes Jennifer Horne, writes itself every day, offering up "a hunter's stew of history and hope and horror."
It's all around us.
As Floyd points out: "In my travels I've been inside bookstores all across the nation, and I have yet to see a section labeled 'Northern Fiction.' Maybe that, in itself, is revealing."
* * *
Jim Ewing, a former writer and editor at the Clarion Ledger, is the author of seven books including his latest, Redefining Manhood: A Guide for Men and Those Who Love Them.
I'll close with a link to my interview in the May/June issue of Oxford Magazine, which just hit the shelves in and around Oxford, Mississippi. Thanks so much to Alec Harvey for the interview.
And I'm off and running for "launch week," as Southern Writers on Writers releases on Tuesday, May 1. I'm so honored to have events in (1) my university town, (2) my home town, and (3) my second home town (since 1988):

May 1 – 5 p.m. – Square Books/Oxford, MS – with Jim Dees, Michael Farris Smith, and Ralph Eubanks
May 2 – 5 p.m. – Lemuria/Jackson, MS – with John Floyd and Jim Dees
May 5 – 1 p.m. – Novel books/Memphis, TN – with Corey Mesler, Niles Reddick, Sally Palmer Thomason, and Claude Wilkinson
Check out my EVENTS PAGE for more events in coming months! Thanks for reading, y'all!
I am 67 years old today. Damn, that sounds old! But it also sounds wonderful because, as E.E. Cummings said,
"It takes courage to grow up and turn out to be who you really are."

If you've been following my blog, you know that I had my last drink SIX MONTHS AGO TODAY, on September 8, 2017. I wrote about it here:
"0 Meetings in 90 Days" (December, 2017)
and again here:
"120 Days" (January 8, 2017)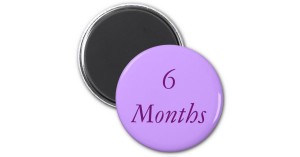 My closest friends are as baffled as I am about how I've been able to do this. Without rehab. Without AA. (Read my first post above for more info on that.) And today, six months in, I'm more convinced than ever that it has to do with:

Timing. I read Annie Grace's book, This Naked Mind, at a time when I was ready to hear her words, and ready to act on them.
God's grace. Every morning I ask God to help me make it through the day without a drink. And every evening I say thanks. Kind of like Anne Lamott's book, Help, Thanks, Wow. That's exactly how I feel today!
It also has to do with believing that people can change. In my blog post from August 8, 2010, "Can People Change?" I quoted an Orthodox psychotherapist, Dr. Jamie Moran, from his essay, "Orthodoxy and Modern Depth Psychology," in the book Living Orthodoxy in the Modern World:
People who leave a space for God—even for the 'hidden' God, which is what the Holy Spirit is: God's humility—can be helped, and can change. They can learn to live with the most extreme damage and suffering and yet still find joy in life…. People who leave a space for God are able to make that change of heart, not for any sentimental reason or out of any moral superiority, and certainly not because of what is conventionally called piety, but because and only because, despite their selfishness, they truly acknowledge and have faith in a force that is greater than themselves. They are willing to open their selfishness up to that greater force, and in opening its closed system, to begin to let life teach it its mistakes and heal its wound, and comfort its genuine suffering.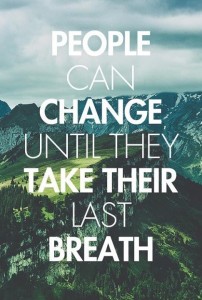 I was trying to change back then, and for many years before that. But I couldn't seem to let go of one of the main things that gave me comfort from my suffering—both emotional and physical—alcohol. (Another thing that I'm still struggling to let go of is trying to find that comfort from food, and I'm hoping that I will learn to do that as I have learned to let go of alcohol.) Sexual abuse—both as a child and as a young adult—left me in a messy battle with God, self, and my abusers, leading first to a lifetime of disordered eating and several decades of disordered drinking.
I've also struggled most of my adult life with anger and depression, which are in many ways two sides of the same coin. But in these areas I also believe that people can change, and I'm thankful to see progress with both of those demons in my own life, starting ten years ago when I had a breakthrough with anger, and wrote about it in an essay that was a finalist in the Santa Fe Writers Project: "Blocked." And I'm continuing to learn ways to deal with depression—and its close cousin despondency—this Lent, as I read and write about Nicole Roccas's new book, Time and Despondency.
So, as I move forward today into my sixty-eighth year of this amazing life that God has given me, I will try to continue to leave a space for God. Because I believe that people can change.