(photo of Susan in front of the historic banyan tree the day before the fires in Lahaina)
The Reunion
On July 29, we joined 120 of my husband's relatives (on his father's side) for another "ten-year reunion" . . . this time on the island of Maui, Hawaii. I say "ten-year reunion" because this tradition began over twenty years ago, when 72 of us went on a cruise to Alaska together. And then about ten years later, we met at Club Med in the Bahamas. This time, in 2023, there were again four generations present (our great-great niece Lily Cushman was 11 months old and our cousin Dave was 80) . . . but this time Bill (aka William Cushman) and I were among the oldest generation. Here's the breakdown:
Bill is one of 9 first cousins whose families were represented: Bill and his brother Tod and his sister Cathy, and their first cousins (sisters) Jill and Gwen (whose mother Betsy and Bill's father Bud are siblings) and their first cousins Dave, Fred, Chris, and Susan (whose mother Sue is the third sibling.) Don't worry if you can't follow . . . I mainly wrote this down so I'd have a record here on my blog! Here are some photos of "our generation." (I'm not sharing the many photos of our nieces, nephews, great nieces, great nephews, and great-great niece!) Left to right: Tod and Brenda Cushman, Kirk and Cathy Cushman Alexander, Bill and Susan Cushman.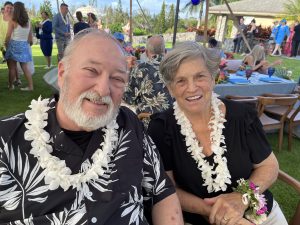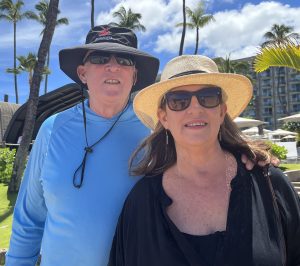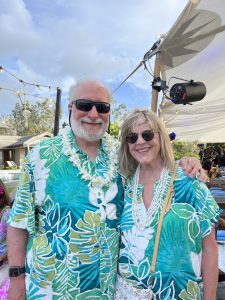 The Hosts
So how did these amazing reunions happen? Through the generosity of cousin David Wright and his wife Zofia, who live in Los Angeles (and also own a vacation home on Maui.) Dave and Zo have now hosted three of these gatherings, paying for everything—air fares, hotel/ship accommodations, spending money for everyone, and hosting numerous group events like luaus, welcome dinners, birthday dinners, and closing dinners. They are a special couple who love family and enjoy sharing their good fortune with all of us. Here they are at Dave's 80th birthday party, which Zo hosted for him at their vacation home in Maui one night during the reunion.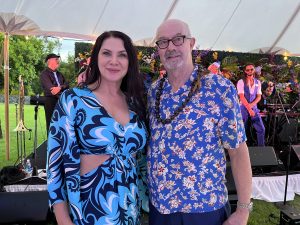 The Venue
The venue for the reunion was the Westin Maui Resort & Spa in Ka'anapali, where we  enjoyed the five swimming pools and cabanas and of course the beach. I love water and boats. Bill and I enjoyed a snorkeling cruise one day with our daughter Beth and her family, and also a sunset dinner cruise with them another afternoon/evening. I wasn't up for the two mornings Bill joined our kids and grands for a visit to an alpaca farm one day and a hike through a rain forest and swimming in a pool under a waterfall another day. Our son Jon and his wife Kari Beth participated in the family golf "tournament" one day (KB's first time to play golf and now she's hooked!) My favorite "activity" wasn't really that "active" . . . hanging out in my favorite pool with several generations of cousins where we could stand or sit on the built-in benches on the sides of the pools with cold drinks and lots of conversations. These are really wonderful people who have lived and are living interesting lives, and I loved every minute with them. My husband comes from good people! Here are some photos . . . the photographer shot some of all 120 of us that I don't have yet. Each family group dressed in matching Hawaiian prints. Can't wait to see them!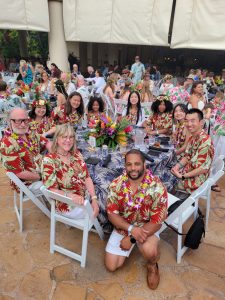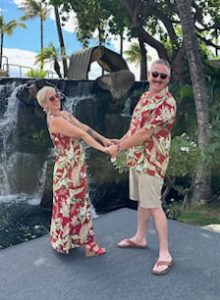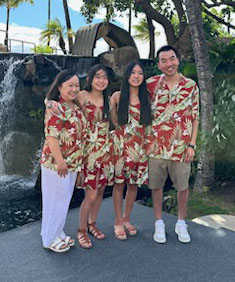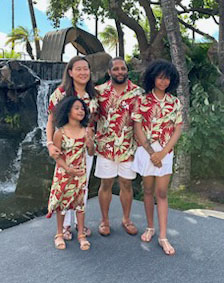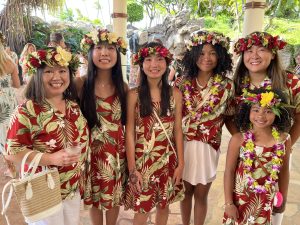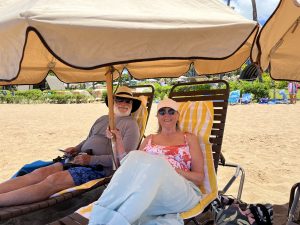 Lahaina
Unless you've been living under a rock, you've seen the news about the wildfires that suddenly destroyed the beautiful, historic community of Lahaina. Only 3 miles (usually a 6-minute drive) south from our hotel in Ka'anapali, we visited Lahaina on Monday, August 7, with my husband's sister Cathy and her husband Kirk. What a magical morning, riding in their rented convertible like movie stars, having breakfast at Betty's, right on the water, and walking down Front Street, stopping by the famous Banyan tree, museums and shops.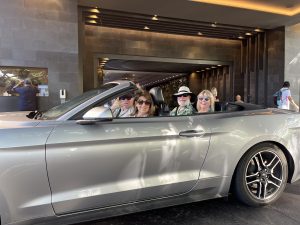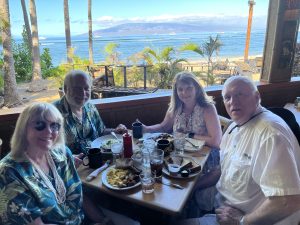 It was paradise. Until it wasn't.
Departures and Wild Fires
About 100 of the 120 cousins at the reunion left after a week. Bill and I and our daughter Beth and her family chose to stay three extra days. Had we known what was coming—50-80 mph hurricane winds and power out in our hotel—we might have chosen differently! Packing in the dark and heading out to our ride to the airport, I could barely walk to the car through the winds. Driving to the airport at noon on Tuesday, August 8 (with two other couples, also cousins) with a driver who had lived in Lahaina for 7 years was an adventure. No one knew that the winds would bring the wildfires up on the mountains down to Lahaina. Our main concern was the wind.
As we headed south on the main road, it became obvious that traffic was backed up for miles, with people trying to leave due to the hurricane winds and power outages, I guess. Our driver suggested we take the "back roads" through Lahaina, which sounded like a good idea. Until it wasn't. Power lines were down all around us. Tree limbs were everywhere. Our driver found his way back to the main road and we actually made it to the airport in time for our flights home, which was a miracle. Our daughter's family wasn't so fortunate.
Beth's family was scheduled to leave the hotel about 4 p.m., several hours later than us. What they endured over the next 24 hours wasn't known to us until the next day, since cell service was down all over the western half of Maui and they couldn't contact us. I imagined the worst as the news reports came in about the wildfires being blown down to Lahanai and destroying the entire community that evening. I pictured Beth and her family trapped there, jumping into the ocean to escape the flames, as so many did. I had no idea (thankfully) that the entire community would be destroyed and hundreds of people lost and/or dead. It was an agonizing 24hours. Meanwhile this is what Beth's family was experiencing.
Beth's family left the hotel around 4 p.m., but their driver couldn't get to the airport due to the backed-up traffic. Finally they decided to return to the hotel, hoping they could spend another night there and leave the next day. As they drove back north, they began to recognize a neighborhood they had seen before. Their 11-year-old daughter Gabby asked, "Isn't this cousin Dave's neighborhood?" The driver asked if they were talking about David Wright. He had driven carpools of cousins to Dave's party at the house a few days earlier and knew where it was. With no cell phone coverage to call ahead, they decided just to show up and see if they were home. Thankfully they were! With no power (but a wonderful swimming pool for our granddaughters!) they welcomed them for the night. Another miracle.
The next day Beth got on one of their ATVs and drove to a nearby high school, looking for bars on her cell phone. Finally she was able to call us, and I burst into tears, hearing that they were safe. Dave would drive them to the airport, and they made it safely back to Denver, a couple of days late but in time for their kids to start school. Another miracle.
How to Help
Meanwhile, hundreds of people in Lahaina are suffering the loss of family, friends, homes, and their entire community. PLEASE CONSIDER GIVING to help them. There are many good ways to do this. I especially recommend the Hawaii Community Foundation. Read more about the situation here. And thank you.
More About Lahaina
If you're still reading, here are some beautiful words about Lahaina, written in 1875 by Henry Whitney in The Hawaiian Guide Book for Travelers:
It is built in a grove of coconut, breadfruit, mango tamarind orange and other trees, which grow to the very ocean verge, whose rocky shore and sandy beach are ever fringed by the foam of the playful breakers that often rise into lofty rollers, the terror of any landing boat, but the glorious playthings of the daring surf riders, many of whom live here and are frequently seen sporting in the breakers. For two miles along the coast the white dwellings seem to grow out of the trees, while the whole is bounded by an emerald border of rustling sugarcane. The background of the picture is grand in mountain majesty, rent into deep cliffs when the foot prints of Almighty power trod here in earthquake and volcanic eruption. They are all distinctly seen from the sea, but when viewed from the summit in the afternoon, as the sunlight varies its brilliancy with the approach of delightful evening, the scene is far more beautiful.

In Hawaiian early history Lahaina was the city of the King and the chief capital of Hawaii (from 1820 to 1845). Its harbor has been greatly renowned in the palmy days of the nearly extinct whale fishery. Its sheltered roadstead held at one time half a hundred ships with room for a thousand more. Its narrow streets held scores of shops and sailors' homes, and it was provided with a bethel, a consulate, and a U.S. hospital.
This is quoted from Mark Twain's Hawaii, with additional material by John Richard Stephens, published in 2022.