I'm so excited to be leading three workshops and two panels at two writer's conferences this summer:
Alabama Writer's Conclave, June 15-17, Orange Beach, Alabama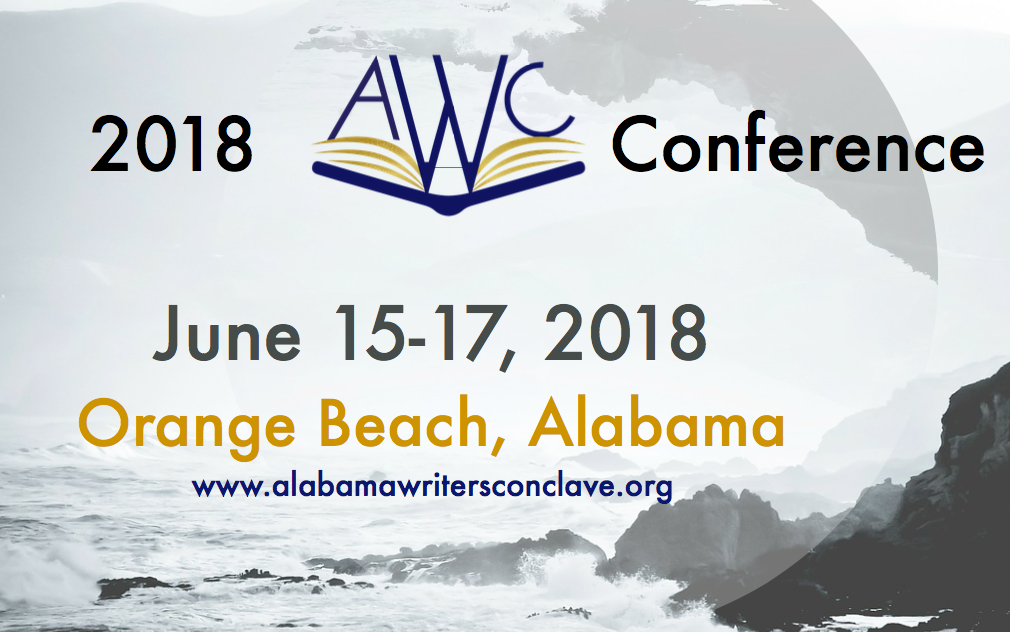 This will be my first year at this wonderful writer's conference on the beautiful Alabama Gulf Coast, and I'm thrilled to be leading a workshop and participating on a panel.
On Saturday, June 16, from 8:30 – 9:30 AM:
Session 2 (Workshop)
Susan Cushman: "Working with Editors in Memoirs, Novels, and Anthologies"
As a writer, Susan Cushman has edited two anthologies, contributed essays to four anthologies, and has published a memoir and a novel. In this workshop, she will discuss how to work with editors in all of these genres.
And on Sunday, June 17, from 9:45 – 10:45 AM:
Panel
Southern Writers on Writing: Susan Cushman, Wendy Reed, Katherine Clark, and Jennifer Horne
Thirteen authors will serve as faculty for this event, which will include sessions on poetry, humor, science and nature writing, mysteries, anthologies, getting an agent, getting published without an agent, writing query letters, editing oral biographies, and important elements in the crafts of creative nonfiction and fiction.
AND IN JULY:
Mississippi Writer's Guild Conference, July 27-28, Meridian, Mississippi. (At the MAX: Mississippi Arts & Entertainment Experience, OPENING APRIL 28!)
I'm so excited to be returning to my mother's hometown—where I lived briefly when I was three years old—for this, the twelfth annual conference of the Mississippi Writer's Guild. How fitting that I attended their first conference, in August of 2007, where I met several people with whom I am still friends today, including the novelist Joshilyn Jackson (who encouraged me to start this blog), the prolific short story author John Floyd, the very creative writer and artist Keetha DePriest Mosley, the amazing storyteller and actress Rebecca Jernigan, the multi-talented writer, musician, and radio show hostess Richelle Putnam, and the author C. Hope Clark, who will be speaking again at this year's conference.
The two workshops I will be leading at the conference are:
Using Scenes to Write Memoir (in Books and Essays)
Memoirist, essayist, novelist, and anthology editor Susan Cushman will lead students through exercises to discover the importance of using SCENES to tell their stories—or the stories of others—in both memoir and essays. Using samples from published memoirs and essays, she will show how these scenes move the narrative forward, "showing" rather than "telling" the story. Students will then do a short writing exercise using this technique.
Four Book Deals in One Year: How to Get Published Without an Agent
Novelist, memoirist, and anthology editor Susan Cushman published three books in 2017 and one in 2018. She got all four book deals in one year, without the help of a literary agent. Susan will share her experience working with an agent, and explain why she ended that partnership. Learn how to find small, independent, and university presses to publish your work, and what the experience of working with these presses and their editors is like.
I will also be moderating the Panel of Speakers. We will entertain questions about anything having to do with writing, editing, publishing, and marketing. This year's panel of speakers and workshop leaders includes:
Sue B. Walker—poet, author, and editor
Chandler Griffin—documentary filmmaker and educator
C. Hope Clark—mystery writer and manager of Funds for Writers
Dr. Alan N. Brown—folklorist and author of over 25 books on the oral ghost narratives of the South
G. Mark LaFrancis—film-maker, film instructor, and producer
Whether you're a published author wanting to improve your craft and learn more about the industry, or a new writer just getting started, there's something for everyone at this year's conference.