I love high heels. They are so sexy and flattering. But I had to say goodbye to them many years ago due to foot problems. Even short heels (one-to-two-inches) usually hurt, which is problematic when you want to wear a cocktail dress or even Sunday-go-to-meeting clothes. Growing up in the South, wearing the right shoes (and the right everything) was important. This was born in me, so while writing my short story collection, Friends of the Library, of course my protagonist, Adele Covington, wears them. I'm living vicariously through her (and maybe she's living through me a bit, too!)
I've had surgery on both feet and have hardware that's still in place: a nail in my left big toe from a bunionectomy about twelve years ago, and screws in my right ankle from my car wreck six years ago. So, it's not just heels that hurt. It's almost any closed-toe shoes that touch the tops of my feet. I've been able to find one pair of "walking shoes" from Olukai and one from Sketchers that I can stand. And one cute black leather sling-back with one-and-a-half-inch heels from Clark that I can manage for a few hours, like for a wedding or other fancy event. But I often have pain afterwards.
Like many women "of a certain age," I have begun to let go of some societal pressures regarding appearance: I haven't worn eye liner for years (mainly because I'm so blind without my glasses on that I can barely see to apply it, and also because of allergies). There are other "unmentionables" that even I won't mention here in my blog, but I am becoming more and more like my mother in my choices to be comfortable at this stage of my life. This takes a bit of humility, especially when it comes to shoes.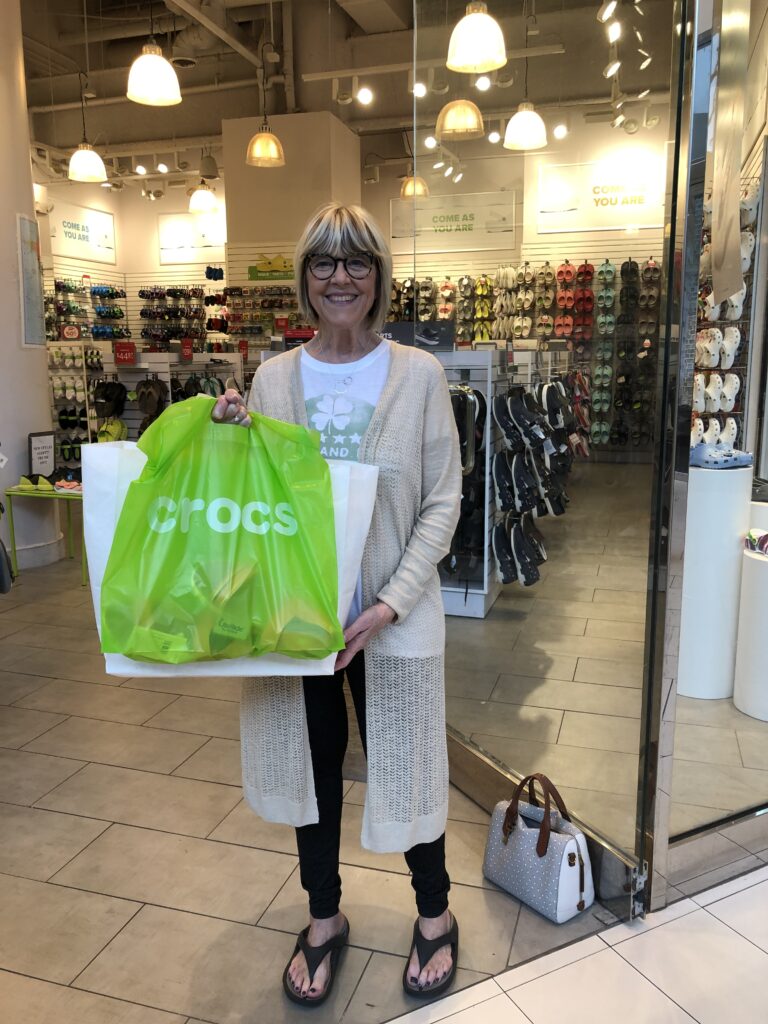 Enter Crocs. I discovered these amazing shoes over a decade ago, and my collection has grown to nine pairs. Five are the same style – Athena, my favorite. It's a thong that doesn't touch the top of your foot. At all. So convenient for wearing to get a pedicure, which I do monthly. And on a recently trip to New Orleans I found a new style, "Lite Ride," in the Crocs outlet (top center in the picture below) which was fun. I've worn Crocs all over Europe on several different trips, to Greece, Paris, and parts of Germany. They are amazing. And they look great with jeans or capris, or even casual maxi dresses. But when it's time for a cocktail dress, well, there's the dilemma. Can a "woman of a certain age" wear Crocs with a cocktail dress? We'll see what the future holds . . . .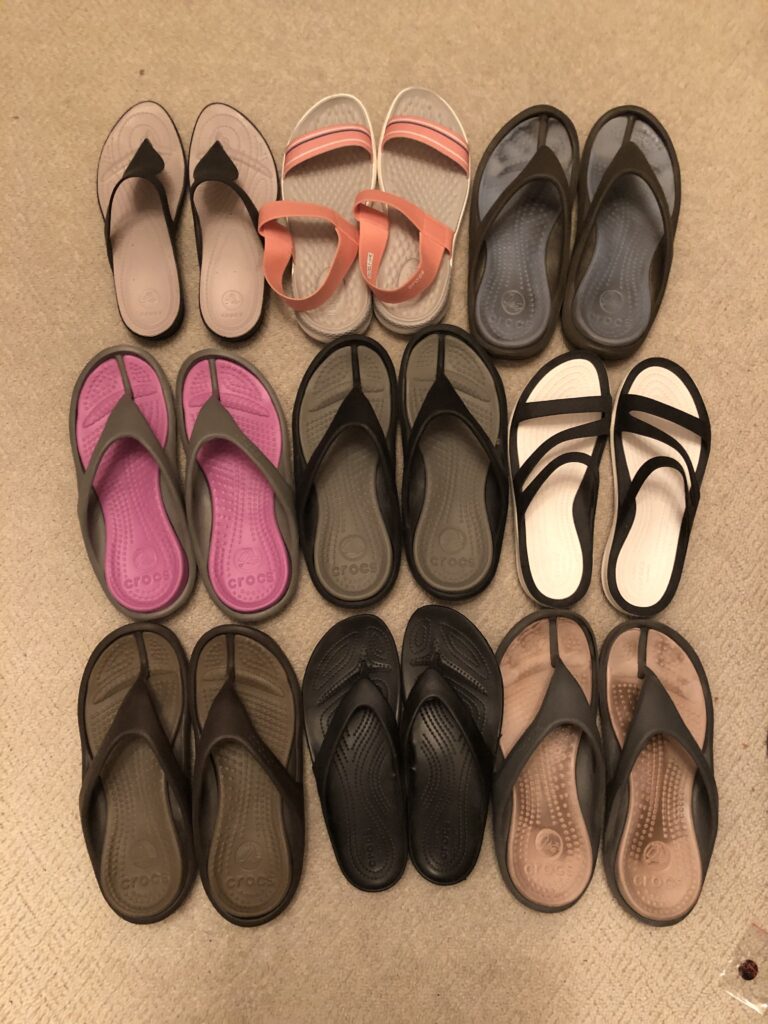 P. S. Thanks for reading, and for your patience over the past few weeks while my website was (and still is) being renovated. There's more work going on for the Home Page, Publications, Events, and Workshops, and I'm still learning how to use this version of WordPress. Sorry to be away for so long. My intention is to post on Wednesdays moving forward.