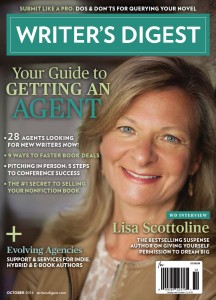 In the October, 2014 (yes, it's out—weird, right?) issue of Writer's Digest Magazine, Jane Friedman has an article called, "The Evolving Agent."
It's about the new ways literary agents are flexing their muscles to help writers in the digital era. Some are working with authors who are self-publishing. A few agencies have even established digital imprints.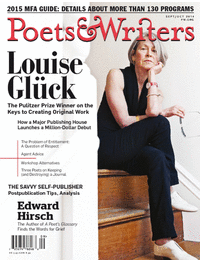 Poets & Writers (September/October 2014) also has an article out, "The Savvy Self-Publisher," by Debra Englander. She writes about the path author Robb Cadigan took for his 2013 novel, Phoenixville Rising. Cadigan describes his frustration with the traditional publishing route:
I was frustrated; it had taken me close to two years to complete a book followed by months of rejections. I was way too impatient to endure the submission process, which I found demoralizing.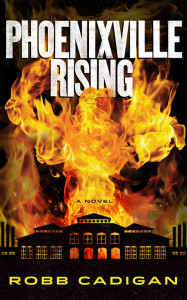 What did he do? He created his own imprint, Rodgers Forge Press, and used CreateSpace and Kindle Direct Publishing and published a paperback and an ebook. He did lots of self-marketing and sold over two thousand books in six months. Cadigan was satisfied with the experience. (Read the whole article to get the viewpoint of an independent editor and a publicist who both work with self-published and traditional authors.)
When I read Cadigan's story, I thought, his journey sounds exactly like mine. Two years to write/revise a novel. Months of submissions/rejections. (And a one-year hiatus due to my car wreck last summer.) But I'm not discouraged. Yet. Since the 75th agent I queried has shown enough interest to ask me to work with an editor on revisions, I'm hanging in with this journey. We'll see how I feel if she ends up not selling my book.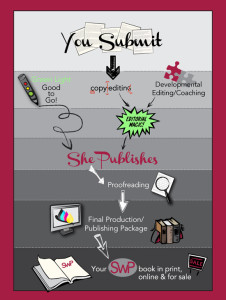 Meanwhile, my friend Nina Gaby is publishing an anthology (to which I contributed an essay) next spring with She Writes Press, a "hybrid" publisher created to fill the gap between independent, small presses and self-publishing. And another friend, Neil White, has also started a hybrid, Triton Press. She Writes and Triton have different focuses, but they're both offering new opportunities for writers in the ever-changing world of publishing. The chart at right shows how the She Writes process works.

This Saturday I'm hosting a publishing "salon" at our home here in Harbor Town. Neil will give a presentation about Triton Press, and another friend Ellen Morris Prewitt will also talk about her experience publishing an anthology with Triton, Writing Our Way Home: A Group Journey Out of Homelessness. (Ellen works with the Door of Hope, where she established a writing group for homeless or formerly homeless folks a number of years ago. This anthology contains their stories.)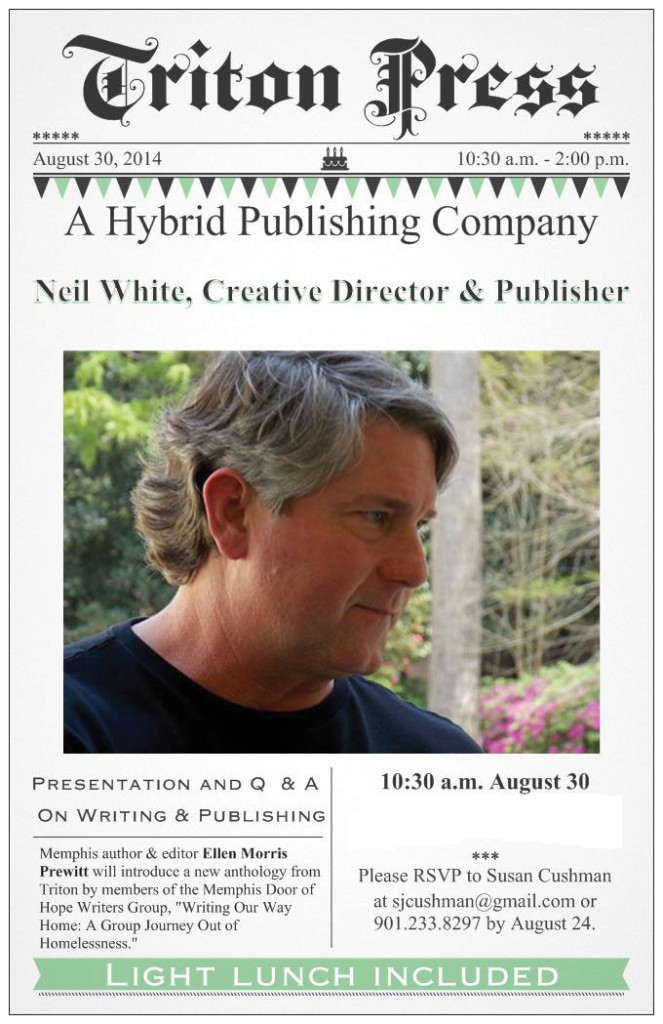 We've got about 35 people coming (by invitation only… address erased from this image) to hear about this new publishing house which specializes in narrative nonfiction (i.e., memoir, autobiography), education, business, sports, and leadership books. I'm excited for many of my writing friends here in Memphis (and those coming from Alabama and Mississippi) to learn about this opportunity and to see if it's a good fit for some of them. Stay tuned….