Last Wednesday I gave a preview of the YOK Writing Workshop I would be attending this past weekend in Oxford, Mississippi. I usually write a fairly comprehensive "review" of this workshop every year when I get home. This year I'm only going to hit a few "highlights." It's not because the workshop wasn't wonderful—it was! It's because the main thing I got from the workshop was "go home and finish revising your novel!" And I'll never get that done if I spend 2-3 hours on my blog posts three times a week. So, here are a few reflections on a terrific weekend.
The craft talks given by authors Ace Atkins and Julie Cantrell were full to overflowing with wisdom from their years of writing and publishing.
Notes from Ace: ("The Importance of Truth in Fiction")
Make books as authentic as possible—the characters will be more believable. But you don't have to follow the age-old adage, "Write what you know." Instead, write what you can learn about—what you are interested in. The TRUTH of the people and locations and stories needs to come from real life. Observe people around you in different settings and then write whatever works for you. And don't just write what might sell. Write the book you want to write.
Notes from Julie: ("Ten Tips to Create Realistic Characters in Fiction")
Push your characters into choices that will be life-changing for them. Show the reader their hopes and fears. The tension between those hopes and fears will drive the plot and make the characters more complex. Give them chances and let them succeed… or fail. Go for a blend of plot-drive and character-driven writing. By showing the characters' emotional complexity and spiritual development, we see who they are at their core, and we care about what happens to them. But without a great plot/story with a well-drawn narrative arc (Julie recommends arcs in each chapter) we won't keep reading the book.
Both Ace and Julie encouraged us to take ourselves (the writers) out of the book in order to let the characters speak. Use your own experiences and/or do tons of research to get the backstory needed to hold up the narrative, but then back away and only show the reader what he needs to see—like zooming in on a photograph in which the background doesn't help the scene.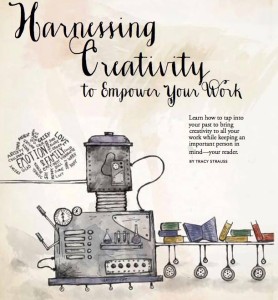 Just before the workshop I had read another good article in the July/August issue of Writer's Digest that spoke to this last point. Tracy Strauss, in "Harnessing Creativity to Empower Your Work," said:
"We must shift our focus from ourselves to write with an awareness of others; we must make the choice to move (on the page) from having a monologue to engaging in a dialogue with our audience…. By taking our specific circumstances and tapping into universal themes, we create a more relatable story. And in doing so, our story transcends our individual selves and becomes meaningful to others."
When Scott Morris's critique group workshopped the first chapter of my new novel, Red, Black, and Silver, this weekend, they gave me some great feedback, encouraging me that this could be a good project. I submitted the synopsis and first chapter—not so much for close editing (which will come much later)—but because I really wanted to know if the idea for the book was viable. Again, Strauss addresses this in her WD article:
"Once we've produced a viable draft, exposing it to an audience-people whose opinions are astute and trustworthy, including experts in the publishing industry—is valuable. We might do this by enrolling in formal writing workshops led by successful authors and/or editors, or by participating in more informal writers' groups—any venue in which we can expose our manuscript to other perspectives."
Since I never went for an MFA in writing, I have made use of a dozen or more such workshops over the past seven years to get those all-important perspectives. I've also hired freelance editors and engaged beta readers (friends who are good writers who have had some publishing success) to gain the feedback I need to shape my work into something that readers will care about. Each time I return home from one of these workshops, I'm inspired to take their input and get back to work on the project at hand. Scott's last words of advice to me before leaving the workshop?
Put the new novel aside and finish revisions on Cherry Bomb and send it back to the agent as soon as possible!
Summer school has begun. Thanks for reading!
[In May of 2013 I met a wonderful woman at the Creative Nonfiction Conference in Oxford, Mississippi. Her name is Nina Gaby. I was immediately drawn to her because of her twinkling eyes, joyous smile, gorgeous hair, colorful scarves and very cool glasses. And then I discovered that in addition to being an excellent writer, she's a mental health care professional. We became friends. I asked her to contribute a guest post for my Mental Health Monday slot, and thankfully, she did.]
It is June already. This blog piece just missed Mental Health Month, which has been "celebrated" every May since 1949. This May we had the usual fanfare as we do every month. The issues in our broken mental health system certainly do not make the news just during their special month. We always talk about the same things: about resources, about the heroin epidemic, about homelessness, about "crazy" people shooting people, about violence. But wait; are the mentally ill any more prone to violence than the rest of us? (No.) And the rest of us meet criteria oftimes for some kind of crazy, as far as the DSM5 (The Diagnostic and Statistical Manual in its disappointing 5th Edition) is concerned. Too crazy to own a gun? Too crazy to keep our kids? Not crazy enough to be taken to the hospital?

As we may be tempted to scapegoat a specific population, some of us argue for more dollars to be spent on mental health while others are arguing against dollars. "Advocates" for the "survivors" of mental health treatment angrily protest the use of psychotropic medications. Professionals advocate for the use of more medications. Big pharma is criticized for their research. Or maligned for their lack of research.  Too many psych beds: unfair. Not enough psych beds: unsafe. On and on this fanfare goes, with no respite this past May, or any other. Think of all the psychiatric providers we are tempted to be mad at: Eliot Rodger's years in contact with the mental health system and still no one able to do anything to stop our most recent tragedy. Adam Lanza's psychiatrist. The school psychologist for James Holmes.  Nidal Hassan, a psychiatrist himself at Fort Hood. We have Tarasoff duty to warn, but we also have patient-therapist privilege. Sometimes we can get people into the hospital, sometimes we can't.  Legally maintaining a person's civil rights means the police can't go in and investigate an apartment even when the person's own mother is terrified, as was Eliot Rodger's, that he may do harm. It tires a mental health worker out. We may be damned if we do, liable if we don't.
I am a psychiatric nurse practitioner as well as a writer. For years now I have been rewriting an essay on these conflicts and what I call the deconstruction of traditional biological psychiatry. I call it "Custard at the Beach" and I've dedicated it to an old family acquaintance. The essay opens with an early memory:
"When I was seven or eight years old, I met a friend of my father's at the beach. His name was Red. His once red hair—hence the nickname "Red"—was bleached out by age and endless walking. He was a big man, and very childlike. He followed my family around that day, sitting under our striped beach umbrella, happy for the custard we bought him and hinting that he wanted us to buy him dinner as well. My father seemed uncomfortable, I was fascinated. Red had been a wild, unmanageable child, my father explained later. "He burned too bright." He became dangerous as he got bigger, with rages and crazy talk. My father went on to explain that there wasn't much else to do back then but lobotomize him or lock him up. It was the forties when Red was at his worst; they didn't even have Thorazine yet, which he probably wouldn't have taken anyway. My father said, what was better? Eating a custard at the beach or being in lock-down somewhere? I couldn't imagine this gentle man hurting anybody. I also couldn't get my young mind around the fact that people's brains got poked open. I watched Red lumber off and have never forgotten his lonely slow motion down the busy street away from the beach."
In my essay I go on to describe the personal contacts I have had with severe mental health issues in my family, friends and acquaintances, the numerous losses to suicide and near homicide, my own brushes with depression and alcohol dependence, antidepressants for which I was very thankful. I left a career in the arts to do what I believed in.
"When I was 36 I graduated from nursing school. I decided to specialize in psychiatric nursing at the University of Rochester, where George Engel's bio-psycho-social model was still in full swing, and where John Romano's "to each his farthest star" was the way we learned to provide respectful and hopeful care. We had access to brilliant psychopharmacologists. A whole decade was dedicated to the brain. Biology meant we could treat people effectively, and we could bill for services. It laid the groundwork for parity. I would never have anticipated struggling with today's backlash.
I soon obtained my masters degree in Psych-Mental Health nursing and became a Clinical Nurse Specialist, educator, therapist, substance abuse specialist, and eventually a prescriber of psychotropic medications. A proud saver of lives from illness that so many refuse to understand. And yet now I find what I do under attack."

What do I mean by attack? These days in the media and in workshops and conferences, traditional psychiatric practice is often challenged. Other professionals and para-professionals tell me that once more patients stop taking medications, people like me will become obsolete and they bet I'm afraid of that. Even though we know that many need to stay on medications or run the risk of a bad outcome, as experience and research has shown us. Wishing away mental illness, renaming it, not treating it—none of those things will make it go away. If only. The potential consequences of untreated mental illness are devastating: homelessness, addiction, incarceration, violence, death. And by the same token, are too many people over medicated? Do many of our treatments subject people to risks? Of course. As with any medical intervention. It is always about the risk/benefit ratio and collaboration with the patient's goals.

The director of a graduate program in psychology once asked me if I ever heard the phrase "First do no harm."  I, the only prescriber at the conference we were attending, had gently challenged the program director's philosophy that medications were wrong. By suggesting that treatment was not so black and white, I had suddenly become a bad guy. A mongerer of poison. Although I was used to the complaints that we respond to mental illness with such inadequacy, never enough of us in the field to provide the necessary resources to help patients and community remain safe, I was unprepared to be challenged on actually being available to provide treatment.

"I take the phrase "first do no harm" to heart. Eat custard on the beach or be in lock-down somewhere? All these years my colleagues and I have opted to guide people through whatever means available—medications, psychotherapy, 12 step, hospitalization, rehab, sometimes nothing—in the direction of the custard. Maybe there's some sweetness, somewhere, I would suggest." Here's to possibility. Here's to next May.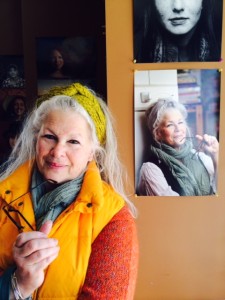 Gaby is a writer, visual artist and Advanced Practice Nurse specializing in psychiatry and addictions, currently the coordinator of psychiatric services for an inpatient rehabilitation facility in Vermont. She has provided trainings throughout New England for the Vermont Department of Health, has been on faculty at the University of Rochester and St. John Fisher Schools of Nursing in New York and is currently on faculty at Norwich University in Vermont. Her artwork is in numerous collections including the Renwick Gallery of the Smithsonian, her essays and short fiction have appeared in anthologies and magazines including Creative Non Fiction, Seal Press and Lilith Magazine and she has been a guest blogger on brevity.com. Her upcoming book, "Dumped: Women Unfriending Women," a collection of essays by women about the complexities of female friendships including a piece by Susan Cushman, is coming out in March of 2015, from She Writes Press. Gaby occasionally blogs at www.ninagaby.com.