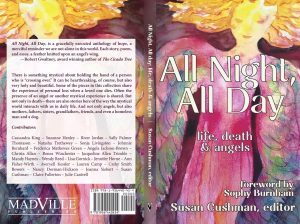 For previous posts on the contributors, see this one on Cassandra King. Next up?
I discovered Sophy Burnham through a Google search for writings on angels, hoping to find a distinguished author to who would be willing to write the Foreword to my latest anthology, All Night, All Day: Life, Death, & Angels. Boy, was I excited to discover Sophy and her work, especially her best-selling book A Book of Angels (2011). Sophy is in her eighties, and now that I'm 72, I appreciate the wisdom of older women more and more.
I'll begin with a bio, to introduce you to this amazing woman, and then I'll follow that with an excerpt from her wonderful Foreword for this book.
Author of fifteen books, Sophy Burnham has published novels, award winning plays, journalism, nonfiction books, short stories, poetry, children's books, essays and articles. Her works are translated into 26 languages. Three of her books were New York Times and other bestsellers and most have literary book club recognition. She is best known for writing on mysticism, including A Book of Angels, The Ecstatic Journey, The Path of Prayer, and The Treasure of Montségur. Her latest nonfiction books are The Art of Intuition: Cultivating Your Inner Wisdom, and For Writers Only (about creativity). Her favorite award is "Daughter of Mark Twain," for her book, The Art Crowd.

Working closely with famed Broadway producer, Roger Stevens, she served for five years as Executive Director of the John F. Kennedy Fund for New American Plays, giving money to theaters to produce new plays and to playwrights to write them. Her play Prometheus (an adaptation of the Aeschylus fragment with a new conclusion) was produced at the Studio Theatre in Washington, DC. Her award-winning play Penelope (the story of the Odyssey from Penelope's point of view) was staged most recently at American University.

A frequent public speaker, she has appeared on scores of TV and radio shows including Larry King Live, Oprah, The Today Show, Good Morning America and CBS Morning News. Now retired, she no longer gives workshops around the country and the world. She lives in Washington D.C. and Northampton, Maine.  She is an active member of the Cosmos Club of Washington, D. C., where she plays on the chess team. Her website is www.Sophyburnham.com. Look for her blog at www.sophywisdom.com.
As one who has seen angels with her own eyes and written several books on angels, mystical experiences, and those extraordinary moments when the veil between the physical and spiritual world is pierced, as one who once had her life saved dramatically by an angel and who has given talks and led workshops around the world on the reality of the spiritual dimension, I am delighted to see an anthology brought out by a secular press. Does this mean that the search for God and trusting in the small, magical coincidences that offer meaning to life have moved into mainstream secular thought? . . . .

The stories in this anthology illustrate primarily those moments of illumination for which the angels are best known—their messages, their love; and many of them concern death. Is anything more important? . . . The authors question faith, rebel against reality, shake their fists at God, fall to their knees, weep, laugh, smile in poignant remembrance, and all the while they are searching in humility and with grace for meaning to our lives. For forgiveness. For the ability to love more deeply. The courage to be lovers. To bear angelic messages, in this life.
I love what Sophy said about her joy in seeing this anthology published by a secular press. As an Orthodox Christian, I have chosen to write and publish in the secular world, but always infuse my writing with my Orthodox Christianity. I have always loved the way that Flannery O'Connor did that with her Catholic faith. My first essay to be published in an anthology was "Chiaroscuro, Shimmer and Shadow," which appeared in the wonderful anthology Circling Faith: Southern Women on Spirituality (University of Alabama Press, 2012). It was about my visit to an Orthodox monastery, a meeting with a spiritual mother, and my struggles with various spiritual and emotional problems. There were numerous essays in that book that weren't even Christian, much less Orthodox. I was happy to be there among so many women who were struggling with and writing about their spiritual journeys, and I hope that readers of ALL NIGHT, ALL DAY will feel that way about the essays, poetry, and short stories in this collection.