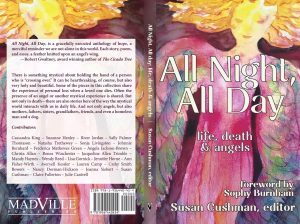 My anthology ALL NIGHT, ALL DAY: LIFE, DEATH, & ANGELS launches June 20. As a "teaser," I'm going to introduce you to all the contributors to this wonderful collection here on my blog, a few each week leading up to the pub date. I'm going to start with the woman who inspired me to put together this book.
THE INSPIRATION
Here's an excerpt from Cassandra's essay, "Another Kind of Angel."
A couple of years ago I was enjoying a visit with my sister writer and dear friend, Susan Cushman, when the subject of angels came up. Not exactly your ordinary conversational topic, even for a couple of women like Susan and I, who share an interest in all things mystical. Everyone knows writers are "out there" anyway, prone to a fascination with anything weird and quirky. Whenever I mention my interest in the paranormal, my family tends to respond by exchanging glances behind my back and rolling their eyes. Even my former husband, a writer who had his own fascination with mystical experiences, cautioned me not to go off the deep end. I'm not sure, but I think he was saying that exploring the possibilities is fine and dandy, but if you want to be taken seriously as a writer, make sure you don't stray beyond intellectual exploration. And for God's sake, don't WRITE about it.

To the best of my recollection, that's how Susan and I got on the topic of angels. I'd recently published a memoir about my marriage to the late author Pat Conroy, and I told her about my misgivings in relating several strange occurrences surrounding his death. . . . To my surprise it was my story about the night nurse who might or might not have been an angel that (readers) related to the most. . . . And that's when I told Susan that she should consider collecting some of these stories
I can't wait for you all to read Cassandra's essay, which isn't about her husband Pat and "his angel." Instead, in "Another Kind of Angel" she tells the story of a mystical experience her father, a World War II veteran, shared with Cassandra and her sisters shortly before their mother's death. Watch for it when the book comes out!
More about Cassandra:
Cassandra King is an award-winning author of five bestselling novels and two nonfiction books in addition to numerous short stories, essays, and magazine articles. Her latest book, Tell Me A Story, a memoir about life with her late husband, Pat Conroy, was named SIBA's 2020 non-fiction Book of the Year. A native of LA (Lower Alabama), Cassandra resides in Beaufort, South Carolina, where she is honorary chair of the Pat Conroy Literary Center. Cassandra's novel The Sunday Wife (2003) inspired me to tell my own stories in novels, short stories, essays, and memoirs. When I met Cassandra at the Southern Festival of Books in 2006, she wrote in my copy of The Sunday Wife, "To Susan, who knows what a Sunday wife is." She wrote about writing this novel in her essay, "The Making of a Preacher's Wife," in the anthology All Out of Faith: Southern Women on Spirituality (2006), saying that "the writing of it was my salvation." I also believe that much of my writing is an important part of my salvation, and that reading Cassandra's essay and book was a huge inspiration for me as a writer.
Event at the Pat Conroy Literary Center
I am honored that Cassandra (along with contributors Wendy Reed and Nancy Dorman-Hickson) will be participating with me for an event at the Pat Conroy Literary Center in Beaufort, South Carolina, on September 21 at 5 p.m. She is so generous with her time . . . she also introduced me at the Center back in 2021 for a reading from my novel John and Mary Margaret. Her husband Pat called himself a "blurb slut" because he never refused to write a blurb for any writer, especially unknown and "emerging" authors. Cassandra is equally generous, having blurbed several of my nine published books, and contributed essays to all four of my anthologies!
Where to get the book?
Ask your local independent bookstore to pre-order it for you (remind them it launches June 20) or pre-order it online from Amazon.
Have a bookclub that would like an author visit?
Contact me at [email protected] and I will work with you on an in-person or virtual visit!