My book tour in May is turning out to be as busy as April, and I'm loving it. Ater a signing for Tangles and Plaques at Barnes and Noble in Collierville last weekend, I just got home from two events in Nashville (actually Thompson's Square and Brentwood) on Saturday (one for Tangles and Plaques and one for A Second Blooming) and this week I'm off to Charleston and Beaufort, South Carolina for two more readings: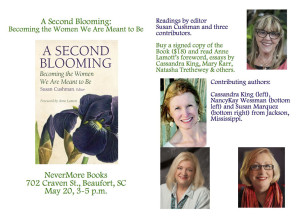 Friday night (May 19) I'll be at Buxton Books in Charleston, for Tangles and Plaques: A Mother and Daughter Face Alzheimer's. I can't wait to meet Polly and Julien Buxton, the newest independent booksellers in the area. (My husband is speaking at the Medical University of South Carolina while we're there, so it's a two-fer! Also looking forward to dinner with friends from his high school days in Marietta, Georgia, a close friend who used to live in Memphis, and lunch with another author friend. I love Charleston!)

On Saturday (May 20) I'll be at Nevermore Books in Beaufort, South Carolina with local author Cassandra King, and Mississippi contributors NancyKay Wessman and Susan Marquez for a reading/signing for A Second Blooming: Becoming the Women We Are Meant to Be.  Cassandra arranged this event, and I'm looking forward to meeting her friends, the booksellers at Nevermore, Lorrie and David Anderson.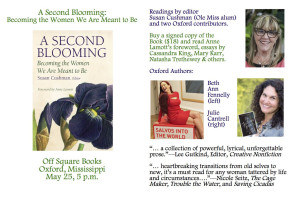 Next Wednesday (May 24) I've been invited to be the monthly author-speaker at Trezevant Manor (senior living) in Memphis for Tangles and Plaques: A Mother and Daughter Face Alzheimer's.
And my final event for May will be on Thursday, May 25, at Square Books in Oxford, Mississippi, where I'll join local authors/contributors Beth Ann Fennelly and Julie Cantrell for a reading and signing for A Second Blooming: Becoming the Women We Are Meant to Be.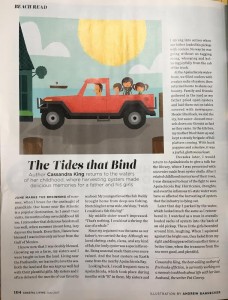 On a different note, it's always fun to see other work by the contributors to A Second Blooming. This week I found a fun piece by Cassandra King in Coastal Living magazine's June issue: "The Tides That Bind." A perfect article for Father's Day, Cassandra "returns to the waters of her childhood, where harvesting oysters made delicious memories for a father and his girls."
So when does a busy author get to read? I make time to read every day. Not only because I love it, but because the words of other authors feed my soul and my craft. Yesterday I spent a leisurely Mother's Day afternoon finishing my latest read, Kristin Hannah's wonderful historic fiction novel from 2015, The Nightingale. Powerful images of World War II in German-occupied France, with characters so real you are tempted to Google them! I especially loved how Hannah brought to life some of the women who fought so bravely for the resistance, and to save children orphaned by the war.

Next up? I'm trying to decide whether to dive into Lewis Nordan's novel, Wolf Whistle (highly recommended by a couple of friends with excellent literary tastes) or Anything is Possible, Elizabeth Strout's followup to her book, My Name is Lucy Barton, which I read recently and loved. Which one will I take on my trip to South Carolina this week? Stay tuned….