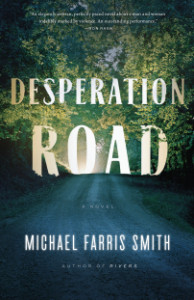 About a month ago (May 16) I had the pleasure of meeting Mississippi author Michael Farris Smith at the Benjamin L. Hooks Central Library here in Memphis. He was speaking at "Books & Beyond," a regular book club gathering at the library. And selling and signing copies of his latest novel, Desperation Road. I was especially excited to meet Michael, since he has contributed an essay, "Keep Truckin'," to the anthology I'm currently editing, Southern Writers on Writing (University Press of Mississippi 2018). I know most of the contributors personally, but Michael was one of a handful I hadn't met before inviting him to contribute an essay. I'm so pleased to call him my friend now.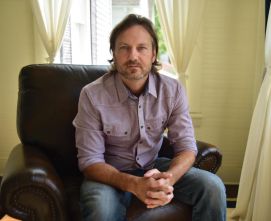 Michael is a laid-back kind of guy, who carried an easy conversation with the folks at the book club event that day, even smiling gently and not rebuffing the woman who said she wondered if the Hallmark Channel might be interested in making a movie from his book. (She obviously hadn't read the book, which is much too dark and gritty for Hallmark.)
Desperation Road is set mostly in McComb, Mississippi, Michael's home town. And the scenes flow over into the backroads and small towns of Louisiana at times, and up I-55 towards Jackson a bit. He does a great job creating a strong sense of place—I could not only see the images he paints so beautifully with words, but I could feel the heat, the humidity, the mosquitoes on my skin as I read. Commenting on this aspect of his writing, Michael said, "I like place being a character itself. The setting and characters play off of one another."
Before reading an excerpt from the book, Michael talked a bit about his writing process:
I like to start with my characters in big trouble—it makes me make decisions quickly. I hold their feet over the fire from page one.
He definitely does that, and keeps the tension up throughout the entire book. Even the final few pages (no spoiler alert) keep the reader's rapt attention. He writes in third person so that he can "be in every character's head," finding first person to be a more restrictive point of view for telling a story. I had just started a new novel when I heard Michael speak, so I was interested in his process, and have also chosen third person for my story.
When asked if he is in a writer's critique group, he said he doesn't show his work to anyone early one—he doesn't want their opinions to mess him up. (Stephen King says the same thing.) Now he has "writing buddies," but he's selective about when and what he shares.
Desperation Road gets high praise from people in high places in the literary world, including Tom Franklin, who says:
Michael Farris Smith is one of the best writers of his generation, and this vey well may be his wbest work—taut, tense, and impossible to put down.
(I read it in three days, and I usually take a couple of weeks to read a book.)
Ron Rash calls it "elegant written" and "perfectly paced."
These words from James Lee Burke sum it up:
Every once in a while an author comes along who's in love with art and written language and imagery… writers like William Faulkner and Cormac McCarthy and Annie Proulx. You can add Michael Farris Smith's name to the list.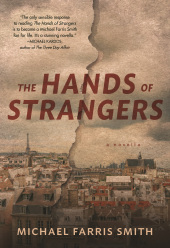 I couldn't agree more. Now that I've fallen in love with his prose, I want to go back and read his earlier books, especially his debut novel, The Hands of Strangers.
Looking for a terrific read? BUY THIS BOOK and READ IT NOW!
So… we're almost half way through 2017, and Desperation Road was my eighteenth read this year. I haven't reviewed all of these books, but here's my almost-six-month list:
The Opposite of Everyone by Joshilyn Jackson
A Southern Girl by John Warley
Time Was Soft There by Jeremy Mercer
Garden in the East: The Spiritual Life of the Body by Angela Doll Carlson
The Statue and the Fury: A Year of Art, Race, Music, and Cocktails by Jim Dees
This Close to Happy: A Reckoning With Depression by Daphne Merkin
Heartbreak Hotel by Anne Rivers Siddons
The Girls of August by Anne Rivers Siddons
Unspeakable Things, a novel by Jackie Warren Tatum
Hallelujah Anyway by Anne Lamott
My Name is Lucy Barton by Elizabeth Strout
South and West by Joan Didion
The Nightingale by Kristin Hannah
Wolf Whistle by Lewis Nordan
Anything is Possible by Elizabeth Strout
What Alice Forgot by Liane Moriarty
Before We Were Yours by Lisa Wingate
Desperation Road by Michael Farris Smith