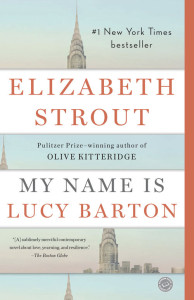 I never read Elizabeth Strout's book Olive Kitteridge. I saw the HBO series and somehow felt a heaviness about it that made me think the book would also feel heavy. Even though it won the Pulitzer Prize. But years later her writing was recommended to me by an author friend who suggested that reading her prose would help me with my own. She suggested I start with My Name is Lucy Barton, and so I did. What a powerful narrative. And a unique style and voice. She develops great empathy for her characters and at times I felt like I was living inside Lucy's life. The complex relationship between a mother and a daughter was so well-drawn. Having lost my mom to Alzheimer's just over a year ago, and having just published a book that exposes much of our complicated relationship, I was intrigued by these characters. The Washington Post calls it "a book of great openness and wisdom."
And then another friend suggested Strout's recent book, Anything is Possible, which I just finished reading earlier this week. Here's what the writer Ann Patchett says about this book on Strout's web site:
It's hard to believe that a year after the astonishing My Name Is Lucy Barton, Elizabeth Strout could bring us another book that is by every measure its equal, but what Strout proves to us again and again is that where she's concerned, anything is possible. This book, this writer, are magnificent.

—   Ann Patchett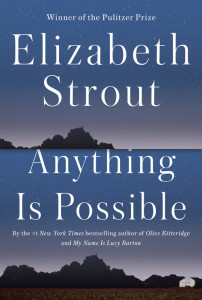 I completely agree. A friend (this one's an artist, not a writer) asked me if it matters what order she reads these two books in, and I suggested Lucy Barton first, because she shows back up in Anything is Possible, and it's helpful to have read the more in-depth story of her life first. In Anything is Possible, Strout weaves the stories of numerous small-town characters throughout a narrative of hard times, hope, struggle, happiness, and the complete range of human emotions. Often the characters from one story show up in another one, which I found interesting, although it took a bit of work on my senior brain to keep up with them at times.
Taking note of Strout's craft, I noticed that she wrote one of these books in first person and the other in third. (I'm still trying to decide which to use for my next novel, which I've begun in slow starts and stops.) It makes sense that she wrote Lucy's story in first, and Anything is Possible in Third, since there are so many more characters involved in the second book. My novel-in-progress has a protagonist, but also three other main characters, so I'm probably going to opt for third person. Both books are written in past tense. I started my novel in present, but I think I'm going to change it to past before I continue. I'll make use of quite a bit of flashback, so I'm still not sure about tense.
This week I started another book recommended by a writer friend (you see, when we writers read books, it's part of our work, our research) as I continue figuring out how to get this next book going. It's Australian author Liane Moriarty's book, What Alice Forgot. (TriStar pictures is going to make it a movie, possibly starring Jennifer Anniston.) It was the author who was recommended, not particularly any one of her books (two of them have been #1 New York Times bestsellers) but this one caught my attention. I'm sure I'll be reviewing it in a couple of weeks, so stay tuned.
I'm giving myself permission to do LOTS of reading right now…. Feeding the well from which I hope to draw a rich and deserving story when I'm ready to get back to work on the new novel. I'm just pretending I'm at the beach and these are my beach reads. Next up:
Before We Were Yours by Lisa Wingate
Desperation Road by Michael Farris Smith
A Million Fragile Bones by Connie May Fowler
The Cigar Factory: A Novel of Charleston by Michele Moore
What's on your summer reading list?