Most every year I put together an "End of Year" list that mainly includes books I've read, and sometimes movies I've seen. This was inspired by my friend Corey Mesler, prolific poet and novelist and co-owner with his wife Cheryl of Burke's Books in Memphis. But this year was different. I didn't read many books. Not sure why. I watched a lot of shows on Network, Hulu, and Amazon Prime. I did publish my eighth book and do some events. And we traveled a lot. So here's a bit of a recap, as much for my own memory as for the interest of my readers. I'm highlighting some "main events" of 2022. This is long, so feel free to browse around for what interests you!
January
I continued driving homeless women to a shelter every Monday night, which I started doing in November of 2021. This is a wonderful ministry called "Room in the Inn," and my friend Thea Wallace, also a member at St. John Orthodox Church, is a volunteer with RITI and let me know about the opportunity. This was a great blessing to meet these women who were experiencing homelessness in Memphis during the cold winter months. I would pick them up at First United Methodist Church downtown where they had been vetted (including proof of Covid vaccinations) and drive them to the "Manna House," in a nearby neighborhood, where they would spend the night, have a meal, and if they chose to, a warm shower and a chance to wash clothes This ministry continued through March of 2022, and will begin again in January of 2023. This year they will be spending the night (and hopefully more than just Mondays) at Calvary Episcopal Church downtown, which has converted part of its building to an area designated just for the Room in the Inn.
Ernest & Hadley Booksellers, Tuscaloosa, Alabama
On January 29 I gave a reading and signing at Ernest & Hadley Booksellers in Tuscaloosa, Alabama, for my book JOHN AND MARY MARGARET, which had been published in June of 2021. I enjoyed staying with my friend and fellow author Wendy Reed and also visiting with another friend and fellow author Jennifer Horne, and their husbands.
February
Duration Arts Club, Memphis
I was invited to speak at the Memphis Duration Arts Club about my books. This is a women's club that meets in homes and often has guests sharing about art, music, or literature.
Kirby Pines Book Baggers
I've been a guest of the Kirby Pines (senior living) book club, the "Book Baggers," several times to speak about my own books. This time they invited me to moderate their discussion of their book of the month, In the Sanctuary of Outcasts by my friend Neil White, author and owner of Nautilus Publishing in Oxford, Mississippi. The Book Baggers have over 50 members and always have a lively discussion!
Natchez Literary and Cinema Celebration
What an honor to be a speaker at the annual Natchez Literary and Cinema Celebration in Natchez, Mississippi. Staying in the historic Grand Hotel and speaking about my book JOHN AND MARY MARGARET during the "Literary Lunch" on February 26 was so much fun. Meeting other authors and enjoying the taverns and shops along the Mississippi River was a cultural experience.
March
Loss of a beloved friend.
One of our dear friends and Godson, Damon Boiles, II. Died on March 3 from complications due to Covid. We became close friends with Damon and his wife Madeleine shortly after we moved to Memphis in 1988, and they joined our parish, St. John Orthodox Church, a couple of years later, asking my husband and I to be their sponsors/Godparents. Their son Damon III and our son Jonathan were classmates at Harding Academy, which is how we all met. We miss Damon so much.
Josephine Circle
Speaking at another historic Memphis women's club, the "Josephine Circle," was rewarding. These ladies welcome speakers to their monthly meeting, and they were eager to hear about several of my books and my journey as a writer in my sixties and seventies.
The Forest author takeover!
There are so many great reader groups on Facebook, one of which, "The Forest," invited me to host an "author takeover" on March 11, to talk about JOHN AND MARY MARGARET. Readers send in comments and questions during the day, which I responded to.
Hawaii
We spent a week in Hawaii with our daughter Beth and her family during Gabby and Izzy's (granddaughters, who were then 6 and 9) spring break from school. We stayed at Waikiki Beach Resort on Oahu, where we enjoyed several pools with waterfalls and slides, the beach, the inlet, many restaurants and shops and more. Also a trip to Pearl Harbor to tour the museum and ships.
April
Memphis DAR
On April 2 I spoke at the Hermitage Chapter (Memphis) of the Daughters of the American Revolution, again speaking about my book JOHN AND MARY MARGARET, which includes over fifty years of civil rights history. I was thankful to my friend and colleague of my husband, Sandy Walsh, for inviting me.
Authors Over 50
I was the guest of author and podcast host Julia Brewer Daily for my first interview about my new book PILGRIM INTERRUPTED, which would be launching in June. Watch a video of our interview HERE.
Mike Wagner Show
Popular radio host Mike Wagner interviewed me on April 12. Watch the VIDEO interview here: PILGRIMAGE.
Elmwood Cemetery
My husband and I purchased our burial plots at Elmwood Cemetery in Memphis, near the grave of our dear friend Nancy McGee, who died in March of 2019. Our Godson Damon Boiles II is also buried at Elmwood, and several other members of our parish, St. John Orthodox Church, have purchased burial plots there. Elmwood is a historic cemetery, founded in 1852. It has a beautiful chapel and headstones and markers with crosses or other designs are allowed there. Now that we are both in our 70s, we are addressing end-of-life issues, and it brings peace to put our affairs in order.
May
French and Italian Rivieras
From May 3-13 we joined our friends Tim and Deb Mashburn and Father John Troy and Pamela Mashburn for a trip to the French and Italian Rivieras. We spent several days in Nice, France, and then took a bus down the coast to Sestri Levante, Italy, which was my favorite location. Tours of historic places, boat rides, making pesto (see photo)  and enjoying delicious meals were highlights of our trip. The scenery was exquisite.
Interview and Photos for Memphis Commercial Appeal
I was interviewed by Katherine Burgess for an article in the Memphis Commercial Appeal about the release of my new memoir PILGRIM INTERRUPTED. Christine Tannous took photographs at St. John for the article, which you can READ HERE.
June
LAUNCH for PILGRIM INTERRUPTED
PILGRIM INTERRUPTED launched on June 7 with a reading and signing at Novel books in Memphis, and a book signing at Lemuria Books in Jackson, Mississippi on June 11.
INTERVIEWS FOR PILGRIM INTERRUPTED
I was interviewed by John Mendenhall of Southern Literary Review, which you can watch here.
And I was featured on "Author to Author" with Bill Kenower for Author Magazine.
Another Loss
My dear friend and fellow writer Herman King died in June, and was honored at a beautiful memorial service at the Ornamental Metal Museum on the Mississippi River in Memphis, where Herman often had his own metal works displayed.
Jon and Kari Beth Visit
Our son Jon and his wife Kari Beth visited from New Orleans for several days. This was their first visit as a married couple, as their wedding was in November of 2021. Here we are at our favorite restaurant in Memphis, "Porch and Parlor."
July
First Cataract Surgery
On July 14 I had my first cataract surgery and was immediately amazed at how well I could see!
August
Books and Beyond
I spoke at the Benjamin L. Hooks Memphis Library's book club, Books and Beyond on August 16. This talk was about my new book PILGRIM INTERRUPTED.
Second Cataract Surgery
Second surgery was done on August 18. Having been born cross-eyed and with astigmatism and having worn glasses since I was 18 months old (yes!) it was miraculous to be able to see without glasses for the first time in my life!
St. Nicholas Church in Jackson, Tennessee
I gave my first slide presentation on icons and Orthodoxy and spoke about PILGRIM INTERRUPTED at St. Nicholas Orthodox Church in Jackson, Tennessee. The church hosted me for a potluck meal with my presentation. It was fun to be with TWO Goddaughters and many good friends!
September
Wild Sage Blog Giveaway
I was hosted on the Wild Sage Facebook blog for a book giveaway for PILGRIM INTERRUPTED on September 1.
San Diego
I went with my husband to a medical meeting in San Diego, where we enjoyed a reunion with his cousin Robert Schimmel (they were close when Bill lived in California as a child) and a visit to nearby Hotel del Coronado, the beachfront landmark where the Marilyn Monroe movie Some Like It Hot was filmed. I picked up a copy of a book set at the del Coronado, The Beautiful Strangers by Camille Di Maio, whom I met at a book convention a few years ago. Excellent historical fiction! And I enjoyed incredible sunsets by the pool at our hotel!
Pat Conroy Literary Center Open Mic
I was the featured author for the Pat Conroy Literary Center "Open Mic" night in August, where I read from PILGRIM INTERRUPTED.
Annunciation Greek Orthodox Church, Memphis
My second slide show presentation for PILGRIM INTERRUPTION was at Annunciation Greek Orthodox Church here in Memphis, where the ladies organization served refreshments and the audience asked great questions!
Jackson, Mississippi Clarion Ledger Book Review
PILGRIM INTERRUPTED was reviewed by Susan O'Bryan in my hometown paper, the Clarion Ledger of Jackson, Mississippi. Read the review here.
October
Fall Break Visit from Jason & Family
We were blessed to have our son Jason and his family visit during Grace and Anna's fall break in October. The weather was nice enough for a few walks by the river, but we mostly enjoyed playing games and just hanging out! (Oh, and visiting our favorite new Memphis restaurant Porch & Parlor. Delish!)
Brooks Museum League
My neighbor Judy Hall, a member of the Memphis Brooks Museum League, invited me to give a slide show presentation on icons to the League for their monthly meeting in October. I loved presenting "Window to Heaven" and weaving nuggets of my Orthodox faith into the slides about icons.
Presentation to St. Mark's (OCA) Orthodox Church
Zooming with St. Mark's (OCA) Orthodox Church in Wrightstown, Pennsylvania about PILGRIM INTERRUPTED
Susie McMahon's Facebook Virtual Book Club
Facebook Live with Susie McMahon and Ralph Eubanks about JOHN AND MARY MARGARET
Slide Show Presentation at my parish, St. John Orthodox Church in Memphis
Windows to Heaven Presentation at St. John/Memphis, with discussion about PILGRIM INTERRUPTED
"Book Tour" to Jackson, Mississippi, Gulfport, Mississippi, and Gulf Shores, Alabama:
Pleiades Club, Jackson, Mississippi, which meets at the Municipal Art Gallery (where I participated in piano recitals in the 1950s and '60s) invited me to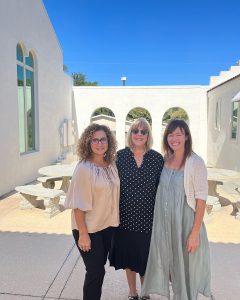 speak about my novel JOHN AND MARY MARGARET. My hostess (see photo at left) for both events was Regina Boyles, wife of Derwood Boyles, my father's childhood best friend and college roommate at Mississippi State.
Tallisman Club, Jackson, Mississippi, invited me to speak about my short story collection FRIENDS OF THE LIBRARY. It was fun seeing old friends at both of these events which were held in my home town!
Gulfport, Mississippi – visit with Goddaughter Katherine Thames and her husband Hardy. Visited Pass Books in Pass Christian, Mississippi.
St. Athanasius Greek Orthodox Church, Gulf Shores, Alabama
I Spoke at St. Athanasius Greek Orthodox Church in Gulf Shores, Alabama (slide show presentation) about PILGRIM INTERRUPTED during a church fish luncheon. Great visit with two friends at St. Athanasius who used to be parishioners at St. John in Memphis! (see photo)
Louisiana Book Festival:
The panel title was "Human(un)kind: Addressing Racial and Social Justice through Fiction." I discussed my novel JOHN AND MARY MARGARET. The other authors and books were: Hannah and Ariela by Johnnie Bernhard; Take My Hand by Dolen Perkins-Valdez, and For All Those Men: When the KKK Threatened to Take Control of Louisiana by John Warner Smith. The panel was moderated by Bob Mann, journalism professor at LSU and former communications director to Louisiana Governor Kathleen Blanco.
November
St. John Orthodox Church Women's Retreat:
"Building Life-Changing Relationships" with Michelle Moujaes from Faithtree Ministries. This was a wonderful retreat and I was blessed to drive Michelle to and from the airport and her hotel, so I got in some one-on-one visit time!
New Orleans:
We were invited to Dr. Paul Whelton's 75th birthday celebration, and stayed at the elegant Roosevelt Hotel in New Orleans! Paul is a colleague of my husband and was an important member of the Tulane Medical School faculty.
Seagrove Beach:
From New Orleans we drove over to Seagrove Beach, Florida for a few days, which included a book signing for PILGRIM INTERRUPTED at The Hidden Lantern bookshop in Rosemary Beach. Delicious food at our favorite places – Café 30A and the Great Southern Café, walks on the beach, and football watching!
Jon & Kari Beth here for Thanksgiving :
Jon and Kari Beth drove up from New Orleans WITH THEIR THREE CATS! to spend a few days with us at Thanksgiving. We love Mr. Davis, Bali, and Kitten and enjoyed them all so much. Ate lots of food, went on walks by the river, and played lots of Scrabble.
December
Cousin Reunion at Lea Brackett Smith's:
My third cousin Lea Brackett Smith and I reconnected a couple of years ago, and she invited Bill and I for a family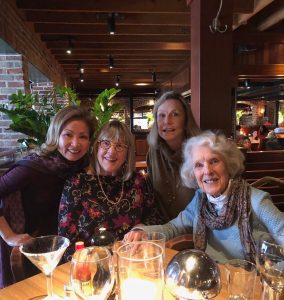 holiday dinner at her lovely home in December, where we met her sister and her brother and his wife, and got re-acquainted with one of her two daughters. Lea's grandfather and my grandmother were siblings in Mississippi. The older I get, the more important those family connects are! (See photo at left.)
(Photo at right is a holiday lunch with three neighbors from here in Harbor Town, and one former neighbor.)
Ancient Faith Interview:
I was interviewed by Bobby Maddex for "Ancient Faith Presents," to discuss PILGRIM INTERRUPTED. This is one of the podcasts sponsored by Ancient Faith Publishing. CLICK HERE to listen to the podcast.
'Tis the Season . . .
for holiday meet-ups with friends! Like my neighbor Judy Hall, who took me to see the wonderful "Magic of Memphis" show with the Memphis Symphony Orchestra and chorus and Black Arts Alliance and dancers and soloists at the Canon Center. And a few days later Judy hosted the annual Harbor Town Social Club party in her home and we enjoyed visiting with more neighbors there.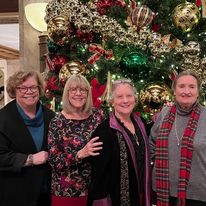 I had lunch with several different friends during December, and a movie and dinner with one, and especially loved my annual gathering at the Peabody Hotel Lobby to watch the ducks and then have lunch at Capriccio Grill with Madeleine Boiles, Sarah Hodges, and Deb Mashburn (and so sad Daphne Davenport King wasn't able to come over from Arkansas this year). See photo at left.
The University of Tennessee Health Science Center's
Department of Physiology Christmas party was at the Botanic Gardens, with delicious food and music, and a fun reunion with Diana Johnson, a writer friend whom I hadn't seen in almost ten years.
We're having friends over for two holiday dinners during December (one before Christmas and one after) and ending the month at a friend and neighbor's 80th birthday party on New Year's Eve.
Christmas in Denver . . . .
So what about Christmas, itself? This year we'll be in Denver with our daughter Beth and her husband Kevin and daughters Gabby (10) and Izzy (7). We fly out of Memphis on Friday and are hoping and praying this big winter storm won't mess up our flight plans. It will be MINUS 15 degrees in Denver Friday night when we arrive, but no snow predicted. (A little sad if we don't have a white Christmas but will be thankful to miss the big storm!)
So that's a wrap!
It's been an exciting year, and I'm heading into 2023 with good spirits and plans for a speaking engagement at Dallas Baptist University the end of March, a trip to Paris with our son Jason and his family the end of May, and the publication of my 9th book in June!