LITERARY BIT OF REFLECTION
October 30, 2021 @ 10:00 am

-

3:30 pm

$5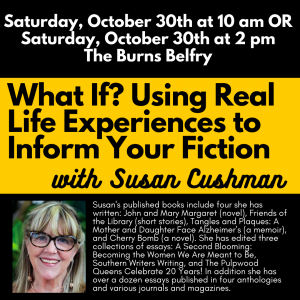 WRITING WORKSHOP!
On October 30 I will be leading a writing workshop (twice) at the LITERARY BIT OF REFLECTION hosted by the Yoknapatawpha Arts Council in Oxford, Mississippi. My workshop will be offered twice:
10 a.m. and 2 p.m.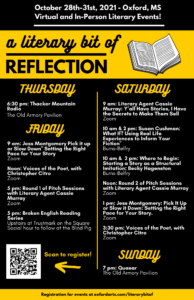 WHAT IF?
My workshop, titled, "WHAT IF?" will focus on how to use elements from real life–yours or others–to inform your fiction. The 75-minute workshop will include a 15-minute writing exercise.
LOCATION
My workshop (and several others) will be held at the Burns-Belfry Museum and Multicultural Center. Burns Methodist Episcopal Church was founded in 1910 by freed African Americans. Here's an interesting tie-in to my novel JOHN AND MARY MARGARET: There's a scene in the novel that is set at the church . . . a wedding. Whose wedding? You have to read the book (or come to the workshop) to find out!
Books Available for Purchase.
Of course there will be copies of JOHN AND MARY MARGARET for sale before and after both workshops. Also copies of my short story collection, FRIENDS OF THE LIBRARY (several scenes are set in Oxford) and my first novel CHERRY BOMB. I will talk about how events from my own life informed all three of these fiction books.
REGISTER!
For more information and to REGISTER (Cost is only $5) CLICK HERE.