Faith on Friday: A Stranger and You Did Not Invite Me In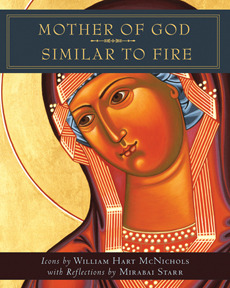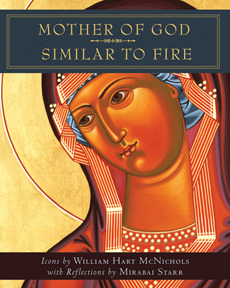 My dear friends, Nawar and Reem Mansour gave me a beautiful gift a couple of years ago. It's a volume of icons of the Mother of God, written by William Hart McNichols, a priest and icon painter who lives in Taos, New Mexico. The icons are accompanied by poems written by Mirabai Starr, who also lives in Taos and leads retreats on the connections between teachings of the mystics, contempolative practice, and social action. (You can watch Mirabai reading one of her poems from the book here.) The title of the book (which is also the name of one of the icons inside—the one Mirabai reads is the video) is Mother of God Similar to Fire. The icons and poetry are both breath-taking. (I did a post about the book in February of 2012, here.)

I picked the book up today because I wanted to turn my heart towards the Mother of God in preparation for the Feast of the Entrance of the Theotokos (Mother of God) into the Temple, which Orthodox Christians celebrate on November 21. We will have Vespers for the feast at St. John Orthodox Church in midtown Memphis tonight and Liturgy tomorrow morning at 10 a.m.

Back to the book. It's no coincidence that the gift-givers (the Mansours) are from Syria (Nawar) and Iraq (Reem). They know firsthand the horrors of the wars in the Middle East. And so the poems/prayers in the book have even more meaning.
As Americans argue over whether or not to let Syrian refugees into our country, I pray to "Mary Most Holy Mother of All Nations" with the words of the poet: (excerpts only as I do not have permission to reprint the entire poem)

Holy Mother of all people,

erase the lines we have drawn to separate us,

nation from nation,

tribe against tribe.

Melt our frozen hearts….

Safe in your embrace,

how could we hold onto any concept of "other"?

…that your message of peace and justice

may penetrate the troubled minds of all leaders….
And then I turn to the "Mother of God, She Who Hears the Cries of the World":
Mother of Mercy,

the cries of the world keep me awake at night….

Give me the courage to follow the crumbs of heartbreak

all the way home to the place where I can be of real service.
I pray these prayers not only for myself, but for our leaders who have the power to make decisions that affect thousands, if not millions, of lives. I ask the Mother of God to give me—and those leaders—courage. Because isn't it fear that pushes us to shut our borders to those who are escaping from the terrorists?
How will we answer when God says to us, "I was a stranger and you did not invite me in…." (Matthew 25:43)?