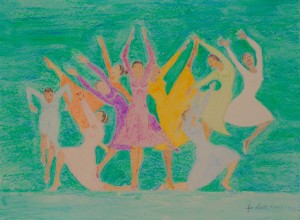 Happy 9th Day of Christmas! Some folks believe the twelve days of Christmas are those days leading up to the holiday, but historically the meaning has been applied to the 12 days between Christmas and Theophany (January 6). This is the time of feasting and celebrating the birth of Jesus and the beginning of his ministry on earth. I've always loved singing the song with a group of people, but I didn't realize until a few years ago that it was created as a secret method of teaching Christian catechism during a time of persecution. Two meanings have been applied to the 9th Day of Christmas:
Nine Ladies Dancing—This verse is about the fruits of the Holy Spirit described in Galatians 5:22:  love, joy, peace, patience, kindness, goodness, faithfulness, with modesty and continence added to the original 7 gifts listed in the scripture. It's good to focus on these virtues that can easily be forgotten amidst all the flurry of shopping and gift-giving and cooking and partying during this season.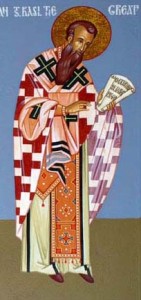 We hosted three parties over the past few weeks—two of which were actually during the preparatory days leading up to Christmas (known in Western tradition as Advent and in the Orthodox faith as the Nativity Fast). Although partying isn't recommended before Christmas (in the Orthodox faith,) I felt that our gatherings were very much in keeping with love, joy, kindness, and goodness, as they brought together friends and neighbors in a spirit of friendship. Our third and final party of the season was our annual New Year's Day Open House (yesterday) at which we also celebrated my husband's Name Day: the Feast of Saint Basil the Great. (Saint Basil was a priest who also established the first hospital, which makes him a wonderful patron saint for my husband, who is a priest and a physician.)
Nine Choirs of Angels—Another meaning attached to this day is the nine choirs—or orders—of angels.  These nine orders are divided into three hierarchies: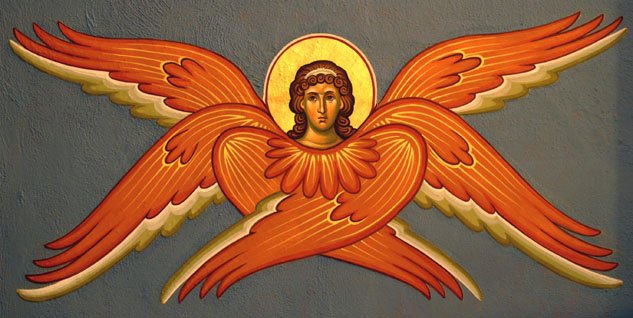 First hierarchy: Seraphim, Cherubim and Thrones (On a related note, today is also the Feast Day of Saint Seraphim of Sarov.)
Second hierarchy: Dominions, Virtues and Powers
Third hierarchy: Principalities, Archangels and Angels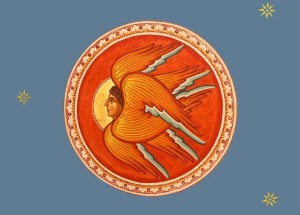 How will you celebrate today? My dancing feet are a little achy, so I think I'll embrace the fruits of the Spirit instead of the ladies dancing. But I'm always dancing in my heart. It's cold and damp outside, and I'm pretty tired from yesterday's party, so I'm going to stay in and catch up on some writing and editing. Tonight we plan to go see the movie, "Unbroken." I think I'll learn something about the fruits of the Spirit from this brave man's story.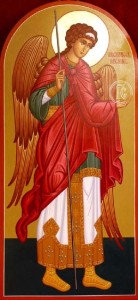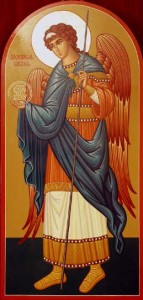 By the way, all the icons in this post adorn the walls of our parish here in Memphis, Saint John Orthodox.
P.S. I'm beginning the New Year by continuing Richard Rohr's Daily Meditations. Here's his entry from January 1: "A  New Beginning: A Journey of Faith."
Happy New Year!