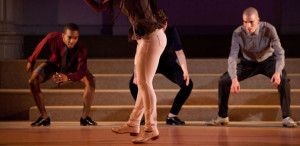 This weekend my husband and I will be visiting "the Holy City" (as the locals call it). No, we're not going to Jerusalem. We're headed to Charleston, South Carolina. I'm looking forward to the "secular" pleasures we have planned—a sunset dinner cruise around the historic harbor, watching the Dorrance Dance performance (part of the 2014 Spoleto Festival), and shopping at the galleries and boutiques along King Street—but also our visit on Pentecost Sunday to Holy Trinity Greek Orthodox Church. The last time I visited this church was about ten years ago, when I was still writing icons myself. I took my daughter (who was at the University of Tennessee in Knoxville) to Folly Beach for a few days and we drove into Charleston to see the icons at this church. What's so special about them?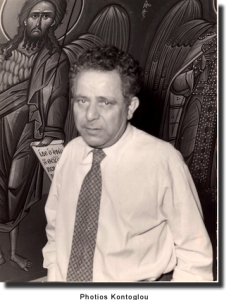 Some—certainly not all—of the icons at Holy Trinity were done by a famous contemporary iconographer, artist, theologian and literary writer, Photios Kontoglou (1895-1965). You might be wondering why I call him both an iconographer and an artist. There's a clear distinction between not only the artist and the iconographer, but also the art and the icon. One of the best explanations of this that I've read was written by Kontoglou, in this article, "What Orthodox Iconography Is," the year before his death. Lovers of Western religious art may take offense at some of his comments—he certainly felt strongly about this subject—but hopefully readers can see beyond any divisive elements and embrace the spiritual beauty of his words:
Transfiguration icon detail by Kontoglou

The beauty of liturgical art is not a carnal beauty, but a spiritual beauty. That is why whoever judges this art by worldly standards says that the figures in Byzantine painting are ugly and repellent, while for one of the faithful they possess the beauty of the spirit, which is called 'the beautiful transformation.'
My life has definitely been transformed by icons. I studied iconography, did commissioned icons, gave lectures and wrote about iconography, (see "Icons Will Save the World" in First Things) and taught icon workshops for about ten years, before "retiring" in order to write essays and books. (Not everyone is as gifted as Kontoglou, who wrote icons and books.) Our home has icons in almost every room, reminding me of the beauty of the spiritual realm, and also of Christ's incarnation, which brought the spiritual and the physical, human realms together forever. I'm looking forward to this pilgrimage to Holy Trinity in Charleston, where I will once again reverence these holy images that lead my soul to worship God more fully.