Family on Friday: The BEST Cornbread Dressing EVER!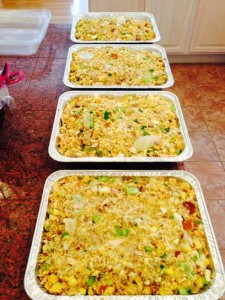 6 days before Thanksgiving… a good time to start preparations. Especially if you're expecting a crowd. For the first time in many years, we'll have all our children and grandchildren together AT OUR HOUSE for Thanksgiving. I'm so excited, but with 9-10 people around for a week (and 12 on Thanksgiving day) I'm planning ahead. Like today. I just spent all morning making the dressing. And this is not just ANY dressing. It's my Aunt Barbara Jo's "Best Dressing Ever," and it's worth the labor. Here's what you do: (this recipe makes two casserole pans, but I doubled it to make four)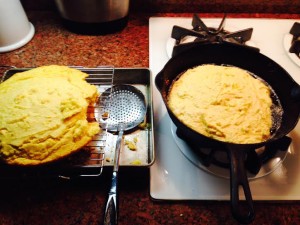 Make 2 (cast iron) skillets of cornbread, using the recipe on Martha White's Hot Rise cornmeal. Crumble the cornbread up WYH (WITH YOUR HANDS.) (Watch for WYH throughout the instructions.)
Boil a hen or whole fryer with a white onion.
Boil 6 eggs and chop them up.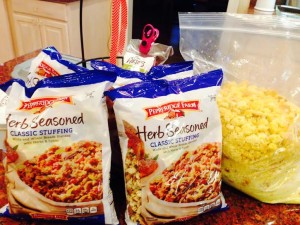 Chop up 2 batches of green onions and one batch of celery.
Mix the crumbled cornbread with 1 large bag of Pepperidge Farm Herb Stuffing mix and the chopped eggs, green onions and celery, WYH. (I use a large plastic "bucket" like you'd use to serve wine or beer on ice.)
Add sage, salt and pepper to taste.
Add 6 raw eggs (beaten) and continue to mix, WYH.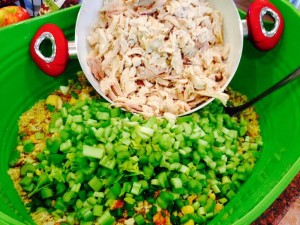 Shred the meat off the chicken and add it to the mix, again mixing it up WYH.
Spread the mix into two casserole containers (I use disposable aluminum ones because we serve our plates from the kitchen) and pour the chicken broth from the pot over them.
Cover with aluminum foil and FREEZE.
On Thanksgiving day, add one can of chicken broth to each pan (because some drying out happens with freezing) and bake 45 minutes to one hour at 400 degrees. You can cook the dressing from a frozen state if you add another 30 minutes or so.
Since we're having Honey Baked Ham rather than turkey, I'm using canned turkey gravy to serve with the dressing. It turns out to be more of a casserole than a side dish, with all that chicken in it.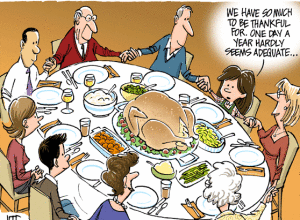 Whew. Glad that's done. Now I can look forward to playing with my granddaughters next week and not spending as much time in the kitchen. If you try the recipe (see photo) be sure and ADD THE PULLED CHICKEN, as I don't think I put that part in the recipe, which was published in our church's cookbook many years ago. Also, the recipe calls for 4 raw eggs but I use 6.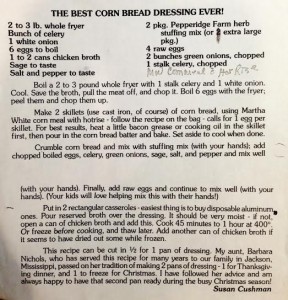 If you're also hosting on Christmas, make an extra pan for the freezer.
Enjoy your family and friends!