Martin Luther King, Jr.
The quote at the top of today's blog post is an excerpt from a longer quote, which I used as a section divider in my novel JOHN AND MARY MARGARET. The full quote is here:
I refuse to accept the view that mankind is so tragically bound to the starless midnight of racism and war that the bright daybreak of peace and brotherhood can never become a reality. I believe that unarmed truth and unconditional love will have the final word.
King's words inspired me as I wrote the novel during the summer of 2020 in Memphis, Tennessee. And then this morning I read the following quote, also by Martin Luther King, Jr., in a desk calendar I found in my Christmas stocking:
We must use time creatively, and forever realize that the time is always ripe to do right.
"John" Goes to Memphis
John Abbott, the protagonist in JOHN AND MARY MARGARET, is a Black boy who grew up in Memphis in the 1950s and '60s, and went to Ole Miss from 1966-1973 for an undergraduate degree and then a law degree. When his friends in the Black Student Union urged him to join them on a trip from Oxford, Mississippi, to Memphis on April 3, 1968, to hear Martin Luther King Jr. give his famous "I've Been to the Mountaintop" speech, he declined. John (and his father) was concerned that he might be arrested and even expelled from the university, ending his dreams of becoming a civil rights lawyer and judge. But after MLK's assassination, he was inspired to take the trip to Memphis on April 8, to join Coretta Scott King's march. Here's an excerpt from JOHN AND MARY MARGARET that describes what happened:
On April 8, John—with his father by his side—joined 42,000 others, led by Coretta Scott King and union leaders on a peaceful march through Memphis to City Hall, demanding justice for the sanitation workers. It was an experience he would never forget. He was so proud of his father and the other men for their conviction and courage, and maybe for the first time in his life he felt himself to be a man. To be one of them. He envisioned himself practicing law in Memphis one day, or even becoming a judge. He longed for the power that would provide for his future work defending the rights of his people.

He returned to school the next day, and a week later he heard the news that negotiators had reached a deal with the City Council to recognize the union and guarantee a better wage. The strike was over. And although it would take months—and another strike threatened by the union—the city finally followed through with its commitment.
The Unsung Heroines of the Civil Rights Movement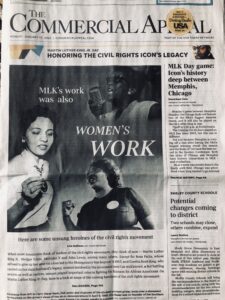 In today's Memphis Commercial Appeal newspaper, the front page has an article about the "Unsung Heroines of the Civil Rights Movement." The women chronicled in the article are: Ella Baker, Daisy Bates, Septima Poinsette Clark, Claudette Colvin, Frannie Lou Hamer (who is also mentioned in JOHN AND MARY MARGARET), Dorothy Height, Anna Paulina "Pauli" Murray, Diane Nash, and Jo Ann Robinson.
These women were from Arkansas, Alabama, South Carolina, Mississippi, New York City, and Chicago.
It saddens me that I have never heard of many of them until now, at age 70.
It's never too late to learn!
Women of the Movement
I've been watching the wonderful ABC series, "Let the World See," and "Women of the Movement."
I'm so thankful for these shows that help me to continue in my awakening to so much in our civil rights history that I was ignorant about. On this day in which we commemorate Martin Luther King, Jr. and so many unsung heroes and heroines of the civil rights movement,
I can only pray that King was right when he said that "love will have the final word."