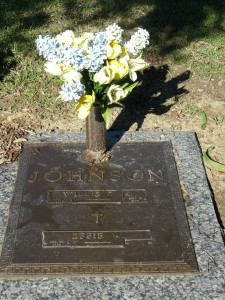 Fourteen years ago today my father, Bill Johnson, lost his fourteen-month battle with lung cancer. He was on my mind Sunday morning at my parish (St. John Orthodox in midtown Memphis) when we had memorial prayers for three people who had died—ten years ago, 40 days ago, and 9 days ago. The Orthodox Church has a special rhythm for remembering the dead at certain intervals after their death. One of those people was our own parishioner, Kinney Graham.
I'm sure we'll be having memorial prayers soon for Father Peter Gillquist, a well-loved archpriest in the Antiochian archdiocese. We've known Father Peter for over forty years. He baptized my husband (in the '70s, on a chilly March day, in the Ross Barnett Reservoir in Jackson, Mississippi) and was instrumental in helping us find the Orthodox faith back in the 1970s and '80s, and in helping its growth through his work in Missions and Evangelism for many years. Father Peter died on July 1.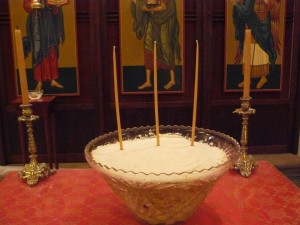 I wasn't able to go to Father Peter's funeral (in Indiana), but I went to Kinney's funeral last Tuesday, here at St. John in Memphis. And I was at the memorial prayers yesterday morning. I heard the haunting music and chanting at these events, and the homilies given by the priests. Homilies about life and death, and about how death shapes the way we live. And a wonderful tribute to Kinney Graham, a man who was full of compassion and kindness for others his whole life—especially for the special needs young adults he taught for 27 years, and the kids he taught for another 10 years after that. I never knew that about Kinney. I also didn't know that he had been a volunteer bus driver for the elderly and infirm parishioners at his previous church. Or an Air Force veteran who served in Vietnam. Funny how you can be around people for so many years and not really know them. Or maybe that's not so funny.
Kinney was only 65 years old—just two years older than my husband and four years older than me. He was diagnosed with pancreatic cancer one Friday and died the following Friday. It can happen to any of us. And so I started thinking about how I'm living my life and the things I could be doing differently.
To borrow some words from one of my favorite authors, Mary Karr, I'm often a self-centered, "serotonin-challenged bitch." (She wrote those words to describe herself, not someone else.) I have lived a life of privilege, at least by the world's standards. And yet I always have a longing for something just beyond my reach. A thin body. A best-selling novel. A beach house.
But on the occasional day when I remember God—and it's been hard to ignore Him with all these deaths and memorials lately—those longings fade, just a little bit, in the light of more serious desires. Like learning to forgive and seeking humility. Humility. It's an acquired taste. I hope I have many years to develop it before I die. But just in case I don't, maybe I should start working on it with a little more fervor. Death is certainly a powerful wake-up call.