I met Alexis Paige in 2011 at the Memphis Creative Nonfiction Workshop I organized that year. We had an immediate connection, and she's a brilliant writer.  We connected again at the 2013 Creative Nonfiction Conference in Oxford, where I also fell in love with another Vermont writer Nina Gaby.
I'm excited to have them both contribute essays for the anthology I edited, A Second Blooming: Becoming the Women We Are Meant to Be (Mercer University Press March 2017).
And now I'm reading Alexis's first book, Not a Place On Any Map, which was the Grand Finalist of the 2016 Vine Leaves Vignette Collection Award. One of the lyric essays included in the collection, "Entropy As Islands As Stars," was nominated for a Pushcart Prize. I'm so proud of Alexis!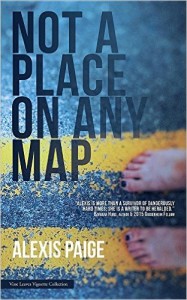 Her book is full of short vignettes—some might call them lyric prose—which are each examples of brilliant writing. Altogether they reveal her journey from a difficult childhood through rape, incarceration for drunk driving, recovery, sobriety, and more. Not a light read, but one that will surely touch many hearts. I love all of them, but something about her "Composite Sketch" touched me the most. If you know Alexis, you can see her in this sketch. If you don't know her, you will feel like you do after you read it:

I am a creosotic whiff of Phoenix… I am peelings of rattlesnakes and sunburns…. I am a purple polyester accordion cheerleading skirt for the Catholic Youth Organization…. I am the cream-swipe of tawny lipstick and wood-smoked flannel and Doc Martens.
And then she comes up with what she calls "orphaned chapter titles" for herself, including:
"Revelations of a Wet Brain in Stilettos" and "Does My Hair Smell Like Fried Calamari?"
Treat yourself to this short but powerful book.
You're welcome.