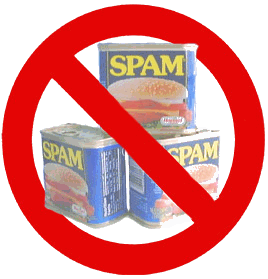 When I created my web site and moved my blog from Blogger to WordPress a few weeks ago, I decided to start tagging my posts in order to attract more readers. A marketing move, you know? And I've definitely had more hits on the blog. But all of them aren't readers. What I wasn't prepared for was the SPAMMERS (or SCAMMERS) who wanted to catch a ride on my wave. At first they were just irritating. And then I began to get a kick out of their crazy posts. I'll share a few (since I mark them as SPAM and don't allow them to use my site to advertise their wares for free.)
The first one is from someone selling mobile phones:
I do consider all of the ideas you've offered on your post. They're very convincing and will definitely work. Nonetheless, the posts are too short for starters. Could you please lengthen them a bit from subsequent time? Thanks for the post.

This next one is from a GAMING site… trying to leave this comment on a (serious, not funny at all) post about Christmas:
This is funnily enough just the thing I've been looking for! Superb and thanks very much!  
This next spammer is promoting GUILD WARS, and they were trying to comment on another post about Christmas – 'The Appearance of God." Really?
I found something like this elsewhere and really found it interesting. Some more of this please! Thanks very much.
Lots of the spam I get is from the UK… not sure why, but it is. Like this one, trying to sell GREEN TEA (which I don't even like) by commenting on my post, "How Can I Know?" which was about knowing God:
Greetings from across the sea! This is just what I was thinking of, and you did it well. Thanks very much.
Just one of several attempts at selling Fake Oakley Sunglasses on my site, this one recently tried to leave a comment on a post from August of 2007:
Hi! Do you use Twitter? I'd like to follow you if that would be ok. I'm undoubtedly enjoying your blog and look forward to new updates.
These next guys are selling antioxidants, pomegranate juice, etc., and tried to leave this comment on my post, "Emotional Truth and Imitation of Life." (Notice it's the exact same text as a previous attempt, above, by the Guild Wars people.  They must share a robot.)
I found something like this elsewhere and really liked. Some more of this please! Thank you.
And on a very serious post about Orthodox Holy Friday, more spam attempts from the GAMING website:
Hey there my name is Jill and I'm a student and this site really helped me. I'm inspired! Thanks very much!
This final comment is from a guy in Eastern Europe promoting a machine for shaping up abs. He tried to leave this comment on a post about "The End of Faith," which was part of my review of Sam Harris' book, back in 2008. (The spammer is just now trying to advertise on that post from four years ago!)
Great points altogether, you simply gained a new reader. What may you recommend in regards to your submit that you made some days in the past? Any certain?
Any certain? Really? You would think they would give up after so many rejections, but I guess their robots are hard to discourage. I'll just keep marking them SPAM and maybe eventually they'll quit. And now I'm thinking I shouldn't use tags for this post that might attract them, like guild wars, fake oakleys, green tea, and antioxidants…. but I bet they'll find me anyway.

This site by WordPress addresses the issue, but it's too complicated for me to figure out. Any simple tips?