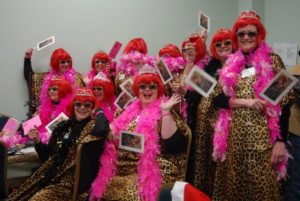 Remember that time you were reading a book and thought, "Wow, that character is just like my mother!"
Or maybe, "I understand exactly how that character feels."
And especially, "I feel like the author has been eavesdropping on my life!"
At those times you—the reader—are experiencing something every author hopes for: universal appeal. That doesn't necessarily mean that the book will appeal to everyone, but that it will have a large reach in the book's target audience, and that many of its readers will relate on a very deep and personal level to the author's words. If the book is fiction, and if the author has done her job well, you will care deeply about the characters, whether you love them or loathe them.
This actually happens to me more often when I read nonfiction. So far all six of the books I've read in 2019 have been nonfiction. Four are memoirs. I'm not sure where that trend is coming from, since I read 24 novels and only 19 nonfiction books in 2018. There's a saying among writers: "Write what you know." I wonder if there's a parallel saying among readers: "Read what you know." Take me, as a reader, for example—here's what I know:
I know I was molested by my grandfather when I was a little girl and by others in my early 20s.
I know I have struggled with eating disorders my entire life.
I know that my mother was verbally and emotionally abusive to me.
I know that my mother and my grandmother died from Alzheimer's disease.
I know I struggled with alcohol for years and I quit drinking in September of 2017.
And then there are the things I believe:
I believe in a triune God, the Father, Son, and Holy Spirit.
I believe in salvation by grace.
I believe in the sacraments of the Orthodox Church.
I believe in miracles.
I believe that icons can be sacred art and can also work miracles.
I believe that God forgives all sins, and that if I forgive myself and others, I will live a more peaceful life.
I believe that God loves me (most of the time, although I struggle with this one) and that accepting His love will help me love others.
So, when I choose to read spiritual or religious books—books about the lives of the saints, or theology, or church history, for example—I bring those beliefs to the materials I am reading. My response to those books is very much affected by my beliefs.
When I choose to read self-help, psychology, or memoirs about abuse, addiction, and healing, I bring my self-knowledge and my beliefs with me as I explore those books.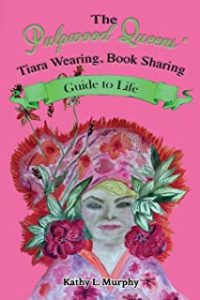 All of these thoughts are in my head as I reflect on the book I just finished reading—my 6th nonfiction book of 2019—Kathy L. Murphy's book, The Pulpwood Queens' Tiara Wearing, Book Sharing Guide to Life. This book was first published in 2008, but Kathy re-issued it in 2018, publishing it herself this time. I have to agree with Pat Conroy's blurb from the first edition:
"Kathy L. Murphy is a natural born storyteller and the best friend a writer and a reader could have."
For those of my readers who don't know who Kathy is, she is the founder and director of the Pulpwood Queens Book Clubs, which boasts over 700 clubs all over the US and in 15 foreign countries. As you can read in this article from Parade Magazine, Kathy is also an artist, and possibly the greatest supporter of the literary arts and literacy around. (Read more about that here in this piece from The Faulkner Society.)
I've been to Kathy's annual book conference in east Texas three times: first in 2010, when I went as a guest of my author friend River Jordan; and then in 2018 and 2019 when I was on panels for several of my books that had been chosen by Kathy as official selections for her Pulpwood Queens book clubs. And now I have the honor of working with Kathy as editor of a new anthology, The Pulpwood Queens Celebrate 20 Years! Coming out later this year from Brother Mockingbird Publishing. As I read the essays that I'm receiving from the authors and book club members and others who are contributing to the book, I am seeing the world of this amazing woman through the eyes of many writers and readers whose lives have been touched by her. And so I finally got around to reading Kathy's book.
And yes—her mother reminded me so much of mine! And although many things about our childhoods were very different, there were also many commonalities. But it's Kathy's energy and perseverance that impress me the most. And her JOY for life and LOVE for people . . . and for books! Read about how she started the first combination beauty parlor/book store—Beauty and the Book—and then how she started the Pulpwood Queens book clubs. Learn about her relationships with so many amazing authors—some more famous than others—and how she brings us all together through stories. Through books.
One thing I loved about the book was how she listed a group of her favorite books at the end of each chapter—books that were related somehow to the theme of the chapter. She even encourages her readers to make lists like this, to explore which books have been instrumental in our lives at various times. (I haven't done this yet, but I plan to.)
My favorite story in the book is about Kathy's experience as a publisher's representative reading early manuscripts by Rebecca Wells. When her books, Little Altars Everywhere and Divine Secrets of the Ya-Ya Sisterhood—two of my all-time favorite books—went out of print, Kathy pushed for a sales rep to get them back in print, and she did. Later, when the books were made into a movie, the director called Kathy from Los Angeles and invited her to the premiere. Kathy immediately asked, "Can I bring the Pulpwood Queens?" Fifteen members of the Pulpwood Queens of East Texas joined Kathy at that screening of Divine Secrets of the Ya-Ya Sisterhood in Metairie Louisiana, dressed in "pearls, pumps, and tiaras."
What more can I say? If you love books, book clubs, and stories about women with a passion for life, you'll enjoy this. I'll close with these words from another favorite author and friend, Cassandra King:
"Reading this book is like sitting down with a best girlfriend who loves books but also loves telling a good yarn. This is a book you'll want to share."