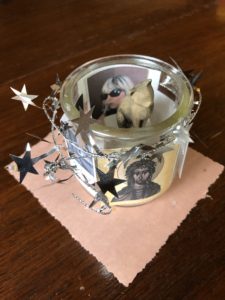 This past weekend I was a speaker at an amazing women's retreat in Starkville, Mississippi. The retreat was organized by Alison Buehler, director of The Homestead Education Center. I'll do a post soon with more about the retreat workshops, led by four contributors to the anthology I edited, A Second Blooming: Becoming the Women We Are Meant to Be. For today, I want to share something that came to me during the retreat that was a bit inspirational and also a lot of fun.
We were making "nichos"—little jars filled with items that have special meaning to us in some aspect of our personal growth—during the workshop led by Nina Gaby on Saturday. Nina is a psychiatric nurse practitioner, a writer, and an artist. When Nina talked with us about her art, and also about making our nichos, she said:
We are all artists. The creativity within each of us gets us through the dark times.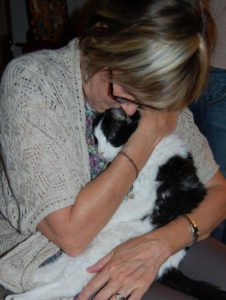 I had chosen to take with me a small (3-inches tall) sculpture of a cat by Susan Lordi (Willow Tree) called "Love My Cat." I had a cat named Oreo who lived 21 years. She brought me much comfort and joy, and now I collect figures of cats from all over the world when I travel.
I also chose to take with me for my nicho tiny prints of the covers of all four of my books, some small sea shells (because the beach is my favorite place on earth and the place where much of my creativity and growth have happened), and even tiny prints of my husband and one of me that represents my spirituality and my shadow, because I'm wearing sunglasses
and a black leather jacket, and I'm kissing a large pectoral cross that belongs to my husband, who is an Orthodox priest. And one tiny print of the weeping icon of St. Mary of Egypt (my patron saint) which is on the back cover of my novel, Cherry Bomb. It was so much fun filling the jar with several of these items and gluing the others to the outside, finishing it off with some shiny silver ribbon with stars on it, to remind me always to shine.
For some reason, during the retreat, I came across this web site that's all about spirit animals, so I looked up the cat, and this is part of what I read:
Those who have the cat as spirit animal may be encouraged to develop balance between independence and time of togetherness. Harmonious relationships between light and dark, action and observation are also attributes of cat spirit.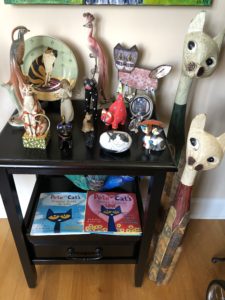 This was so point on, as I struggle sometimes with loneliness, although I treasure the time I am able (and must have) to spend alone as a writer. But I also treasure my friends and times I'm able to spend with them. The words about light and dark, action and observation also spoke strongly to me. As did these words from the same site:
The cat carries many meanings revolving around the balance between seemingly opposites, such as inner and outer, action and rest, light and dark. It's strongly symbolic of the connection with what usually hides in darkness or the unknown. The cat generally represents:
Patience, waiting for the right moment to act

Independence, yet enjoying social connections

Spirit of adventure, courage

Deep, relaxed connection with self

Healing from the inside out

Curiosity, exploration of the unknown or the unconscious
And these words, which intrigue, invite, and encourage me:
If the cat shows up in your life as a spirit guide or you have this animal as totem, you may be inclined to start exploring areas in your life or aspects or yourself that you do not know well yet.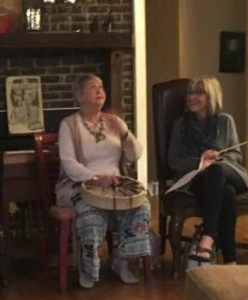 Maybe some of that exploration came at the end of the weekend, when I participated in my first ever drum circle, led by Jeri Vanwinkle Mangum, a native of Oklahoma now living in Starkville. Jeri brought many drums with her, from numerous countries and cultures, and we took turns—moving to a different place in the circle after each song—so that we could experience more than one instrument. Since I was new to this, I read a bit about it first, and found this article helpful: "The Unwritten Rules of Drum Circle Etiquette."
Twenty or so of us women who has spent the weekend sharing many personal things about ourselves and growing together sat in a large circle learning to beat out rhythms on many styles of drums as we chanted together. It was at times joyful and uplifting, and at times very somber. I
ooked around the room at the faces of these wonderful women—many of whom had experienced much trauma in their lives—and I let each of their stories fill my heart and find their way to my hands as they played the drums.
(The sign at right was on the wall in the living room at the Homestead Center. I loved it and had to share it!)
Thanks always, for reading, and come back in a few days to read what several women have to say about their experience at the retreat.