"Worship Has Begun!" Says the Bell of Saint John
By Susan Cushman
the Evangelist (September, 1992) print-only newsletter of St. John Orthodox Church,1900s-early 2000s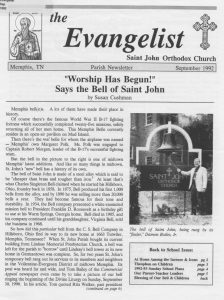 I am continuing to share articles from the Evangelist "back in the day." Hope you enjoy this one.
Memphis bell(e)s. A lot of them have made their place in history. Of course there's the famous World War II B-17 fighting fortress that successfully completed twenty-five missions, safely returning all of her men home. This Memphis Belle currently resides in an open-air pavilion on Mud Island.

Then there's the real belle for whom the airplane was named—Memphis' own Margaret Polk. Ms. Polk was engaged to Captain Robert Morgan, leader of the B-17's successful fighting team.

But the bell in the picture is one of midtown Memphis' latest additions. And like so many things in midtown, St. John's "new" bell has a history of its own.

The bell of Saint John is made of a steel alloy which is said to be "cheaper than brass and tougher than iron." At least that's what Charles Singleton Bell claimed when he started his Hillsboro, Ohio foundry back in 1858. In 1875 Bell produced his first 1,000 bells from the alloy, and by 1890 he was selling more than 20,000 bells a year. They had become famous for their tone and durability. In 19334 the Bell Company presented a white enameled mission bell to President Franklin D. Roosevelt as a birthday gift to use at his Warm Springs, Georgia home. Bell died in 1905, and his company continued until his granddaughter, Virginia Bell, sold the business in 1968.

So how did this particular bell from the C.S. Bell Company find its way to it new home at 1663 Tutwiler in Memphis, Tennessee? When St. John bought its current building from Lindsay memorial Presbyterian Church, a bell was left for the parish to "borrow" until Lindsay's bell tower at its new home in Germantown was complete. So, for two years St. John's temporary bell rang out its services to its members and neighbor in the Vollentine-Evergreen District of midtown Memphis. Its peal was heard far and wide, and Tom Bailey of the Commercial Appeal newspaper even came by to take a picture of our bell ringing the beginning of the Divine Liturgy on Sunday, September 30, 1990. In his article, Tom quoted Rita Walker, past president of the American Bell Association, as saying, "Ringing is a dying art because very few want to be confined to that type of job now."

Bell ringing is an art that the members of St. John don't mind being confined to. They don't mind is so much that when Lindsay Church came back for its bell this past spring, church member Damon Boiles, Jr. went searching for one to replace it. And he found our Memphis bell for about $1,000 in an antique store on North Watkins Boulevard, not far from the church's neighborhood. The name of the company, C. S. Bell, was inscribed inside the bell, so Damon did some research and discovered the history of our new messenger of good news.

The story doesn't end there. Our new bell needed a proper hanging. Enter St. John parishioner and architect, Jim Meng, who designed the arch which would hold the bell. The arch was made by Steel Detailing Service of Memphis, but they had to send the two pieces of channel iron to Birmingham, Alabama, to have them bent into the appropriate size radium for the bell.

How does the "new" old bell of Saint John work? "The bell has a stationed clapper," explains Meng. "We had to remove it from the swing cradle, because we weren't sure our structure could hold it." The clapper is now attached to a chain, which is locked when it is not in use. The bell is rung by a deacon, usher, or other helper to signal the beginning of Matins Services at 9 a.m. on Sunday mornings and the Divine Liturgy at 10 a.m., in addition to ringing in Great Vespers on Saturday evenings at 7 pm. and other special feast days of the church.

According to S. N. Coleman in Bells, Their History, Legends, Making, and Uses, the largest ringing bell in the world is in Russia. Known as "the Great Bell of Moscow," it weighs 128 tons and was given by Czar Boris Godunov to the Cathedral of St. Nicholas in the early seventeenth century. In his book, Bell Ringing, John Camp tells us that the oldest surviving bell was found at Babylon and is believed to be 5,000 years old. Saint John's bell may not be the oldest or the largest, but it enjoys a place of prominence in its new home.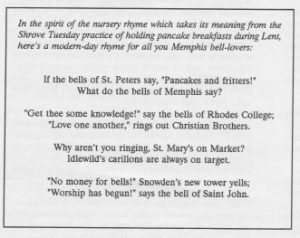 Note: Sadly our bell-finder, Damon Boiles, Jr., my Godson, died on March 3, 2022. We will be praying one-year memorial prayers for Damon on Sunday, March 12. I hope everyone arrives in time to hear the bell ringing before the church services begin. I think of Damon often as the bell of St. John calls us to worship.