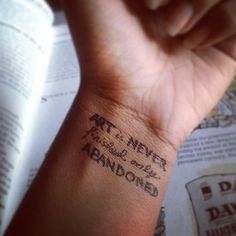 "Poetry is never finished; it is only abandoned."—W. H. Auden
A similar quote, "Art is never finished, only abandoned," is often attributed to Picasso, Paul Valéry, and Leonardo DaVinci.
When my (now 33-year-old) daughter was in AP/Studio Art in high school, she spent many more hours on her work for that class than all her (more academic) classes put together. Why? Because a work of art is never "finished." It can always be improved, so the artist keeps painting/sketching/revising the piece until (1) deadline or (2) exhaustion, whichever comes first. And then when she was in grad school in architecture, she (and other students) often spent several nights a week in the studio, all night, working on their projects. Most of them kept sleeping bags in the studio in the architecture building.
It's similar with writing. For the anthology I'm editing, several contributors asked if they could send revised versions of their essays to me AFTER we had agreed on revisions at one point. They read them a few days later and realized they could be improved.  Of course at some point the editor (in this case me) has to say "It is finished," or deadlines won't be met. It's a tough call.
Have you ever read a book and discovered (much to the author's chagrin, I'm sure) as I did recently, a typo? Or certain sentences or passages that just didn't seem to measure up to the quality of the rest of the book? It's almost impossible for a writer to read a book—or even an essay or newspaper or magazine article—without a critical eye, the same way I imagine someone who cooks for a living would approach a meal in a restaurant. I try to read "for pleasure" and stop myself from constantly critiquing what I read, but it's hard, especially since I'm often reading with an eye to writing a book review or promoting the book, especially if I'm friends with the author.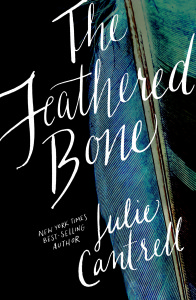 My current read is my friend Julie Cantrell's new novel (which will launch at Square Books in Oxford, Mississippi, next Tuesday, January 26) The Feathered Bone. I think the highest compliment I can pay Julie is that I've read over half the book in a few short days, and I find myself caring deeply about the characters and turning the pages a little more quickly than usual because I'm eager to find out what happens next. Oh, sure, I slow down and enjoy her artistic turn of phrase from time to time, but only once or twice have I thought, "I wish she would have said that differently." For the most part I'm just holding on for the ride, which is richly anchored by sense of place, strong character development, and historic details—in and around New Orleans before, during and after Hurricane Katrina. It's a beautiful work of art, and I hope that Julie enjoys celebrating its completion and publication. It is finished.