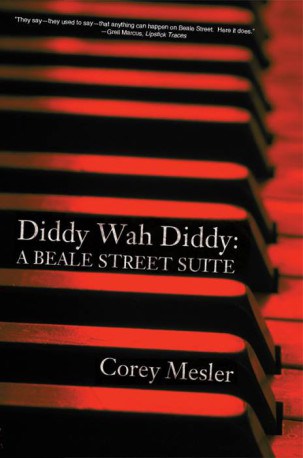 Have you ever read a book that was so filled with magical prose that you were afraid to try to use normal words to describe it? That's how I feel today, as I attempt to write about Corey Mesler's new book, Diddy Wah Diddy: A Beale Street Suite. I've thought and thought and can't come up with any words that are cool enough. (Did I mention that Corey routinely kicks my ass on Facebook Scrabble? And that's he's also an amazing poet?)
The authors who blurbed DWD were able to find some appropriate words:
It's got his signature virtuoso brand of linguistic pyrotechnics…. Some kind of heady elixer….—Steve Stern (The Book of Mischief, The Wedding Jester)

… an outlaw work… coming off like some literary Coltrane… a narrative tour de force.—Arthur Flowers (Another Good Loving Blues)

… riotous prose—fluid and lush and crazy. It's verbally rich and witty—half literary, half hoodoo.—Bobbie Ann Mason (The Girl in the Blue Beret, Shiloh and other Stories)

…Mesler's prose gives the stories such a distinct rhythm—a sense of drumming, melody, and passion—that you literally hear the music.—Susan Henderson (Up from the Blue)

So, what's left for me to say? I'm in awe of this man's endless creativity. Seriously, who thinks of these names? A few samples:
Arms Akimbo, a stripper
Styx Quetzalcoatl, drummer for The BamBam Five
Resole McRey, the illegitimate offspring of a furtive coupling between a once
respectable white doctor and a young tenebrous conjurewoman
Beaureguard Rawhead, conjureman and wannabe songwriter
Edward "Jolly" Newbacon, occult dabbler
Red Rolly Castlecream, baseball's first black shortstop
Seth and Lilith, the foreigners, who played the harmonitar (it looked like a potato with a snout) and the squeegee, small wind instruments both, like recorders but uglier, and sounding like miniature bagpipes played through a dustbuster
Cornbread Slunt, Seth and Lilith's self-appointed agent
If you think the names are crazy, wait until you read their stories. These are not stories for children. Not even for some adults. But if they are stripped bare of Southern niceties and filters, they are artfully laced with humor and boundless imagination.  I'm sure lots of the references and metaphors are lost on me, due to my ignorance about so many things—Memphis, Beale Street, the blues, and the people, legendary and real, who provide fodder for the storyteller's magic. But I couldn't stop turning the pages. I fell in love with those crazy characters, and I was a bit sad when each story was over. This reviewer (on Goodreads) also had good things to say about DWD.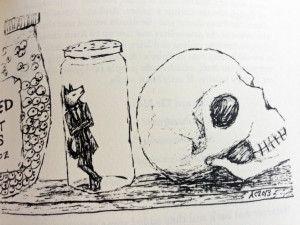 Oh, and check out the cool illustrations throughout the book, by Amy Crook. Here's a fun article about her art work in Corey's book. My favorite is also Corey's favorite—this drawing of a tiny werewolf in a jar. You'll have to read the story to find out what he's doing there!
Mark your calendars and come hear Corey read on November 7 at Burke's Books! You can order a signed copy here if you can't make the reading. Diddy Wah Diddy would make a great Christmas gift for your friends and family who love Memphis, Beale Street, and the blues! Or just magical writing.