For previous posts on the contributors, see these:
Next up?
Suzanne Henley
Suzanne and I have been friends since we first met over a decade ago . . . I'm having a senior moment, but I think it was at the 2010 Creative Nonfiction Conference in Oxford, Mississippi, but for sure she participated in the 2011 Memphis Creative Nonfiction Workshop that I directed. Around that time Suzanne began hosting a writing group in her home that I participated in for many years. She's an exceptional writer. I highly recommend her book Bead by Bead: The Ancient Way of Praying Made New. Read my review here at Southern Literary Review.
In 2013 I was in a life-threatening car wreck. I broke my neck, right leg, and ankle, and was stuck in my house for the first few months of my recovery. One day Suzanne came to see me and brought me a beautiful necklace she had made from exotic beads from all over the world. They were prayer beads. And she had written a description and meditation to go with them. I held these beads as I lay in my hospital bed (at home) and prayed. Later I hung them on the wall near my computer as a reminder of her kindness and God's grace and healing.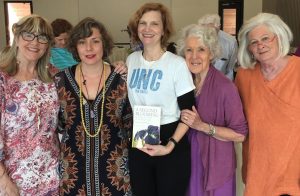 In 2017 Suzanne contributed a wonderful essay to a collection I edited that was published in 2018 by Mercer University Press: A Second Blooming: Becoming the Women We Are Meant to Be. Her essay in that book, "Beyond This Point There Be Dragons," is a gripping story of personal trauma and her eventual blooming into a stronger, more amazing woman.
Here's a photo of Suzanne (far right in orange) with several other authors at our launch for A Second Blooming at the Memphis Botanical Gardens in 2017. Next to her is another contributor to All Night, All Day, Sally Palmer Thomason (in purple) whom I will write about next. These women are both in their eighties, and have both been, and continue to be, important mentors and inspire me in my writing life.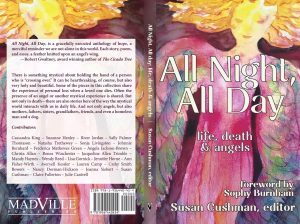 From Suzanne's bio in All Night, All Day:
Suzanne Henley, former English instructor, college development director, and hospice worker, is a fused glass and bead artist and a residential renovation designer and contractor. She is the author of Bead by Bead, a nonfiction narrative hybrid, and the cookbook Sauce for the Goose. Her personal essay "Beyond This Point There Be Dragons" is included in the anthology A Second Blooming; she is currently working on a second memoir and a revision and expansion of her cookbook. The grandparents of seven, she and her husband live in Memphis, Tennessee.
"Road Trip"
Suzanne's essay is about a road trip she took with three other friends—all in their forties and fifties—and included not only a visit to a psychic but also a mystical event that happened in a small Georgia town after a night of "gal time." I won't tell the story (read it in the book!) but here's an excerpt:
How ironic that it would be a plastic, fake-tortoise-shell hair comb made in China–not even a family heirloom of antique French tortoise–that pulled back the onion-skin-thin layer of a different universe for me to peek into, I, an unexceptional, garden-variety woman in the 1990s standing alone and unexpecting on an early March-bright morning in a small bedroom in a small Georgia town after a night of "gal time."This experience forever changed the axis of my universe. My vision has never been the same. . . . It is way beyond my paygrade to think about naming this experience. Contemporary categories of physics go rat-a-tat-tat through my head, but I do not begin to comprehend quantum mechanics, the fourth dimension, relativity, time and space warp, parallel universes. I do understand with great depth and gratitude, though, the concepts "humbling" and "joy." What an enormous gift to have been handed this experience, a hinge opening to the vastness of all that is holy.
I'll bet you want to read Suzanne's story now!