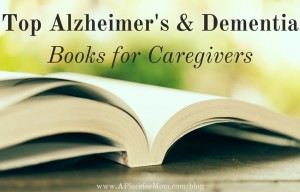 Since my first book, Tangles and Plaques: A Mother and Daughter Face Alzheimer's, is coming out soon (release date is January 31!) and I have numerous events at which I'll be reading and discussing the book in the coming months, I've begun preparing for those events a bit. I've chosen which excerpts from the book I might like to read at various events, but I've also been thinking about how much is NOT included in the book. About the questions I might be asked during discussion times—including questions for which I might not have answers.

To that end, I've created a list of books I DID NOT WRITE about Alzheimer's, which might serve as resources for those wanting to read/learn more. I'm going to print the list off and give out copies at readings. This is a very short list. If you Google the topic, you'll find dozens, possibly hundreds of other books and articles. And while you might wonder why I have not read more widely on the subject, all I can see is that I was too busy living the very personal journey with my mother.
Memoirs:
Inside the Dementia Epidemic: A Daughter's Memoir by Martha Stettinius
The Living End: A Memoir of Forgiving and Forgetting by Robert Leleux
Tangles: A Story About Alzheimer's, My Mother, and Me (an illustrated/graphic memoir) by Sarah Leavitt
Novels:
Still Alice by Lisa Genova (movie starring Julianne Moore) "Alice" is a cognitive psychology professor at Harvard who is diagnosed with Alzheimer's….
Turn of Mind by Alice LaPlante (New York Times bestseller about a retired orthopedic surgeon suffering from dementia.)
Academic:
Families Caregiving for an Aging America
Follow this link to purchase the report or download a free (PDF) copy of the report:
https://www.nap.edu/catalog/23606/families-caring-for-an-aging-america?gclid=COHjg46mptECFQ6BaQodq34A1g
The books on my short list aren't included in other lists I found online, like these (for those who want to read more widely):
Top 5 Books on Alzheimer's Disease
Recommended Reading from the Alzheimer's Association
Top Alzheimer's and Dementia Books for Caregivers (from the senior living blog, "A Place For Mom"