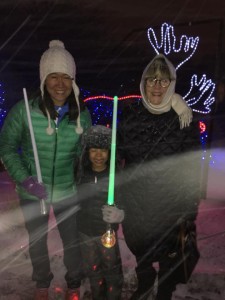 Happy 4th Day of Christmas! We got home from Denver last night, after spending five wonderful days with two of our "kids" and all four granddaughters, and the magic of a white Christmas. Being a city girl, it's always fun for me to see the wildlife near our children's homes… this time two coyotes and several rabbits. Our days were spent playing games (7 different games with the girls!), watching football, eating (of course!) and catching up on the lives of our kids who live so far away. Every day was special, but a couple of special memories are the night we went to Zoo Lights with our daughter and her family… only to encounter a blizzard as we tried to walk through the beautiful sights!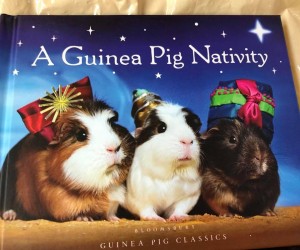 Another special memory was reading A Guinea Pig Nativity with our son's daughters, and then playing with their Guinea pigs, Snowy, Noah, and Luke. (This is a wonderful little book, even if your kids or grands don't have Guinea pigs!) Here's a hilarious You-Tube video of a live Guinea Pig Nativity play!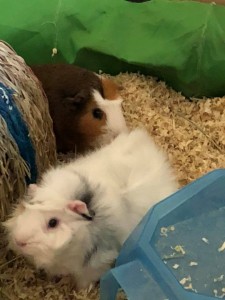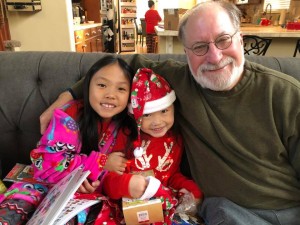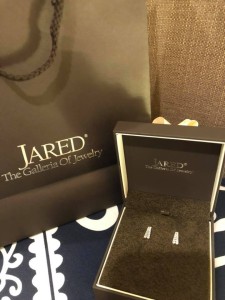 Oh, and exchanging gifts. I love presents… to give them and to receive them. And to watch our granddaughters spend hours enjoying their new toys and games.
I was blessed to receive several really special things this year, including earrings from Jared, personalized stationery, personalized traveling jewelry case, Echo Dot for my office (we also have them in our bedroom and den), individual fondue mugs (I love chocolate fondue!), and more.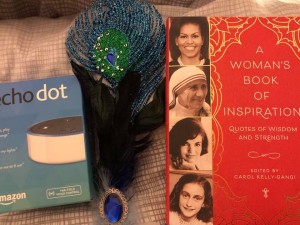 My daughter and daughter-in-law both know how much I love quotes. Beth (my daughter) gave me this wonderful book, A Woman's Book of Inspiration: Quotes of Wisdom and Strength, edited by Carol Kelly-Gangi.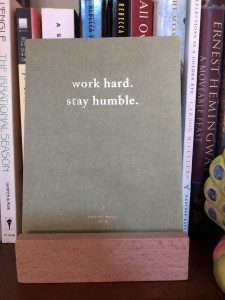 My daughter-in-law See gave me this little "Bright Ideas" set with a wooden stand and a collection of quotes you can change out on the stand. So I'm going to post some of the quotes they sent me from time to time here on my blog. Starting with today.
From "Bright Ideas":
work hard.

stay humble.
From A Woman's Book of Inspiration:
Everyone has inside of her a piece of good news. The good news is that you don't know how great you can be! How much you can love! What you can accomplish! And what your potential is! – Anne Frank
I chose these quotes to share today because as I approach the beginning of a new year, I move forward with thankfulness for the good things that happened in 2017 but also with an eagerness to begin something new… a new book, or two! And also to learn to love more, as Anne Frank said. And as Tim McGraw sings:
When those dreams you're dreamin' come to you
When the work you put in is realized
Let yourself feel the pride but
Always stay humble and kind
Thanks, always, for reading (even when I'm gone for a week during the holidays!) and remember that I love to hear from you, here or on Facebook or Twitter.