What a great time I had last weekend on the Mississippi Gulf Coast! It started with a live interview on WLOX Biloxi TV (for CHERRY BOMB) on Friday afternoon (October 20) followed by a reading/signing at Pass Christian Books and Cat Island Coffee House right on the beach at Pass Christian, Mississippi on Saturday afternoon, October 21. The weekend was enhanced by a visit from our oldest son, Jon, my hosts Hardy and Katherine Thames (she's my Goddaughter), and a lovely after-party at the home and interior design studio of Al and Cathy Lawson in Bay St. Louis, and an early dinner (royal reds for me!) at The Blind Tiger on the water in Bay St. Louis. Oh, and Sunday morning's 16th birthday breakfast for Mary Thames and family at the Harbor View Café in Long Beach, Mississippi. (See more photos at the end of this post.)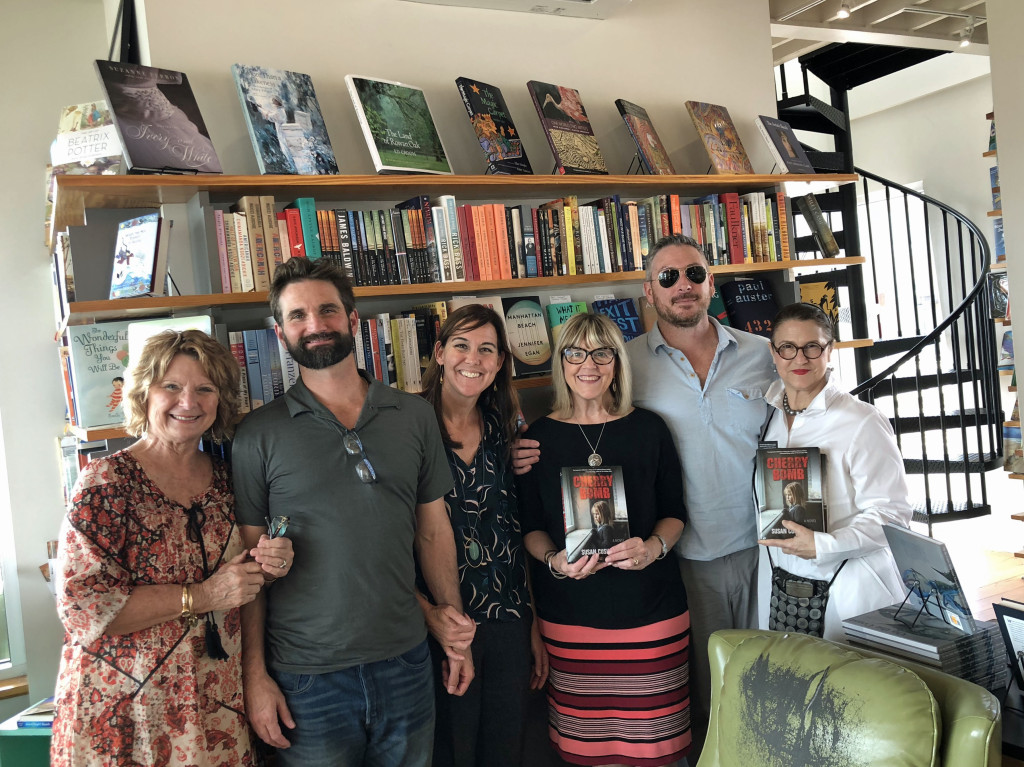 I'm having a great time touring the South to share my joy over my novel CHERRY BOMB. Having already been to 7 venues in Tennessee and Mississippi (with 7 more events scheduled in Mississippi in November and December and 2 more scheduled in Memphis so far) I'm off on a fun road trip with my husband tomorrow. We're combining his career and mine, starting with two days in Franklin, Tennessee, where he's speaking at a medical meeting, and we're having dinner with one of our nephews, and I'm having lunch with a writer friend. Then we're combining a fall beach vacation with three book events for me. Here's the schedule for my appearances along the Florida Gulf Coast and the Eastern Shore of the Mobile Bay:
Saturday, October 28 (2-5:30 p.m.)—"Choose Your Own Cover" music and literary event at the Capitol Oyster Bar in Montgomery, Alabama. Patrons will pay $15 cover charge for some great music and will choose from five authors' books. I'm so excited to be joining Alabama authors Suzanne Hudson, Joe Formichella, Marlin Barton, Loretta Cobb, and William Cobb. And we'll all be enjoining the musical talents of Chris Clifton and Gove Scrivenor. My husband and I visited the Oyster Bar last April and enjoyed some of the best oyster and Argentine shrimp (yes!) ever. Can't wait to be back there on Saturday!
Monday, October 30 (4-6 p.m.)—Sundog Books, Seaside, Florida, where I'll be signing copies of CHERRY BOMB on the front porch of this terrific bookstore in a legendary town. (And meeting up with old Memphis friends afterwards at the Great Southern Café next door!)
Wednesday, November 1 (4-5:30 p.m.)—The Hidden Lantern Bookstore in scenic Rosemary Beach, Florida. After my book signing, I hope to head across 30-A to one of my favorite places, La Crema
Thursday, November 2 (2-3 p.m.)—Page & Palette in Fairhope, Alabama. This will be my second event at this wonderful bookstore, which hosted me back in April for my first book, Tangles and Plaques: A Mother and Daughter Face Alzheimer's.  Can't wait to read and sign CHERRY BOMB for the good (and very literary) people of Fairhope. And many thanks to my friend Ren Hinote, who is hosting an after-party in her home in nearby Montrose.
Watch for pictures on Facebook, and thanks, always, for reading. I hope to see some of you along the tour!