I'm writing this post on Thursday afternoon, because I plan to leave Memphis around 7 a.m. Friday morning to drive down to Seagrove Beach, Florida. I'll be spending the month of February writing on the beach. I'm starting a new novel, and hope to get a first draft done. But I'll try to keep up with my blog posts… except for today.
I was going to write about fellow Circling Faith contributor, Barbara Brown Taylor's, wonderful memoir, Leaving Church. But I'm not quite half through with it, so I want to wait and give it a full review on another Friday. I'm really enjoying it.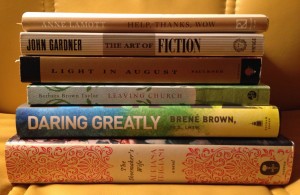 Leaving Church made the "short stack" of books I'm packing for my month at the beach. Other titles include:
Light in August (William Faulkner)
Help, Thanks, Wow (Anne Lamott)
The Art of Fiction (John Gardner)
Daring Greatly (Brené Brown)
The Shoemaker's Wife (Adriana Trigiani)
I'll be stopping in Jackson (MS) to visit my mom at the nursing home mid morning, and hoping to make it to the beach by sunset, but I'm pretty sure I'll miss it tomorrow night…. Fortunately, there will be many more sunsets during February. Watch for photos here and on Facebook. And please send up some prayers and/or good thoughts for my new novel. Working title is The Secret Book Club….