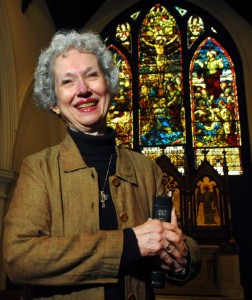 About a year and a half ago I met a wonderful Memphis author and well-known and much-loved religious leader, Phyllis Tickle. Not sure how I made it so many years without meeting her earlier, but in January of 2014 I attended a festchrist honoring Phyllis at the Booksellers at Laurelwood. My friend and fellow writing group member, Sybil MacBeth, was one of the contributors to the book, Phyllis Tickle: Evangelist of the Future, and was there to host the reading that night.
A few days ago Sybil sent an email to our writers group with a link to this article about her writing doula and dear friend:
 "Author Phyllis Tickle faces death just as she enjoyed life: 'The Dying is My Next Career'"
She has Stage IV lung cancer that has already spread to her spine. A grim diagnosis, but Phyllis is anything but grim in her response:
"I am no more afraid of dying than I am of, I don't know, drinking this coffee," she continues, pointing to her mug. (It's actually filled with Postum since she's had to give up caffeine. She remains, thankful, though, that she can still drink a nightly whiskey.  "Jack Daniels, of course!" she says, shocked at the suggestion that a Tennessee native would drink anything else.)
I won't try to summarize or share more quotes because I'd rather encourage you to read the article to get a better picture of this incredible woman's faith. And not just in the face of death, but also the impact she's made with her writing and speaking. You'll also have to read the article to find out what she hopes to write before she dies. Phyllis Tickle is 81.