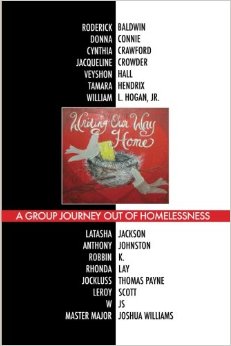 Next Tuesday night I'm hosting another salon. Every couple of months I feature someone to lead the discussion. Sometimes, that person is an author. Or an entrepreneur. Or in this case, Ellen Morris Prewitt is both an author and an editor of a terrific anthology—Writing Our Way Home: A Group Journey Out of Homelessness.

Ellen is bringing two contributors to this anthology with her to the salon. Cynthia Crawford's contribution to the collection has brought me to tears several times as I continue to read these inspiring entries.
So today I want to share just one of Cynthia's excerpts with you.
I wake up. I praise God for this beautiful day! I shower and prepare for the day. I praise God for the energy to complete the day's tasks! I board the MATA bus to start the day's journey. I praise God that he is guiding me! I check my e-mail, update my resume, and complete some job applications. Praise God for all he has done, is doing and will do. I go to the local mission and get fed beans and weenies, cole slaw, corn, and cheesy garlic bread. Praise God for providing not only what we need but sometimes also what we want! I leave and ease on over to Door of Hope. I praise God for people that care and truly help others in need! I praise God for people that care and truly help others in need! We here at the writing group write, read, and inspire. Praise God for my family here at Door of Hope and the writing Group!
The writing group to which she refers has been led by Ellen Prewitt for over 7 years.
I praise God for the opportunity to learn from Cynthia, Ellen, and WJS, another contributor who will be joining us at the salon.
For more inspiration, please purchase the book. Need another recommendation? Here's a nice review from the Memphis Commercial Appeal.