Worry is for those who do not have faith.—Mother Gavrilla of Greece

I read those words with my morning prayers today and pondered them with my first cup of coffee. There's a chill in the air and the day promises sunshine and a high of 70. Perfect fall weather. As I stood before my icons saying my prayers, and then reading the Psalter and continuing my prayers for my departed friend Sissy, I began to consider, once again, what prayer is really all about. (It's just over 20 days into the 40 days during which Orthodox Christians read the Psalter and pray for the newly departed.)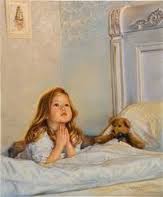 Growing up Presbyterian and influenced as a teenager by the upbeat and yet narrow vision of Campus Crusade for Christ, I learned to ask God for everything. Good grades. The attention of a certain boy. Help memorizing a piece for my piano recital. Success in cheerleader tryouts. Losing weight. And on the home front, I would ask Him to please help my brother to behave and my mother to quit being so mean to him and me. But I couldn't reconcile the answers—as often "no" as "yes"—with the God I believed was love.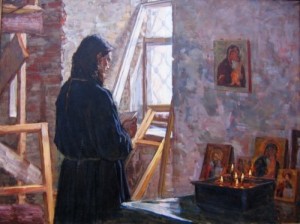 Somehow in the Orthodox faith I began to learn that prayer wasn't so much about asking God for things as it was about having a relationship with God. Prayer changes us. It even changes the way we pray. Phrases that appear over and over in Orthodox prayers, like "Lord have mercy," help prepare my heart to receive God's mercy in whatever form it comes. Sometimes it comes in the form of a temporal blessing, like the book deal I got for my anthology. Other times it comes in the form of a heart tilled by communication with God so that it can receive new seeds, planted there by God to help my spiritual garden grow.
That's how I feel today. Ready to receive whatever is next. And yes, my upbeat spirit does have something to do with the fact that I just lost ten pounds (in my quest to lose 33) and I do ask God to help me control my appetite and be faithful to my calorie budget every day. But a heart tuned to God through prayer is also thankful for the difficult times—like the near deadly car wreck I survived in 2013. So many blessings came out of that. It's not that I believe God caused the wreck or even desired me to suffer. But He drew me closer to His protective love as a result.
I know I'm rambling, so I'll close. If you'd like to read more about the Orthodox approach to prayer, I recommend the writings of Metropolitan Anthony Bloom: Courage to Pray, Beginning to Pray and Living Prayer.