I miss writing icons. Yesterday I found this link to a wonderful video that demonstrates the process of writing an icon, and I found myself enthralled as I watched. (The iconographers are Anton and Ekaterina Daineko, a married couple from Minsk, Belarus, who are teaching workshops in the U.S. this summer.) I even got a little teary-eyed. And while I feel strongly that I will never return to this liturgical art form, I will always be thankful for the time I spent learning, practicing and teaching it, because of the greater understanding and appreciation of iconography those years gave me. (If you missed my post about five years ago on why I retired from writing icons, it's here.) 
And so this morning when I went to our icon corner to do my morning prayers, I smiled as I read about the saints who are commemorated in the Orthodox Church today. And especially about this event, which is also commemorated: "The Appearance of the Kazan Icon of the Mother of God." In 1579 in Kazan, Russia, a terrible fire destroyed part of the city, but spared a nine-year-old girl named Matrona, although her house was burned. The Mother of God appeared to Matrona and directed her where to find a miracle-working icon, buried under a stove, covered in ashes, but wrapped in cloth for protection. The icon was taken to the Annunciation cathedral, where it became known for healing the blind and curing eye diseases. A church was built on the site where it was found, but sadly it was later destroyed by the Bolsheviks during the Russian Revolution.
I found this wonderful poem in the book, Mother of God, Similar to Fire (given to me by friends a few years ago), which contains beautiful icons paired with poems—a form of ekphrastic writing that I enjoy immensely. The icons are written by William Hart McNichols and the poetry is by Mirabai Starr. I don't have permission to publish her poem in its entirely, so I'll quote a part of it here: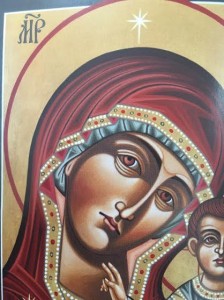 Our Lady of Kazan
You lived a fully, deeply human life,
And this humanity is what helps us feel connected to you.
This world is yearning for your Mother-Love.
Show our leaders how to guide us
With respect for our dignity and well-being.
Teach us to love one another
With boundless patience
And unbridled joy.
I found these words—and the beautiful icon (which I've only shared a detail of here) comforting to offer as a prayer as our nation mourns the loss of more lives to violence on our streets and in our homes.