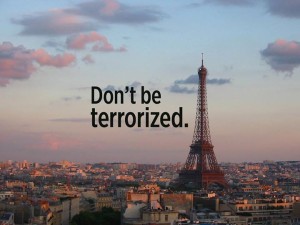 My husband and I have made plans with another couple to visit Paris in the spring of 2016. As I mentioned in a previous post, we're trying to decide whether or not to get travel insurance, in light of the recent terrorist attacks. We still haven't decided. But the bigger question would be whether or not to cancel the trip altogether. It's not a question I've seriously entertained, as this has been on my bucket list for many years.
A friend just sent me an email with this excerpt from a Rick Steves Facebook post about visiting Paris post-terrorist attacks. It blessed me so much that I'm going to share it here:
"Hello there Rick Steves!

My name is Amber, my family and I are currently vacationing in Paris for a week with your Paris 2015 guidebook. We've seen all of the museums, monuments, and art we've wanted to see. We LOVE doing your 'walks' from your app! Paris is such a beautiful and historical city! We've loved every minute of it. I'm sure you get tons of these messages, but I wanted to thank you. Thank you not only for your awesome books but for the Facebook post on terrorists and traveling you posted a week ago.

We were scheduled to leave for Paris the Wednesday after the horrible tragedy that took place, and we suddenly found ourselves wondering if we should still go. Is it safe? What might happen to us? My heart was broken for the people of Paris, but we're traveling with our two teenage daughters. Safety suddenly became a big concern and we had the hardest time making a decision.

Your post really touched me and helped me put things in perspective. My husband and I both agreed we would not let ourselves be 'terrorized' and we would go and have the amazing Europe trip we planned. And boy am I so glad we made that choice!

The city is like none other. And the French people have been so kind to us. Yesterday we toured the Eiffel Tower and watched the sun set from the top with both our girls. It was a moment we will never forget. It was so beautiful, I shed a few tears. I'm so glad we made the choice to come, and to be able to have these wonderful experiences together as a family.

As we made our way back to our flat, we boarded the metro, and started discussing dinner ideas. A nice French businessman was sitting next to my 12 year old and must have over heard her talking. He asked her, 'Do you speak English?' She said yes. He said, 'Are you American? Did you come here from America?' And she said yes again. Then he put his newspaper down and said to all of us, 'Thank you for coming to visit Paris. Despite what happened. We are a strong city. I hope you have a wonderful stay.'

I was so moved! This city has witnessed such horrible evil, not too long ago. And they have not let it stop them from living their lives. I see it every day in the cafés, couples and families sitting together conversing, laughing, and most importantly… Living. It warms my heart. We will definitely always keep traveling. Au revior!

The Revis Family"
I spent some time this morning reading many responses to his recent blog post, "Travel to Paris After Attacks." There's lot of debate about statistics—people arguing over whether or not the Paris attacks were random, etc. What's missing from all the comments—both on Steves' blog and his Facebook page—is any talk of faith. As a Christian, faith should play a part in every decision I make. Faith doesn't mean making uninformed or foolish decisions. But it does mean trusting God's protection once you've made informed, wise decisions. So, whether or not we decide to purchase trip insurance, our peace of mind as we travel to Paris next spring won't be based on statistics. It will come from a mindset of refusing to live in fear. By God's grace.