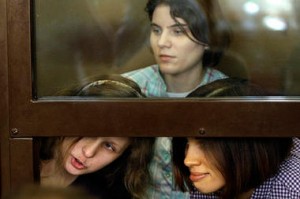 There are three new names on my prayer list—(left to right in photo) Maria, Yekaterina and Nadezhda—three members of the Russian punk band, "Pussy Riot." I don't know these young women personally, but after reading their "closing statements" before being sentenced to two years in a Russian jail, I decided the best thing I could do for them was to pray. And not necessarily for their salvation. I'm not judging these women for their acts—it's too damn hard to sort it all out—but I fear for their safety in a Russian prison, and I pray for their freedom. And for their actions to bring about positive changes in their nation and throughout the world.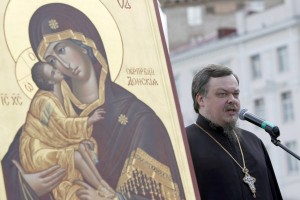 Another name I need to add to that prayer list—and I confess it's difficult for me to do so—is that of Father Vsevolod Chaplin, a senior clergyman of the Orthodox Church in Russia. In a recent article in Time Magazine, "The Priest Who Beat Pussy Riot: The Orthodox Point Man with the Kremlin," Simon Shuster says this about Chaplin:
"In 2010, while campaigning for a nationwide 'dress code,' he proclaimed that women who wear revealing outfits are guilty of inciting rape. He later lobbied for legislation to ban Vladimir Nabokov's classic novel Lolita and suggested that all Russian intellectuals should be condemned for the 'sin of Russophobia.'"
And in the same article in Time:
"Chaplin, who heads the Orthodox Church's department for relations with society, was one of the leading cheerleaders for the prosecution from the start. In April, about a month after the Pussy Riot members were arrested, he said the group represented a campaign of 'literally satanic rage' that the Russian opposition movement had unleashed against the church. He called on all believers to fight this 'heresy,' including through the use of force, 'so that there be no more temptation to equate Christianity with pacifism.'"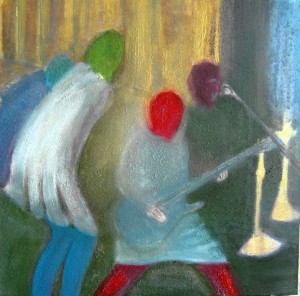 Two weeks ago today I posted the first news I had seen about Pussy Riot: "Pussy Riot in Moscow." When I linked to the post on Facebook, a heated conversation ensued, which is now up to 38 comments.
As I read those comments today, words that come to mind are, "We didn't start the fire." ("We" meaning Pussy Riot and those who are in sympathy with their protest.)
I dislike how responses to Pussy Riot's actions seem to line up on "sides"—like so much else in our culture that divides us. And so the comment I appreciated the most on that Facebook post came from a young friend, Mary Elizabeth Phillips:
"Susan, thank you for this. Honestly, most of the Orthodox folks' reactions to this event that I have seen have only served to remind me of why I'm not Orthodox anymore. I am relieved and thankful that there are Orthodox people like you who can foster fruitful conversation about this protest without immediately declaring it to be evil and blasphemous. It's a breath of fresh air."
And this one, from another young friend (and excellent musician/artist) Tim Stanek:
"What these ladies are doing here is unprecedented. …"to unite the visual imagery of Orthodox culture with that of protest culture" is a fantastic plan to catalyze massive social change. The media is absolutely key to any massive social change. It's been said that he who controls the presses controls the people, but Pussy Riot is playing the game and winning from the outside. Way to go!!!"
And also these words from my friend and fellow parishioner at St. John Orthodox Church, (who is also a musician) David Twombly:
"Susan, thank you for this post and also for the recommendation of the Orthodoxy and Culture synchroblog. I found Deacon Steven Hayes's insights in the latter to be especially helpful for me, especially given his own experience of being charged with 'profaning' the Church in his youth."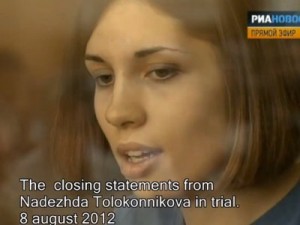 Isn't it interesting how artists, writers and musicians seem to have a somewhat similar take on these events? And how society—and especially totalitarian governments—try to keep us quiet? I'm reminded of the late Madeleine L'Engle's words:
"The first people that a dictator puts in jail are the writers and the teachers because these are the people who have vocabulary, who can see injustice and can express what they feel about it. Artists are dangerous people because they are called to work with human clay, with the heart and the soul. So to protect itself, society has had to pretend that either art is unimportant or that it is simple…. When Hugh and I went on a trip to Russia I almost didn't get a visa because our travel agent put down my occupation as writer. Writers think. Writers ask questions. Writers are dangerous."
Two Orthodox women who are published authors have weighed in on Pussy Riot's actions in their blogs.
In "History, Blasphemy and Russia" Frederica Mathewes-Green says:
"These women could use their talents to gather and tell the stories of those who lived through the bad times, and the stories of those who did not make it through. That would be something we could all agree on—a project that could bring healing and understanding, and strengthen memory against future abuse."
Another Orthodox author, Lily Parascheva Rowe, says, in her recent post, "Pussy Riot and Their Punk Prayer":
"This is the greatest irony of all, the fact that the girls' protest against non-critical thinkers and the suppression of thought is being used by left and right to suppress critical thought."
Well said, Ms. L'Engle, Lily Parascheva, Mary Elizabeth, Tim, David… and Billy Joel. I'd love to hear from my readers on this subject. I know it's dangerous, but please speak up.