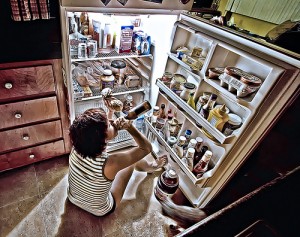 This past June I submitted an essay to the 2012 Yoknapatawpha Summer Writer's Workshop in Oxford, Mississippi, called, "Eat, Drink, Repeat: One Woman's Three-Day Search for Everything." It wasn't something new I wrote for the workshop. My novel was finished and several chapters had already been workshopped. So I just looked in my "unpublished" files for something to submit at the last minute, and there it was. A two-year-old essay that I hadn't considered submitting for publication, but I thought, WTF? (Write the Faith, remember?)
Imagine my surprise when workshop faculty (and mentors who have been reading my work and encouraging me for over five years) said, "This is the best thing you've ever written."
Really? An essay I wrote over a period of three days and spent maybe an hour editing? Why did it garner such praise? I was eager to hear the specifics, which included words about having achieved "freedom and authority." Specifically "freedom to put yourself onto the page." (They offered other words pertaining to specifics about the writing that aren't relevant here, but for my writing friends I'll say that I have submitted the essay to several literary journals, so keep your fingers crossed.) But this post is about mental health, so let's get on with it.
 What I had done (about this time two years ago) was write an essay in which I kept an hour-by-hour journal of my eating and drinking habits during the last three days that our daughter lived with us for the last time. She had finished grad school and was moving to Denver. I didn't choose those three days to write the essay for that reason, but in retrospect, I'm sure the emotional impact of this family event played a big part in the behavior that I recorded.
I mentioned the essay in a blog post about a year ago, "Grilled Cheese Sandwiches and Tomato Soup," when I first mentioned what I was gleaning from the book, Appetites: Why Women Want, by Caroline Knapp. I picked Knapp's book back up this afternoon, after a weekend of struggling with some of the same cycles I described in "Eat, Drink, Repeat."
Caroline Knapp was an alcoholic and also suffered from anorexia for many years. Her earlier memoir, Drinking, A Love Story, is a graphic description of the way I feel when I am overcome with an incontrollable desire to drink—or eat—"the hunger, the need, the yearning for something outside the self that will provide relief and solace and well-being." Knapp traces her hunger back to childhood:
"This was a constant feeling—I can't remember a time when there wasn't something hanging out there, some spiritual carrot on a stick promising comfort and relief…."
I wish Knapp had been at the writing workshop in June to address one man in the group whose main response to my essay was, "I can't imagine anyone eating that much." I find a dark kind of comfort in reading her describe an evening where she would go out to dinner with friends, and…
"…eat a relatively normal meal, then stop at a convenience store on my way home and buy candy. I'd buy Snickers bars and Cadbury cream-filled chocolate eggs and I'd unwrap them in a frenzy in the car and stuff them down, trying to assuage a feeling of deep hunger, a profound discomfort that I couldn't quite identify and certainly couldn't address in any other way. Sometimes, driven by exactly the same impulse, I'd stop at a liquor store, too and pick up a nip of brandy, or two or three."
I really hope that most of my readers don't get this. For those of you who do, my sincere condolences. But if you're on this journey with me, you might want to read Knapp's books. A blog post is much too short to capture what she shared in two volumes, so I'll just touch on a couple of highlights:
The French analyst Jacques Lacan says, "Desire has indestructible permanence. Desire is inextinguishable." Knapp goes on to say that Lacan suggests that there is "something fundamentally insatiable about being human, as though we came into the world with a kind of built-in tension between the experience of being hungry, which is a condition of striving and yearning, and the experience of being fed, which may offer temporary satisfaction but always gives way to new strivings, new yearnings."

Paul Hamburg, a Boston psychiatrist who specializes in eating disorders, calls this tension "the nascent sea of frustration that comes from always wanting more."
I think I've been tossing and turning on that nascent sea for all of my life. Maybe living in this storm is why I love literature that recognizes the universality of my experience. Like Michael Cunningham's The Hours, in which all three of the main characters—one historic and two fictional—face this tension. Virginia Woolf (who commits suicide) decides, "It's better to die raving mad in London than evaporate in Richmond." Clarissa Dalloway regrets choices she has made: "She could have had a life as potent and dangerous as literature itself." And Laura Brown, suffering depression and weary of her role as a '50s housewife where she is "part of a world in which one wants what one gets," asks, "What if you decided to want no more?"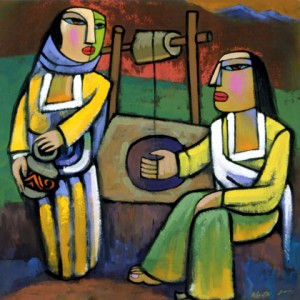 If this post was part of my "Faith on Fridays" series instead of "Mental Health Mondays," maybe I would write about how God fits into all of this. And you know what? Since we homo sapiens are created with bodies and souls, I don't feel compelled to keep my writing—which is a reflection of my life—separated into categories. So, just as I turned to secular wisdom (Knapp) and art (Cunningham, Woolf) for enlightenment, I also turned to prayer and to Scripture for consolation after eating 6 grape popsicles in a row and chasing them with a bottle of wine last night. (Food cravings aren't logical, so don't try to figure them out.)
And so I'm remembering what Jesus said to the woman at the well:
"Everyone who drinks of this water will be thirsty again, but whoever drinks of the water that I will give him will never be thirsty again. The water that I will give him will become in him a spring of water welling up to eternal life." (John 4:13-14)

 
At the end of the day, maybe that's the answer. But I'm still waiting for that nascent sea of frustration to go away.