FESTIVAL BEGINNINGS
In 2017, the first year of the Mississippi Book Festival, I was on the panel, "Voices of Home," for my novel CHERRY BOMB. Then in 2018 I moderated a panel for the anthology I edited, SOUTHERN WRITERS ON WRITING.
I was so sad when the 2021 Mississippi Book Festival had to make the difficult (but correct and safe) decision to go from in-person to virtual this year, due to Covid. They were expecting around 10,000 visitors, which would have made this "Literary Lawn Party" so much fun, as it has been since it's inception in 2017.
Virtual Panel for 2021
Thanks to the hard work of so many volunteers and festival director Ellen Rodgers Daniels, most of the panels have been recorded virtually, and shared on the Mississippi Book Festival's Virtual Festival website. Including our panel, "Familiar Voices," moderated by Marshall Ramsey, Editor-at-Large at Mississippi Today and nationally syndicated cartoonist. Marshall also hosts "Mississippi Stories," where he interviewed me back in June.
This was the second time I had been on a festival panel with fellow Mississippi writer Johnnie Bernhard. (We were also on a panel together at the 2020 AWP conference in San Antonio.) Johnnie was discussing her wonderful new novel SISTERS OF THE UNDERTOW.
Our third panelist was another Mississippi author, William H. (Bill) Morris. Bill's story of befriending members of several African American bands in the 1960s is shared in his wonderful memoir, THIS MAGIC MOMENT.
And of course I'll be talking about my latest novel JOHN AND MARY MARGARET, which is set in Mississippi and Memphis. Read more about our panel here.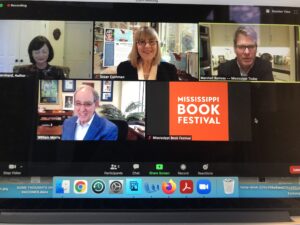 BUY OUR BOOKS from LEMURIA or PASS Books!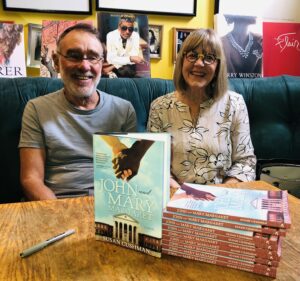 And if you don't already have copies of all three books, please go out and buy them NOW. They all will make great Christmas gifts. If you can, please buy them from Lemuria Books in Jackson, Mississippi. Lemuria worked so hard to prepare for the festival, which would have provided a substantial income through book sales. They have signed copies and can ship them anywhere! I signed copies of John and Mary Margaret at Lemuria back in June, so please order from them!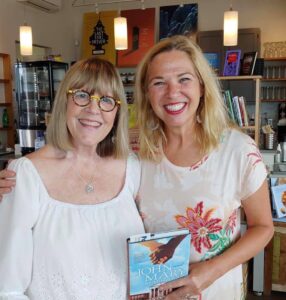 That's Lemuria owner John Evans with me signing books in June.
If you live on the Gulf Coast, you can also get signed copies at Pass Books in Pass Christian, Mississippi. They hosted me for a book signing in June. That's me with Mississippi author Margaret McMullen, who lives in Pass Christian and stopped by my event for a signed copy of JOHN AND MARY MARGARET.