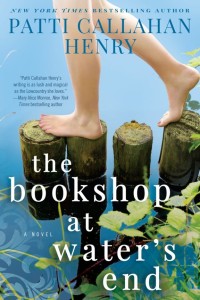 This morning I finished reading my 29th book of 2017, New York Times Bestselling Author Patti Callahan Henry's latest novel, The Bookshop at Water's End.
I met Patti back in 2010 at the Girlfriend Weekend, the annual conference of the Pulpwood Queens Books Clubs. This is Patti's 13th novel, and she's won lots of awards for her work over the years.
The Bookshop at Water's End has all the hallmarks of a classic Patti Callahan Henry novel… old friends returning to a place that holds special memories, helping each other heal from life's wounds; towns with a strong sense of place, and strong women struggling to find themselves. As Patti writes in "The Story Behind the Story":
And I wanted the same geography for my characters in The Bookshop At Water's End, for women who were coming home to themselves. So I offered them a summer-home that echoed their life destinies, conflicts, secrets and tragedies.

I asked: When things don't work out the way we desire, when our life is upended and change is forced upon us, where do we turn? Hopefully to a sense of home within, to that soul-place that is immovable and strong and waiting for us.
Patti's writing reminds me of my friend Julie Cantrell's books. Both women dive deeply into the psyches of their characters—often sharing insights into the damage done by abuse, abandonment, bad choices, and bad luck, but also the importance of relationships in healing that damage. I also see similarities of style with some of the works of another friend, Nicole Seitz, whom I also met back at the Girlfriend Weekend in 2010 and visited this past May when I was in Charleston. (Nicole's latest book, The Cage Maker, is on my to-read stack now!) I'm excited that all three of these wonderful southern authors have contributed essays to the anthology I'm editing, Southern Writers on Writing (University Press of Mississippi) coming in 2018. And I can't wait to be with all of them in January at the 2018 Pulpwood Queens Girlfriend Weekend, where I'll be on panels for my novel Cherry Bomb and the anthology A Second Blooming: Becoming the Women We Are Meant to Be. I'm honored to hang out around the edges of the circle of great writers that they are!
I'm not in a book club, but I enjoyed the "questions for discussion" at the end of Patti's book. Question Number 11 was especially thought-provoking for me:
Home. All of these characters are trying to identify and find "home." Is this a place? A house? A group of people? A feeling? A town?
I think I've been looking for this my whole life. Probably because my family of origin was very dysfunctional, and so I looked for that feeling of comfort elsewhere. I think it can be a place, or a group of people—what Patti calls a "tribe"—or maybe a feeling. I looked for it but never found it in high school. I looked for it again in my sorority at Ole Miss in 1969, but I left college after one year for an early marriage. Then I looked for it with a group of people who started a church in our apartment when we were newlyweds, and I found it for awhile, but with it came more dysfunction, as is often true in these cult-like groups. I looked for it in my marriage, and now after 47 years, I'm finding my "tribe of two" is growing stronger. I looked for it in cities and towns, and have envied what looks like such a strong presence of community in places like Seaside, Florida and Fairhope, Alabama. My little neighborhood on the Mississippi River in downtown Memphis—"Harbor Town"—has come closer to feeling like home than anywhere I've ever lived, and for that I'm thankful. I've looked for it in friendships and writing groups and churches, and some of it is there in each of these places. But I think I'm finding "home" in my own writing, and most of all within myself as I grow older and become more comfortable in my own skin. In that sense, Patti, maybe "home" really is a feeling.