Yesterday my publisher, Joe Lee (Dogwood Press, Brandon, Mississippi) sent me this picture. HOT OFF THE PRESS and coming to a bookstore near you SOON!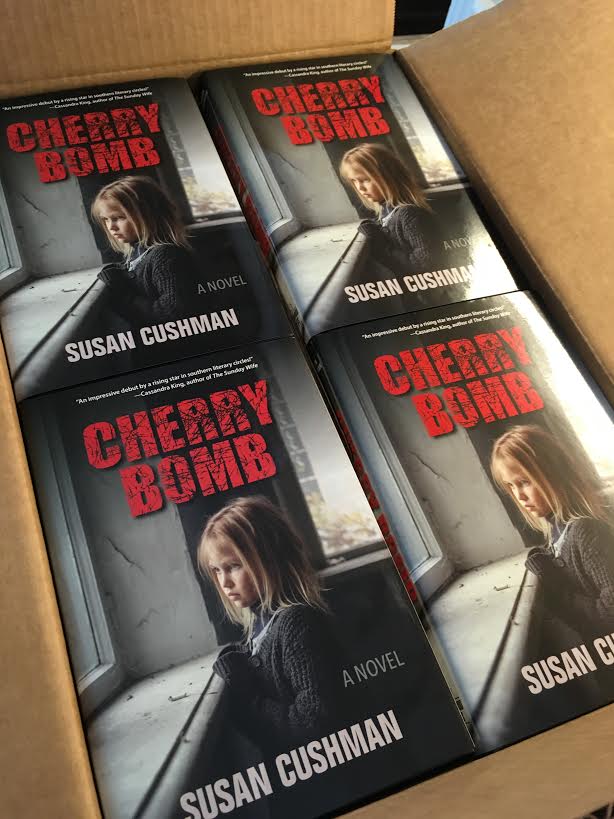 Next Friday, July 14, we'll be delivering copies of Cherry Bomb to Burke's Books in Memphis, and shortly thereafter they will be available at Lemuria in Jackson, Mississippi, Square Books in Oxford, Mississippi, and TurnRow in Greenwood, Mississippi.
If you don't live near one of these wonderful independent bookstores, please ask your local shop to order Cherry Bomb for you. It will also be available soon from Amazon.
MARK YOUR CALENDARS for events in five states starting with the launch at Lemuria in Jackson, Mississippi on August 8! Click on the EVENTS button at the top of my web site for all dates and locations through December.
First up:
August 8 – 5 p.m. – Lemuria/Jackson, Mississippi
August 19 – 4 p.m. – Mississippi Book Festival/Jackson, Mississippi (Festival runs all day. My fiction panel is at 4 p.m. in State Capitol Room A.)
August 26 – 12 p.m. – TurnRow Books/Greenwood, Mississippi
September 7 – 5:30 p.m. – Burke's Books/Memphis, Tennessee
Did I mention I'm a little bit excited? I can't wait to hold a copy of Cherry Bomb in my hands and smell the ink!