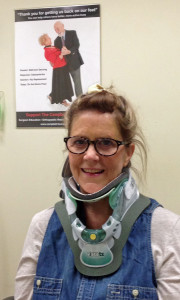 Four years ago this past weekendI was in a near-fatal car wreck just outside Fairhope, Alabama. July 7, just before midnight. I was taken by ambulance to a hospital in Pensacola, Florida, where surgeries were performed on my (broken) neck, right leg, and ankle. I left there four days later with lots of hardware from the surgeries, much of which is still in my body. My first blog post three weeks later tells a bit about what happened: "Silver Linings Playbook Part I: Hope."
Here I am four years later and while I still see the silver lining in what happened to me, I've had increasing pain and stiffness in my neck for the past few months. So, I decided to go for a follow up at the neurology office where I was seen for my neck four years ago. They did an x-ray, said that nothing had changed, and to come back in a year for another x-ray. I had done several weeks of physical therapy four years earlier, but they never asked me to come back for follow up after that. When I asked the doctor about doing some stretching exercises or more PT for the pain and stiffness he said not to. Just leave it alone.
I left the office disheartened. I understand that I'll have to live with some stiffness and lack of mobility in my neck, but the increase in pain—and regular headaches—doesn't seem that something that should be ignored. I felt like I had just been dismissed.
My massage therapist has also been concerned, and so I talked with a physical therapist/friend this weekend, who encouraged me to see a pain specialist at the orthopedic clinic where he works. This morning I called to make an appointment, and they put me in touch with their "spinal liaison" who asked for surgical records from the surgery that had been done in 2013 in Florida, so that their physicians could review it and determine whether I needed more diagnostic tests done, or whether their pain specialist could help me. I'm waiting on their review now.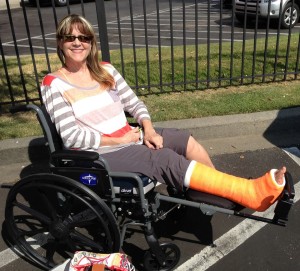 I'm sure that the hours I spend at the computer and also poring over books doesn't help. Most evenings I have pain trying to sit up and watch TV or read, and I'm always relieved when I can finally go to bed and lay my head down flat. I feel immediate relief. The human head weighs between 10 and 12 pounds, which might not sound like much until you think about a neck full of metal screws is holding it up. And waking up with a headache every day isn't fun.
So now I'm revisiting "hope" for some relief as I wait to hear back from the clinic. Hope that physical therapy and/or some other non-surgical relief will be coming soon. Thanks for reading… I don't mean to complain, as I have so much to be thankful for. Every time I feel the pain, I'm reminded that I could have died or been paralyzed.
Hoping to get some relief before starting up my book tour for Cherry Bomb in August. Stay tuned!