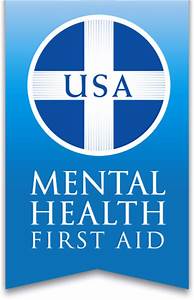 Do you know someone who suffers from schizophrenia? Bipolar disorder? Severe depression? Anxiety or panic attacks? Post Traumatic Stress Disorder? Substance use disorders? Psychosis? Suicidal behavior? Eating disorders? Have you lost someone you loved to suicide? I have personally had conversations with two people who were contemplating suicide, and with another who was cutting herself because of the pain she was suffering as a result of her mother's behavior and her parents' divorce.
Maybe you suffer from one or more of these illnesses or disorders yourself. I have struggled with several in my 67 years.
Did you know that there's an organization that exists to teach you how to identify, understand and respond to signs of mental illness and substance use disorders in your community?  MentalHealth.org is a wonderful resource, and fortunately they offer one-day training courses. In Memphis these courses are offered by the Church Health Center. In fact TOMORROW the Church Health Center is having GIVING DAY, with opportunities to contribute to the wonderful ministries they offer.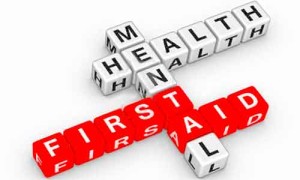 Because of my own personal struggles but also those of friends and acquaintances, I signed up to take a one-day mental health first aid training course this past Saturday at my church, St. John Orthodox Church in Memphis. I was especially interested in learning how to help someone in our church home, neighborhood, or community who is showing signs of a mental health crisis. We gained lots of specific information on dealing with each disorder or event, but we were also reminded throughout the day to always treat the person with respect and dignity, remembering that they are not the disease. It saddens me that people with mental health issues are often shunned from society, even a church community.
Near the beginning of the course, an instructor asked us to come up with a definition of mental illness. We worked in groups at our tables to do this, and the one that was most helpful to me actually came from my husband:
BEHAVIOR OR THINKING THAT'S NOT CONSISTENT WITH REALITY.
That definition can apply to so many of the types of mental illness that we learned about on Saturday.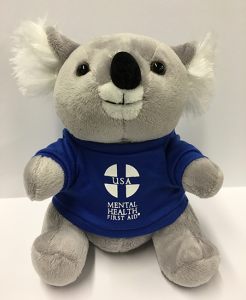 The course doesn't make you a mental health professional. It teaches you what to do until the person can get the professional help they need. One of the best take-aways from the course for me was the ALGEE action plan, which is easy to remember:
Assess for risk of suicide or harm

Listen non-judgmentally

Give reassurance and information

Encourage appropriate professional help

Encourage self-help and other support strategies
Denise and Lauren—the trained social workers who taught the course at St. John on Saturday—were wonderful. They kept us interested and involved with hands-on activities throughout the day. We also each received an informative Mental Health First Aid manual, which I plan to read more thoroughly now that the workshop is over. The one-day schedule didn't allow for a discussion of eating disorders, which have plagued me most of my life, so I'm especially interested in reading their take on this issue.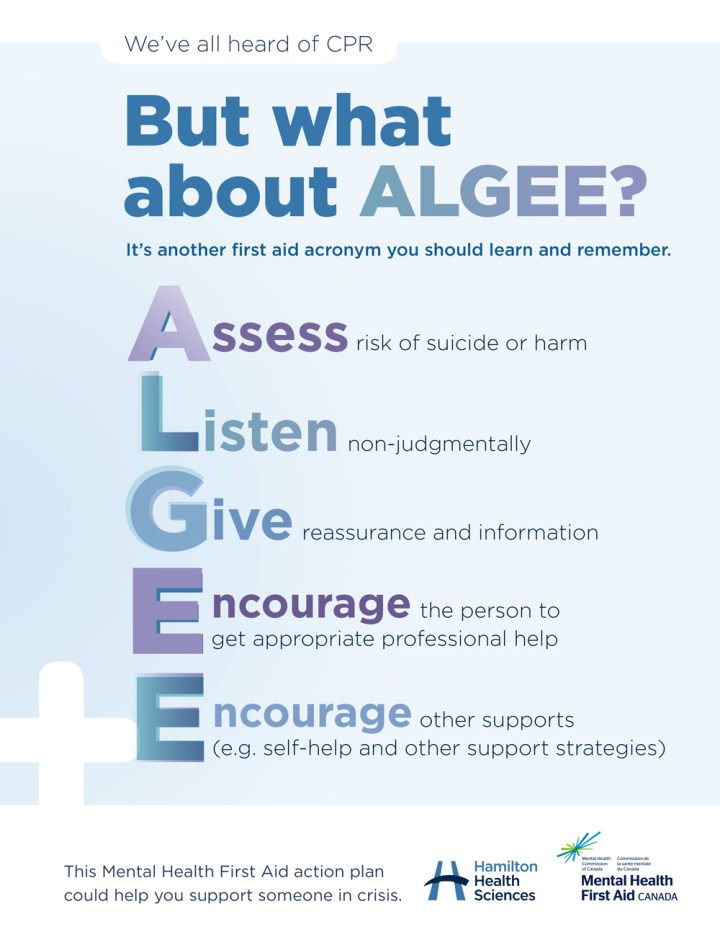 They also gave us a referral resource guide for Shelby County, with phone numbers to call for various crises we might encounter. I'm putting a copy of this list in my purse to always have with me. Rather than calling 911 for every type of situation, there are specific numbers to call for suicide prevention, sexual assault, domestic violence, rape, abuse, and incest, and a general local crisis hotline.
I hope that this post has encouraged you to consider taking a mental health first aid course. They are offered nationwide, are free and are usually completed in one day.