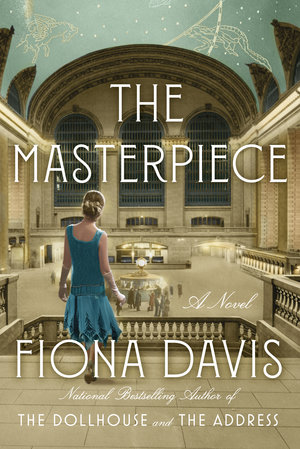 I just finished reading my third book by NYT best-selling author Fiona Davis—THE MASTERPIECE. I loved her first two books, THE ADDRESS and THE DOLLHOUSE. All three are set in New York City, where the author lives, and all three involve historic buildings. They are all examples of really good historic fiction, and involve characters from the past and present whose lives intersect in some way. Or, with THE MASTERPIECE, rather than writing in the present, the more recent parts of the book are in the 1970s, with the historic parts set in the late 1920s and early 1930s. After reading the first hundred pages or so, I put a comment on Instagram with a picture of the book's cover, noting how perfectly it fits the description inside the book of Clara's appearance at the ball inside Grand Central Terminal, and even how the Terminal looked at the time.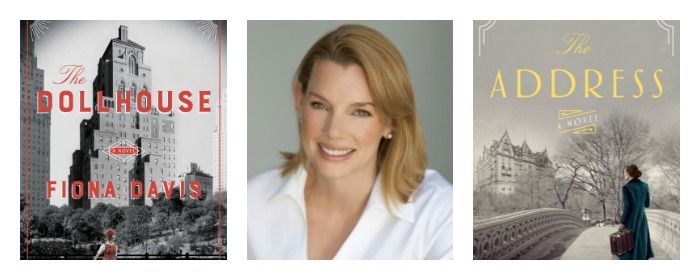 When I started following Fiona on Instagram, I loved that she would comment on my posts. After reading THE MASTERPIECE, I had a couple of questions for her and messaged her on Facebook. I was thrilled that she took time to respond, and I'm posting our conversation here:
SUSAN:
Hi, Fiona. I just finished THE MASTERPIECE and LOVE LOVE LOVE it! I also loved THE ADDRESS and THE DOLLHOUSE. I have a question. I Googled Clara Darden (did you know there's a native American basket maker by that name?) but didn't find an actual artist. Then I read your Author's Note and Googled Helen Dryden, on whom Clara is obviously based. My question is why did you change her name? If it's fiction, would it not have been okay to use her name? I'm asking because I fictionalized much of Elaine deKooning's life in my novel CHERRY BOMB, and I used her real name. And I guess Levon is based on Gorky? Again, your decision not to use their real names?
FIONA:
Hi Susan! Thanks for reaching out and I'm glad you enjoyed it! I changed the names because while both characters were inspired by Gorky's and Dryden's, I wanted to go off in a different direction and have things happen to them (major things, like not dying in a mental home – poor Helen) that didn't happen in real life. I think it's fine to keep the same name if you're generally tracking to the biography of the person, but making up conversations, thoughts, etc.
SUSAN:
I'm asking because I may write a "historical fiction" novel based on an artist or piece of art, and I wonder about using real names or not. Some of my favorite books are GIRL WITH THE PEARL EARRING, STRAPLESS, and A PIECE OF THE WORLD.
FIONA:
I love books like Pearl Earring, etc, where you feel like you're right there with the artist or other real-life people. This was the first time I used the real-life person as a basis for a character – all my other books have characters who are completely made up. But I wanted to make the plot all my own, while being "inspired" by real people. I hope this makes sense!!
SUSAN:
Yes. I talked with an intellectual rights attorney before publishing CHERRY BOMB, and he advised me that it was okay to completely make up things about deKooning (like her having a daughter, which she didn't) so long as I said it was a work of fiction, which I went into lots of detail about in my Author's Note. But I wanted to use her name to attract art enthusiasts to the book. Not sure what I might do next time, but you've given me food for thought. I was just looking at your book tour… I live in Memphis…. wish you were coming here! Or to Square Books in Oxford! Or to Lemuria in Jackson, MS (my home town).
FIONA:
You were also smart to visit with a lawyer. Keep me posted on your next book and I'd love to hit Oxford – I've heard so many wonderful things about that town! Best, F.
Fiona's words have definitely given me food for thought as I consider writing a novel based on—or inspired by—an artist or a work of art. I can see how my novel CHERRY BOMB is NOT historical fiction, in that I did not do what Fiona said, "generally tracking to the biography of the person," but made up major life events that did not actually happen. So, if I want to do that in my next book, I guess it won't be considered historical fiction either.
Now I'm wondering how much other authors "tracked with the biography" of the historical people they wrote about in books like THE PARIS WIFE by Paula McLain. I just got her latest book LOVE AND RUIN, which is about Hemingway's marriage to Martha Gelhorn, and can't wait to read it. Also books like THE WOMEN by T. C. Boyle, which was about Frank Lloyd Wright's wives and mistresses. I did a blog post a couple of years ago about this topic, "Circling the Roman a Clef," if you're interested in more discussion. Also from 2016, I read and wrote about "The Confessions of X." I obviously haven't settled the subject in my mind, which might be one reason I haven't moved forward with another novel yet! If I ever settle on a protagonist, I'll let you know.