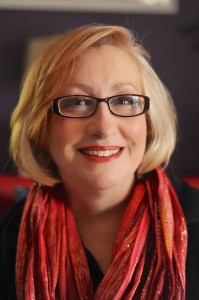 Today's post is the last in my series on Christmas traditions, and I'm thrilled to have my friend Susan Marquez contributing a guest post. Susan is a gifted writer, a devoted wife and mother, and a wonderful friend. I hope you are blessed, as I was, by reading her post. I have titled it,
"Honoring Christmas Past in our Homes."
There was a time when I felt like a schizophrenic during Christmas. I loved to visit a local nursery that has easily a dozen Christmas trees on display, each decorated with a different theme. I would go from tree to tree and fall in love with each one, wanting to duplicate it on my own tree at home. The problem was that I'd buy a few ornaments from each display tree, and when I got home, I'd have a conglomeration of ornaments with no theme at all.
I grew up in a home decorated in traditional forest green and crimson red. Years later, I surrounded our family in bright lime green and purple decorations that looked like something out of a Dr. Seuss book. What was I thinking?
As the years went by, and I would balance my checkbook in January, realizing that I was spending far more on gaudy decorations than I was spending on gifts when no one in my family really cared about my latest decorations.
A few years ago I realized I had over twenty big plastic bins filled with a variety of Christmas decorations. It was way more than I'd ever need to decorate our modest home. Then something happened. A big something. Our daughter almost died. But she didn't, and her survival and recovery from an unimaginable accident changed my perspective in a big way. (Curious? Read about it at www.youcantstopthisdancer.com.)
As it became apparent to me that my priorities had been way out of whack, I began to feel a new kind of peace wash over me. I blogged about it in 2009 and again in 2010.
I began to think back on the Christmas seasons of my youth. In our little house on Chiswick Circle in Jackson, Mississippi, I used to stand in front of my mother's dining room buffet and marvel at the nativity set made by grandmother, a ceramic artist in Meridian, MS. She used real gold on the gifts of the wise men, juxtaposed by the rustic creche where the Holy Family overlooks the baby Jesus laying in a manger filled with straw. There were cows, donkeys and sheep, all guarded by shepherds. A beautiful angel overlooked the manger. I have memories of looking at each figure in awe of how the story all came together.
Our Christmas tree was in the living room, separate from the den. It was a quiet room and the tree glowed in splendid colors, lighting up the room in a most magical way. I loved looking at all the ornaments on the tree and then I'd lie on the floor and look at the patterns the lights made on the living room walls. My mother loved to play Christmas albums on the large console stereo in the living room, which made the scene all the more special for me.
This year I thought back to the insane amount of decor I used to put up, covering every surface high and low, and I wondered what my own children would remember about Christmas in their childhood home. I thought long and hard about the statement I wanted to make this year. Christmas isn't about excess and over-the-top decorations. It's a time to celebrate Christ's birth, and how that event changed our world going forward. It's about family and traditions and love.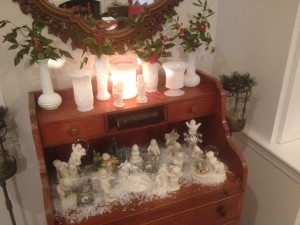 So this year, I spent nothing on decor. Not one dime. I lovingly displayed the collection of Snow Babies belonging to Nicole and as I placed each one, I remembered the reason it was purchased. There's the soccer Snow Baby, for the year Nicole scored a goal on St. Joseph's girls' soccer team. There's the hockey Snow Baby for the year Nicole was a color-announcer for the Jackson Bandits. There's the Wizard of Oz Snow Babies that remind us of Nicole's favorite movie of all time, and much more.
And then I put out my grandmother's nativity set. Now nearly 60 years old, it's still as awe-inspiring as it was when I was a young girl, despite one of the donkey's ears being much shorter than the other due to our dog Roxie biting it off when she was a puppy.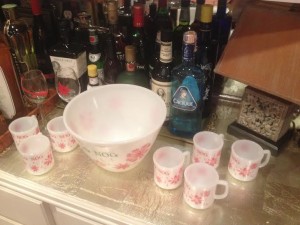 I have the old eggnog set my mother used for holiday gatherings, and I used it to serve eggnog just last week to members of my book club who gathered at my home for our Christmas party.  Snowflakes purchased from a dollar store years ago hang from the light in our foyer, while a wreath sent from my friend Jonni Webb reminds me of our wonderful times together in Maine.
We didn't pay for a Christmas tree this year. Instead, I am using a tree made by metal artist Stephanie Dwyer. She gave me the tree several years ago, and it stands year-round in my entry hall. This year, I pulled it into our den and put a single strand of vintage lights up the middle before adorning the branches with hand-made ornaments–some made by my talented father and friends, and others purchased on my travels. It glows just as beautifully as those remembered trees from my childhood.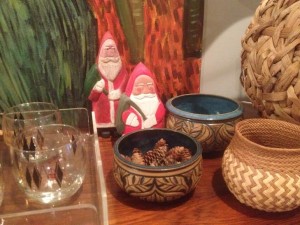 A pair of carved Santas stand sentry on my sideboard, made by my father who took up woodworking after retiring. It is a message to me that it's never too late to learn something new.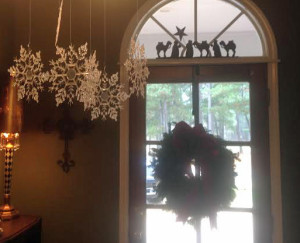 Because I haven't been shopping for new decor, I've been able to gently ease into the holidays while recalling fond memories of Christmases past. My house has never looked better, and I've realized now, more than ever, that my family has been so blessed.