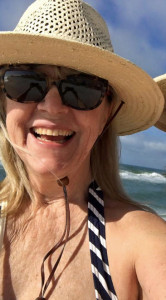 A number of years ago I discovered the wonderful book French Women Don't Get Fat (published in 2004). The author's simple but revolutionary (for Americans, anyway) approach to eating—and to life—is something I find myself returning to over and over, at each stage of my life in which I find myself needing a radical return to a mindful lifestyle. It inspired my efforts when starting a 1000-1200-calorie "budget" last fall. Basically it encourages us to enjoy excellent food in very small amounts (tiny, for those of us over sixty) and to exercise regularly and drink lots of water. Simple to understand. Very difficult to execute, at least for me it is.
And so now I find myself six months into this new attempt, having lost 17 pounds and gained back 2 of them, "stuck" as Winnie-the-Pooh was when he ate too much honey and couldn't get his fanny out of the hole in the tree. My "goal" was to lose 33 pounds (or more—I'll know when I get there) so I reached the half-way point and hit several walls. Family emergencies. Travel. Holidays. Boredom. Anxiety. All things that can easily derail a diet or any healthy initiative.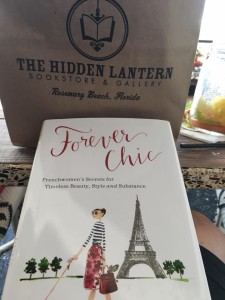 Enter Tish Jett's book Forever Chic: Frenchwomen's Secrets for Timeless Beauty, Style and Substance, which jumped off the shelves of The Hidden Lantern Bookstore in Rosemary Beach, Florida, when I was there last week. My husband and I are going to Paris in May (bucket list item) and I've been doing some related reading. A few weeks ago we went out to dinner with our good friends who are going on the trip with us. Tim asked each of us what we were most looking forward to during our ten-day immersion trip in Paris. Some of the answers from the others included art museums and galleries, food, local markets, and the must-see tourist attractions. My answer? French women. I want to sit at a sidewalk café and observe them—their bodies, their hair, their skin, their clothing, the way they walk. This book confirms my interest, and I'm taking in the wisdom from the American author who learned it as she lived in Paris for years and became herself a femme d'un certain age.
I'll share more from the book in future posts, but for now I'm focusing on some words of wisdom from the first chapter, especially because of my "stuckness" with weight loss right now. And while I want that je ne sais quoi that French women seem to have, losing fifteen to twenty more pounds is in the forefront of that dream for me. Jett reminds us in this first chapter that "discipline will set us free"… and that need for discipline increases with age:
… the difficulty factor has amped up as the forces of the elements, our hormones, and life in general throw additional challenges at us. One of the nutritionists I interviewed noted that menopause requires cutting two hundred fifty calories from daily intake just to keep weight stable.
But French women aren't thrown by reality—they are pragmatists. As Jett says, "Frenchwomen eat well, drink little, and take the time necessary to perform their serious daily toilette, the ritual ablutions of skin, hair, and body care" (more on some of that in future posts).
So how do French women deal with binge-eating, backsliding from their healthy routines? It seems that American women tend to get depressed and go into self-loathing and more weight-gain when this happens. I find those wolves at my door right now as I have grown a bit weary of my low-calorie routine. I gained another pound while at the beach last week. So how should I look at my situation? Jett says:
And no, discipline does not preclude the occasional flight of fancy. Even the most disciplined Frenchwoman wanders off course from time to time. It's part of enjoying life to the fullest. Remember that other famous French expression, joie de vivre? How could one possibly have joy in her life if she didn't allow herself chocolate cake and champagne Exactement.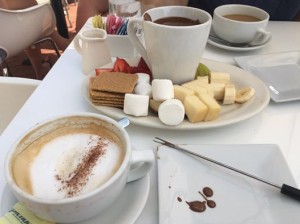 Exactement! My friend and I walked an hour to an hour and a half each day at the beach, so we got our exercise, and we enjoyed excellent meals and drinks every day, often sitting outdoors at lovely cafes along 30-A, the Gulf coast's Champs-Elysées, soaking in the fresh air and sunshine along with the martinis, wine, seafood, and yes—chocolate fondue at La Crema, an amazing tapas and chocolate bar in Rosemary Beach. And that was after brunch on the porch overlooking the green at The Pearl—a lovely boutique hotel just across the street. The weight gain wasn't because of the excellence of the food, but the amount. We were on a four-day vacation, enjoying a month's worth of food and fun! Now that I've returned home (and, interesting timing, entered into the season of Great Lent with its prescribed fasting regimen) I should be able to get back on track, right? And yet I've been eating junk—potato chips and Cokes especially—and not enjoying it at all. Jett's book is reminding me that discipline will free me from this plight. Discipline and joie de vivre!
And so I begin again. With more advice from Jett:
The smallest effort has major rewards, everything from setting a dining table with care—every day—to getting up, getting dressed, and getting out there to see what adventures the new day holds.
When I read those words with my morning coffee, still in my gown and robe, I got up and got dressed and came to the computer to write this post. Next up? Elliptical. Then I'm getting "out there" to run a few errands before driving down to Oxford this afternoon for a 5 p.m. reading at Square Books. My first cousin, Johnny Jones, is editor of a new book about forced integration in our high school in Jackson, Mississippi, in the early seventies. Watch for a future post about Lines Were Drawn, and read this interview with some of the editors. Meanwhile, I'm going to see what adventures the new day holds!