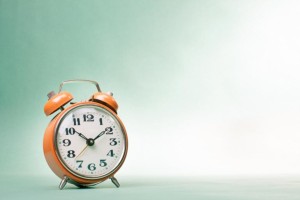 This is my third in a series of posts reflecting on Joan Chittister's book, The Gift of Years: Growing Old Gracefully. If you missed them, you can read my first two posts here:
Today I'm reading her chapter on "Time." I woke up yesterday morning wondering what happened to the hour we lost we when sprung forward into daylight savings time. Fortunately I had gone to bed early and really didn't lose any sleep.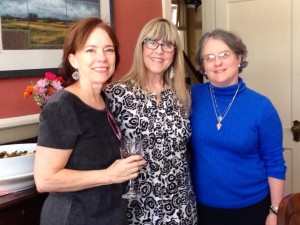 And when I woke up it was my birthday and although I had been feted big time on Saturday with a luncheon, gifts, cards, emails, phone calls and lots of Facebook birthday wishes,  the reality of being 64 didn't set in until Sunday. My husband—a huge Beatles fan—has been going around the house singing, "When I'm Sixty-Four" and telling me he will still love me, he will still need me, he will still feed me, and although he didn't mean it that way, I couldn't help envisioning myself diminished by Alzheimer's and him feeding me. But I also felt great love in his cheerful antics.
Back to Chittister's chapter on time. She opens with a quote from Picasso:
It takes a long time to become young.
And then she reflects on that:
The beauty of the later years, in other words, is that if we have learned through life to trust our own insights at least as much as we trust the insights we have been taught, we find ourselves at the end of a very long life with a very young soul. Time has done for us what needs to be done. We have deepened as people. We have broadened as personalities. We have softened as thinkers. We have abandoned arrogance and authoritarianism for reflection on new ideas and respect for others.
Her words remind me so much of Richard Rohr's teaching in Falling Upwards—about becoming cultural elders, generative people. About learning to really be present. To really live. Some "bullet points" from Chittister about time:
Time ages things… It ages our irritations and allows us the relief of ignoring them….

Time deepens things, too…. Whatever the many deaths of the day, resurrection is coming.

Time ripens things. It brings everything to fulfillment. We ourselves become more mature, more accepting, more serene…. It gives me a heightened sense of life. It urges me to discover it all.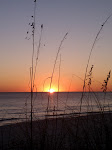 One thing I love about daylight savings time is that my husband arrives home from work in time to walk with me to the river to watch sunset. And one thing I love about being 64 (and 66) is that we have the time and the mindset to enjoy the gifts those sunsets bring. We are ready to spring forward.
(Photo on my favorite beach – Seagrove Beach, Florida, where I'll be this Saturday!)